Boom town: WGN America's Manhattan goes nuclear
07/27/14 12:44 PM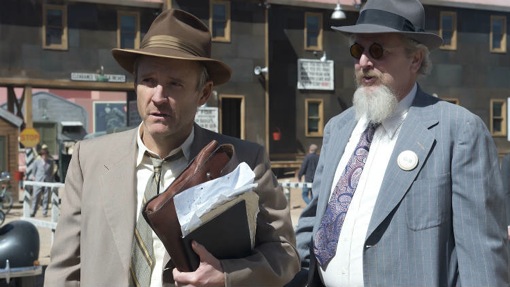 Secret society: John Benjamin Hickey and Daniel Stern in Manhattan.
WGN America photo
Premiering:
Sunday, July 27th at 8 p.m. (central) on WGN America
Starring:
John Benjamin Hickey, Olivia Williams, Ashley Zukerman, Rachel Brosnahan, Daniel Stern, Katja Herbers, Alexia Fast, Christopher Denham, Harry Lloyd, Michael Chernus, Eddie Shin, David Harbour
Produced by:
Sam Shaw, Thomas Schlamme, David Ellison, Dana Goldberg, Marcy Rose, Dustin Thomason
By ED BARK
Television's latest blast from the past is literally just that.
Manhattan
, dramatizing the super-secret run-up to the A-bomb, also is quantum leaps ahead of
WGN America's Salem
, which laughably arrived in April as the network's first original scripted drama.
Taut and atmospheric,
Manhattan
is centered by a revelatory performance from John Benjamin Hickey (
The Good Wife
) as scientist Frank Winter. He's the jangled, haunted leader of a sub-sect dedicated to building a better bomb at a faster rate than the larger, better-funded "Thin Man" group initially favored by J. Robert Oppenheimer. The competition is fierce within the unnamed, uncharted confines of a New Mexico desert outpost, where a brilliant young recruit named Charlie Isaacs (Ashley Zukerman) arrives with his wife, Abby (Rachel Brosnahan), and their little boy.
"This is Shangri-La," he's told by new boss Reed Akley (David Harbour). "We've got the highest combined IQ of any town in America and more Jews than Babylon."
Day One of
Manhattan
is July 2, 1943, which also is "766 days before Hiroshima." It gives the series a wealth of breathing room for its cloistered characters, all of whom are fictional -- save for Oppenheimer -- in the two episodes sent for review. The real-life "Father of the Atomic Bomb," played by Daniel London, is glimpsed just once in the early going. Wispy and ethereal in a brief but important scene, he'll be more of an unseen god-like specter in
Manhattan
. The series' driving and driven force is Frank Winter, whose principal confidant is physicist Glen Babbit (Daniel Stern in a big bush of a beard that's not a glue-on, as he proved at a recent interview session with TV critics).
Winter is married to botanist Liza Winter (Olivia Williams), who's being slowly wilted by her husband's steadfast brooding and long nights of obsessive work. Still, she brings salt and vinegar to these proceedings, as does the Winters' restive 16-year-old daughter, Callie (Alexia Fast).
"Why are we even here?" she demands. Everything is so "Kafka-esque."
"At least she's reading," Liza quips to Frank after their daughter has stormed out.
Meanwhile, Frank is sharing his secrets and having an apparent secret relationship with a woman who doesn't understand English. So in effect he's not sharing anything at all regarding the holy hell he hopes to someday unleash on the enemy.
Manhattan
is filmed on location in New Mexico, which is suitably dusty and barren for these particular purposes. Series creator Sam Shaw (who's written for Showtime's
Masters of Sex
) and veteran director Thomas Schlamme (
The West Wing
and TNT's current
Murder in the First
) do a solid job of recapturing a time and place of mystery, duplicity and remoteness.
There's also been a divorce from basic constitutional rights, as evidenced during a Guantanamo Bay-esque interrogation in Episode 2. One of Schlamme's old
West Wing
running mates, Richard Schiff, does some of his best work in years as the government emissary sent to unravel an accused spy.
Through the first two hours, Frank Winter and the young Charlie Isaacs are arch rivals in the A-bomb game. Charlie still resents Frank for being the only brainiac to reject his "paper." He thinks he knows why: "You're afraid I'm the meteor that'll make you go extinct."
"What is it with little boys and dinosaurs?" Frank retorts. Dinners don't get much more uncomfortable, and this one was arranged by Liza Winter as a gesture of friendship to Charlie's wife, Abby.
Some might find
Manhattan
to be too much on the gloomy side, with scant physical action -- sexual or otherwise -- to compensate during its first two hours. The buildup to history's ultimate most violent act is not replete with beheadings, couplings or other pleasures or maimings of the flesh. Instead viewers will be treated to mind games and choice lines such as, "A girl with a Ph.D. is like a monkey with a harmonica" among all those 1940s male scientists expecting some sort of "circus act."
WGN America, in just its second try on the dramatic series front, has excelled with a cerebral, character-driven morality play in which the stakes couldn't be higher. John Benjamin Hickey's point man performance leads the way, with his character's demons and dilemmas already etched like fissures in his face. Carrying the weight of the world can be heavy lifting.
Manhattan
so far shows every sign of being able to shoulder the load.
GRADE:
A-minus
Email comments or questions to:
unclebarky@verizon.net