Satisfaction guaranteed (for viewers): Showtime's Masters of Sex returns for Season 2
07/06/14 10:04 AM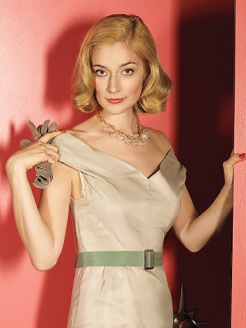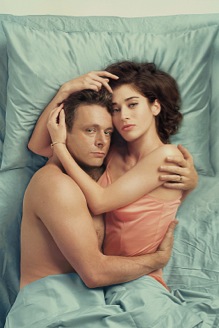 Triangulating (left to right): Caitlin Fitzgerald, Michael Sheen and Lizzy Caplan in Season 2 of Masters of Sex. Showtime photo
By ED BARK
@unclebarkycom on Twitter
One of television's sexiest women -- if not
THE
sexiest -- fittingly can be savored anew in Season 2 of Showtime's
Masters of Sex
.
One of its bigger cads -- if not
THE
biggest -- is also very much in residence.
The principals are renowned pioneering sexologists Dr. William Masters and Virginia Johnson, respectively played by Michael Sheen and Lizzy Caplan. Their late 1950s behavioral studies and traits resume on
Sunday, July 13th at 9 p.m. (central) on Showtime
. The network again has ordered 12 episodes.
Showtime sent the first two hours for review, with the opener including a helpful recap. By the end of last season, Masters had been bounced from Washington University Hospital in St. Louis after a graphic film of his sex research studies was looked upon as pornographic.
Masters and Johnson already had dissolved their professional partnership after engaging in clinical intimacy in the interests of advancing their findings. But by the end of the Season 1 finale, he stood on her rainy doorstep and said he couldn't live without her.
Meanwhile, Dr. Ethan Haas (Nicholas D'Agosto) had accepted a job in California while proposing marriage to Johnson and asking her to relocate with her two children. The ongoing marriage of Masters' longtime benefactor, Washington University provost Barton Scully (Beau Bridges), remained distinctly troubled after his wife, Margaret (Allison Janney), learned he was secretly gay. Barton vowed to "fix" himself by undergoing electro-shock therapy. Masters and his wife, Libby (Caitlin Fitzgerald), also struggled on the fulfillment and fertility fronts. But will their first child, a baby boy, help to re-bond them?
The Season 2 premiere has significant developments on all these fronts while Masters looks for a new hospital to both condone and bankroll his studies. The go-between turns out to be former prostitute Betty DiMello (Annaleigh Ashford), who left
Masters of Sex
during last season to marry pretzel magnate Gene Moretti (Greg Grunberg) under false pretenses. He envisioned having a big family; she knew, via Masters, that childbirth was out of the question.
The DiMello character returns as a full-time regular in Season 2. Her snap, vigor and humor are welcome in a series whose two principal characters invariably are tightly wound and business-like -- even during the clandestine affair they carry on in a well-appointed hotel under assumed names.
Masters can be compassionate with the peripheral patients he occasionally treats. But his new son is another matter. Or as he tells his long-suffering mother intent on making amends (Ann Dowd as "Essy" Masters), "I am my father. You know it."
When his son wails in his crib during Masters' brief period at home alone, he spins The Everly Brothers' "Bye Bye Love" loudly on the record player rather than cuddling or comforting the infant. It's an infantile, self-absorbed response on the part of a man who seems determined to snub those who should mean the most to him.
Johnson likewise is research-driven but better rounded as a caring member of the human species. She's a partner, sex-wise and otherwise, that Masters clearly doesn't deserve. But it can't be helped, Johnson seemingly has determined. The "work" is paramount while its ramifications keep piling up.
Back at the semblance of a Masters homefront, Libby hires a young black woman named Coral (Keke Palmer) as the new nanny/housekeeper after Essy's driven off by her grown son. Episode 2 finds them increasingly conversational while they fold William Masters" seemingly endless supply of white undershirts.
"Whoever heard of a grown man being afraid of his own child?" Libby wonders aloud.
"My auntie was the queen of the swaddle," Coral says in a later scene after comforting the baby that his father still won't touch. But Libby soon is of no comfort to Coral, correcting her on pronouncing "ask" as "aks" -- and insisting that she get it right so as not to be a bad influence on the baby. It's a telling scene in which Libby comes off as a plantation matriarch still intent on enforcing class divides.
There also are some stunning developments involving the Scullys. And both Bridges and Janney are fully capable of bringing them home in a very eventful Episode 1.
Executive producer Michelle Ashford says in Showtime publicity materials that the series will leap ahead three years after this season's first six episodes. That will take
Masters of Sex
into the early 1960s, which were
Mad Men
's jumping off point en route to the cusp of the 1970s.
Masters of Sex
is without question in
Mad Men
's league as a period drama that looks inward, outward and unsteadily ahead. The performances of Sheen, Caplan, Janney and Bridges rival those in any ongoing TV series. Satisfaction is guaranteed -- even if none of the principals ever experience a true measure of it.
GRADE:
A
Email comments or questions to:
unclebarky@verizon.net