Extant gives CBS another 13-episode sci-fi summer splash
07/02/14 02:28 PM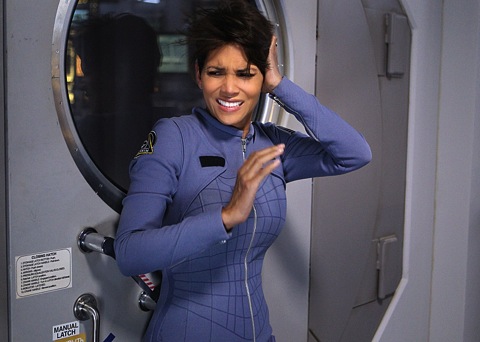 Something's askew in outer space for Halle Berry in Extant. CBS photo
Premiering:
Wednesday, July 9th at 8 p.m. (central) on CBS
Starring:
Halle Berry, Goran Visnjic, Pierce Gagnon, Hiroyuki Sanada, Camryn Manheim, Grace Gummer, Michael O'Neil, Brad Beyer, Sergio Harford
Produced by:
Steven Spielberg, Greg Walker, Mickey Fisher, Justin Falvey, Darryl Frank, Brooklyn Weaver
By ED BARK
@unclebarkycom on Twitter
As did
Under the Dome
at this time last year, CBS' second big summertime splash opens with an impressive and involving first chapter.
Dome
since has gotten silly if not altogether stupid, although its ratings remained strong for Season 2's June 30th startup.
Extant
, a futuristic, 13-episode drama starring Halle Berry as a very vexed astronaut, looks to be more firmly grounded. Launching on
Wednesday, July 9th at 8 p.m. (central)
, it packs a lot of intriguing plot threads into its first hour while also brimming with money-on-the-screen production values. Head producer Steven Spielberg, increasingly a TV maven, still doesn't lend his name to anything cheap-looking.
Berry plays Molly Woods, who's just returned from a one-person, 13-month mission in outer space. Her husband, John Woods (Goran Visnjic), is an inventor of human-like androids, with his prototype being the Woods' pre-teen son, Ethan (Pierce Gagnon). The kid can have a short temper, as can Dad. But John Woods touts Ethan as an overall safe alternative for childless and/or infertile couples. The Woods had qualified on both counts, but Molly has returned suddenly and secretly pregnant. She gets this news from Dr. Sam Barton (Camryn Manheim), who's also a good friend. At Molly's pleading, they agree to keep it confidential for now. But in flashbacks, viewers will learn she's not telling the truth, the whole truth, about what happened during a brief portion of her time on Seraphim Station.
Extant
is set in a so far undisclosed year in the future. The series has a sleek exterior, a vaporizing outdoor garbage disposal unit and some cool, flying toys owned by kid android Ethan. It otherwise looks pretty much like the here and now.
The cast also includes Meryl Streep's increasingly accomplished daughter, Grace Gummer, as a teacher named Julie Gelineau. A corporate mastermind, Hiroyuki Sanada (Hideki Yasumoto), appears to be more sinister than honorable in his efforts to help John Woods build his fleet of androids. Brad Beyer and Sergio Harford play presumably deceased astronauts with ties to Molly. In the first episode's final scene, she's told to trust no one. That's a hook as old as sci-fi itself. But
Extant
does a very good job of imbedding that hook.
It's unknown for now whether Molly's husband is an evil-doer or a well-intentioned man of science. But he's not a good salesman, telling a questioner during a funding presentation that "what you call a soul, I call a cumulative effect of a lifetime of experience." That's not going to cut it.
Berry, an Oscar-winner for 2002's
Monster's Ball
, brings genuine star power to these proceedings. Her portrayal of Molly, particularly in the premiere episode's outer space segments, is compelling and deeply emotional when something life-changing happens to her after a power outage aboard the station. CBS publicity materials say this will "ultimately change the course of human history." Otherwise no pressure.
Extant
now will have to live up to its considerable promise. CBS has provided only the opening hour for review, which was also its approach with
Under the Dome
. Had we known then what we know now . . . But
Extant
makes a pretty terrific first impression. With 12 episodes still to come, the series at the very least has cleared its first big hurdle.
GRADE:
B+
NOTE TO READERS --
CBS will go this route a third time next summer with
Zoo
, a 13-episode series adapted from the 2012 James Patterson bestseller. The thumbnail description in network publicity materials goes like this: "A global thriller about a wave of violent animal attacks against humans across the planet. As the assaults become more cunning, coordinated and ferocious, a young renegade biologist is thrust into the race to unlock the pandemic's mystery before there's no place left for people to hide."
There's no casting yet. CBS entertainment chairman Nina Tassler says that
Zoo
"further demonstrates our commitment to high-quality, year-round programming and to high-concept series that play to summer audiences in the U.S. as well as on a global scale."
Email comments or questions to:
unclebarky@verizon.net