AMC's Feed the Beast doesn't make much of a presentation
06/02/16 03:04 PM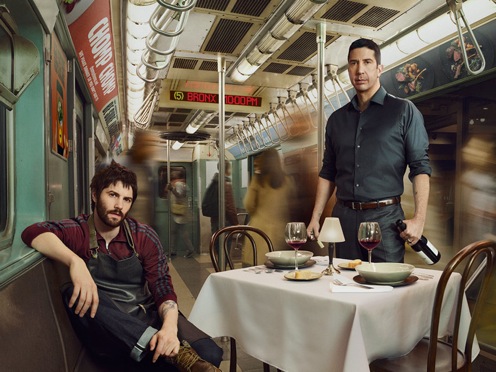 Jim Sturgess and David Schwimmer of Feed the Beast. AMC photo
Premiering:
Sunday, June 5th at 9 p.m. (central) on AMC
Starring:
David Schwimmer, Jim Sturgess, Michael Gladis, Lorenza Izzo, Christine Adams, John Doman, Elijah Jacob
Produced by:
Clyde Phillips, Henrik Ruben Genz, Malene Blenkov, Piv Bernth
By ED BARK
@unclebarkycom on Twitter
It should be said in David Schwimmer's favor that he's at least taking on more interesting acting challenges lately than his two fellow male co-stars from
Friends
.
Matthew Perry continues to slog through the broadly formulaic CBS version of
The Odd Couple
while Matt LeBlanc will play a beleaguered dad this fall in the network's
Man With a Plan
sitcom.
In contrast, Schwimmer solidly played O. J. Simpson pal Robert Kardashian in the acclaimed FX miniseries before immediately moving on to the AMC drama series
Feed the Beast
.
That said, there's a "but" here.
Feed the Beast
more often than not is a rather clumsy, predictable and often preposterous tale of two lifelong friends who reunite to open an upscale restaurant in an otherwise lousy neighborhood in The Bronx. Schwimmer plays hangdog sommelier Tommy Moran, whose 10-year-old son, TJ (Elijah Jacob) has gone mute ever since seeing his mom, Rie (Christine Adams in flashbacks) killed by a hit-and-run driver. It also doesn't help that Tommy remains a timid soul after years of bullying by his racist and ruthless businessman father Aidan (John Doman in a wheelchair).
Meanwhile, cocaine-addicted Dion Patras (Jim Sturgess) is fresh out of prison after burning down the previous restaurant that he and Tommy owned with Rie. Dion, the otherwise perfectionist chef, is immediately caught in the middle and terrorized by both a brutal, strong-armed cop and mobster Patrick Woijchik (Michael Gladis), also known as "The Tooth Fairy" for his invasive use of a pair of pliers.
Dion owes The Tooth Fairy $600 grand, and he intends to collect every penny. So what to do? Turn Tommy's messy but sprawling Bronx abode into a restaurant called Thirio (which means Beast). But where will the money come from? Well, Tommy's father is pretty much loaded, so let's get him to invest.
Meanwhile, a member of Tommy's therapy group, naive, perky Pilar Herrera (Lorenza Izzo), is willing to work for nothing as the restaurant manager. Why? Because she has the hots for him -- but in a very nice way.
All of this is very slow-cooked -- and mostly half-baked -- during the four episodes made available for review in a Season One that will number 10. It's all based on the Danish series
Bankerot
(Bankruptcy), which so far has run for two seasons. In the American version, Schwimmer is barely average in his role while Sturgess brings a little more edge but not much else. His Dion character also becomes something of a surrogate father to TJ while Tommy further moans about losing his doting fatherly influence. And if that's not enough, old man Aidan demands a weekly visitation from the grandson he'd otherwise never seen before. He wants to toughen the kid up, and soon has him hitting the heavy bag.
Oh well. The food looks pretty good. But that's not enough to keep this drama from rising above basic cafeteria fare.
GRADE:
C
Email comments or questions to:
unclebarky@verizon.net