Cinemax gets a big jolt with Outcast
06/02/16 11:44 AM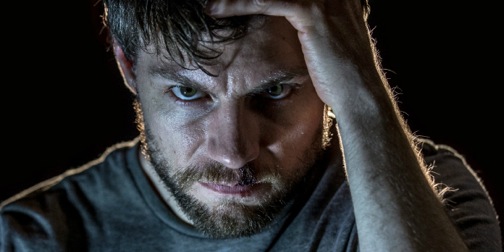 Haunted Kyle Barnes has lots on his mind in Outcast. Cinemax photo
Premiering:
Friday, June 3rd at 9 p.m. (central) on Cinemax
Starring:
Patrick Fugit, Philip Glanister, Wrenn Schmidt, David Denman, Julia Crockett, Reg E. Cathey, Grace Zabriskie, Brent Spiner
Produced by:
Robert Kirkman, Chris Black, David Alpert, Sharon Tal Yguado, Sue Naegle
By ED BARK
@unclebarkycom on Twitter
So this is a series that starts with a possessed little boy named Joshua killing a bug on a wall by smashing his head against it. He then eats the crushed corpse while also lapping up some of the blood from his head wound.
It's not something Theodore "Beaver" Cleaver would do. But
Outcast
is very much in keeping with Robert Kirkman's creative urges. The author of
The Walking Dead
comic books sold this one to Cinemax before its first printed issue emerged in June 2014. A total of 18 comic books now pre-date Season One's 10 episodes, where very bad things begin happening on Friday, June 3rd. It takes a while for
Outcast
to take hold. But it most certainly does -- and in an almost chaste way when it comes to nudity (none in the four episodes made available for review) and language (just a small dose of f-bombs).
Violence is in full bloom, though, as it is in many ongoing cable drama series. The tormented soul trying to stop it -- and also reclaim his mother, wife and daughter -- is Kyle Barnes (Patrick Fugit), who's been living in a sad state of disrepair since returning five months earlier to nondescript little Rome, West Virginny. His married foster sister, Megan Holt (Wrenn Schmidt), has never stopped trying to save Kyle from himself, despite continued opposition from her deputy sheriff husband Mark (David Denman).
The other pivotal character is Reverend Anderson (Philip Glenister), an old-school exorcist whose principal tools are a cross and a prayer book. As Kyle slowly emerges from the near-dead, he grudgingly agrees to team up with the minister intent on ridding Rome of all its evil within. Their first mission is demonic Joshua, who's one hell of a handful.
Outcast
spends the concluding portion of its opening episode on this very grim undertaking. It's not for the squeamish, but you likely deduced that from the opening paragraph of this review.
Kyle otherwise doesn't know quite what's hit him. Why did his loving mother, Sarah (Julia Crockett), suddenly turn into a banshee who horribly abused him as a child and is now open-eyed comatose? And what about his subsequent wife, Allison (Kate Lyn Barnes), and their daughter, Amber (Madeleine McGraw)? What the hell happened there?
The reliably cantankerous Grace Zabriskie and former
Star Trek: The Next Generation
co-star Brent Spiner pop in and out of
Outcast
as important recurring characters. And in Episode 4, former
Friday Night Lights
regular Scott Porter ditches his overall wholesome persona to play a very unsavory blast from Megan Holt's past. Reg E. Cathey adds vinegar as the condescending, longtime police chief.
Outcast
is beautifully composed cinematically, with a conveniently nearby woods providing an extra layer of creepiness. By the end of the initial four episodes, a spellbinding hook has been set, with the mythology enticingly unfolding amid week-to-week new vistas in exorcism. Fugit's Kyle struggles mightily and compellingly to piece himself back together with help from an imperfectly preachy new partner with a salty tongue. "You wanna fight the devil? Start with cleanin' your f***ing act up," the reluctant disciple is told.
This series has got my damned attention.
GRADE:
B+
Email comments or questions to:
unclebarky@verizon.net