CBS tries again with American Gothic, which otherwise has nothing in common with the famous painting or the network's 1995 original
06/17/16 12:06 PM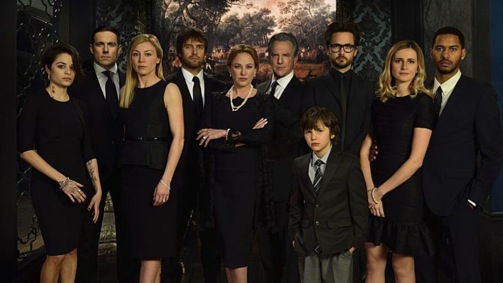 All in the family. But who's the killer in American Gothic? CBS photo
Premiering:
Wednesday, June 22nd at 9 p.m. (central) on CBS
Starring:
Juliet Rylance, Antony Starr, Justin Chatwin, Megan Ketch, Virginia Madsen, Eliot Knight, Stephanie Leonidas, Gabriel Bateman, Jamey Sheridan
Produced by:
Corinne Brinkerhoff, Justin Falvey, Darryl Frank, James Frey, Todd Cohen
By ED BARK
@unclebarkycom on Twitter
Perhaps Leslie Moonves remembers this. Or possibly he's chosen to forget.
Moonves first joined CBS in July 1995 as entertainment president. The last-place network already had its new fall lineup in place, so Moonves inherited the likes of
Bless This House, Central Park West, Dweebs, Almost Perfect, Can't Hurry Love, If not For You
and -- the punch line --
American Gothic
.
All were dismal failures, but CBS for some reason can't seem to put the
American Gothic
title to bed.
The original starred Gary Cole as demonic, supernatural-powered Lucas Buck, sheriff of a small South Carolina town. The series otherwise is notable for introducing young Lucas Black, who went on to co-star with Billy Bob Thornton in
Sling Blade
and now is a regular on CBS'
NCIS: New Orleans
. As 10-year-old Caleb Temple in the network's first
American Gothic
, he had to fight off Buck's repeated attempts to possess and corrupt him.
All these years later, with Moonves now running the entire CBS show, here comes an entirely different
American Gothic
originating from the big city of Boston and featuring a typically dysfunctional upper crust family. No one has supernatural powers, but there's a pretty creepy kid in the cast. He's nine-year-old Jack Hawthorne (Gabriel Bateman), who in Episode 2 tells the mourners at his grandfather's funeral, "I'm mostly sad that grandpa was cremated and I never got to see his decomposing body."
Little Jack is really into forensics, you see. And his father, illustrator/drug addict Cam Hawthorne (Justin Chatwin), hasn't been of much help to him. Jack's mom, Sophie Hawthorne (Stephanie Leonidas), is estranged from Cam and has also been a druggie. But they still see each other, and the sex remains hot.
We're only scratching the surface of the Hawthorne family's many trials and tribulations. They all swirl around new clues about a serial murderer dubbed the Silver Bells Killer because he left a silver bell next to his six previous victims, all of whom were strangled by a belt. But the killings stopped 14 years ago, which also happens to be the time that a very moody and darkly dispositioned Garrett Hawthorne (Antony Starr) left his family. Now he's suddenly back after the father he despises, Mitchell Hawthorne (Jamey Sheridan), is hospitalized following a heart attack.
Mitchell's wife is Madeline Hawthorne (Virginia Madsen), who turns out to be very conniving. Their two daughters are mayoral candidate Allison Hawthorne-Price (Juliet Rylance), who's living something of a secret life, and the younger Tessa Ross (Megan Ketch), conveniently married to dogged detective Brady Ross (Elliot Knight). At issue: what, if anything, do the Hawthornes have to do with all those murders? Or is the mounting evidence all just purely (and pretty impossibly) circumstantial?
The two episodes made available for review are not without pulling power. But how much staying power will
American Gothic
have over a long haul of 13 episodes ordered for Season One? And how many times have viewers been down similar roads in dramas about powerful families with more skeletons than a Halloween haunted house?
We'll leave you with this exchange, near the end of Episode 2, between Madsen's seemingly malevolent Madeline and prodigal son Garrett, who underscores his potential malevolence by shaving with a knife.
"I think you should leave," she tells him.
"Why?"
"Because you're a grenade."
"Well, then maybe you should handle me carefully."
Guess I'll keep watching.
GRADE:
B-minus
Email comments or questions to:
unclebarky@verizon.net