Two transfixing TV miniseries tackle O. J. Simpson hard
06/16/16 10:21 AM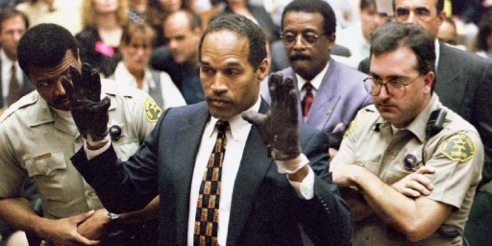 By ED BARK
@unclebarkycom on Twitter
It's been a very big year for a certain wealthy, internationally famous womanizer who's built a wall around himself and people of color while getting away with murder in the minds of many.
This time it's not about you, Donald Trump. O. J. Simpson, now 68 and still serving time in a Nevada jail on an armed robbery conviction, has been dissected as never before in two acclaimed miniseries that likely will be winning numerous awards before the year is out.
FX's 10-part, 10-hour
The People v. O. J. Simpson: American Crime Story
, which concluded on April 5th, told the inside story of his polarizing acquittal in the 1994 murders of ex-wife Nicole Brown Simpson and Ronald Goldman. A notable cast, including John Travolta, Sarah Paulson, Courtney B. Vance, Nathan Lane and Cuba Gooding Jr. as Simpson, acted out an adaptation of Jeffrey Toobin's excellent 1996 book,
The Run of His Life: The People v. O. J. Simpson
.
ESPN's ongoing 5-part, 10-hour
O. J.: Made In America
documentary series at first brush had the air of redundancy. Instead it's anything but. Unlike FX's presentation, the smoldering racial buildup to Simpson's exhaustively covered trial is detailed starkly and instructively. Simpson's incredible on-field abilities also are recaptured, both as a Heisman Trophy-winning USC running back and as the first NFL player to rush for more than 2,000 yards in a single season while with the Buffalo Bills in 1973.
Through it all, the black community of Los Angeles never felt Simpson's firm embrace. But years of police brutality and courtroom verdicts favoring the perpetrators served to elevate "The Juice" to a stature he didn't deserve or want until it became his lifeline in a court of law. The man who lived in luxurious, almost exclusively white Brentwood had long distanced himself from even a semblance of civil rights activism. It made him an unlikely Lion King in the fight against white oppressors, but that role ended up transcending his guilt or innocence. Two decades later, there's even less doubt that O. J. "did it." But his win against "The Man," aided and abetted by an oft-inept prosecution team, is still viewed through the prism of institutional racism as "payback" for decades of injustice.
Made In America
makes that side of the story perfectly clear while also judiciously telling both sides.
I've watched the FX and ESPN miniseries in their entirety and also read Toobin's book, which adds even more layers of behind-the-scenes intrigue and commentary.
Made In America
doesn't officially conclude until Saturday night on ESPN. But the complete production is now available via WatchESPN on the streaming device of your choice. I viewed Parts 3, 4 and 5 using the ESPN app on Roku. There are a lot fewer commercial breaks and they're also of shorter duration. So you can save yourself an hour or two or more by using this option to watch the rest of
Made In America
or start from scratch. You also won't have to wait until Saturday.
OK, that's enough on the other tools at hand. Here's some of what I took away from
Made In America
.
***
Simpson indeed was luminescent and even humble at the height of his athletic powers. When he broke the 2,000-yard rushing barrier on a freezing day on the road against the New York Jets, he insisted that the entire Bills starting offense be with him for the locker room interview. Post-game coverage shows him recognizing each of them by name while looking very happy to do so. It still comes off as an enduring, selfless act of generosity.
***
LAPD chief Daryl Gates, who died in 2010, is depicted as an imperial authority figure with an overall condescending view of minorities as deficient human beings. His troops were taught to wade into the black community with clubs and other weaponry at the ready. Drug busts, whether anything of any consequence was found, were excuses to go on property-destroying rampages.
The aftermath of one such forced entry remains astonishing. But after the 1991 exoneration of four police officers in the Rodney King beating, Gates instructed his officers to initially stand down while property in South Central L.A. was looted and torched. Live overhead pictures also showed white truck driver Reginald Denny being dragged from his vehicle and viciously beaten by a gang of black rioters. Two black civilians ultimately rescued him while the LAPD remained out of the picture. Again, the pictures are shocking.
***
Simpson appeared as Officer Nordberg in the
Naked Gun
movies. Given all that's transpired, I felt uncomfortable still laughing at one of his comedic turns. But as a clip in
Made In America
shows, it's hard to keep a straight face while watching Nordberg being riddled with bullets before staggering about and hitting his head, burning his hand in a furnace, soiling his jacket with wet white paint, getting his fingers crunched by a slamming window, falling face-first into a cake and finally stepping into a bear trap.
A more telling clip shows a tuxedo-clad Simpson soft-shoeing with a white, blonde girl (Melissa Michaelsen) in the 1981 NBC movie
Goldie and the Boxer Go to Hollywood
. Simpson's easy navigation of the white world -- a world he greatly preferred -- is starkly evident here. It's also all too reminiscent of the pairing of tap dancer Bill "Bojangles" Robinson and child star Shirley Temple in her vintage films of the otherwise segregationist 1930s.
***
Accused by Simpson's defense team of railroading him, the Los Angeles Police Department in fact enabled "The Juice" for years. His continued beatings of Nicole, with the aftereffects shown in still photos, were largely dismissed with hand slaps. This was, after all, O. J. Simpson, the guy who often entertained cops at his posh Brentwood home. No one could or seemingly wanted to curb his growing sense of entitlement.
***
The crime scene photos of Nicole Brown Simpson and Ronald Goldman, which come to the fore in Part 4, are hard to look at and certainly should be. Some might argue they're also voyeuristic and unneeded in the re-telling of O. J. Simpson's story. But they show the savagery of that horrific night in Brentwood, when two innocent people died at the hands of a killer who's technically still at large, although almost assuredly behind bars again. Their blood still stains the many who in some way might have done something to prevent what happened to them.
***
In its final chapter,
Made In America
's documentation of Simpson's debauched Vegas years is both startling and revolting. He still needed the spotlight and adulation. And "Sin City" gave it to him in full measure while the outside world turned its back. The immensely talented, likable and effervescent star athlete of the 1960s and '70s deteriorated into a bloated, self-absorbed Caligula who still laughed his laugh, drank his fill and never lacked for hangers-on.
Simpson continues to serve a maximum 33-year sentence but will be up for parole in 2017 after being convicted in 2008. Whatever his fate, 2016 will be remembered as the year when O. J. returned to the public consciousness in two disturbing and transfixing miniseries.
Email comments or questions to:
unclebarky@verizon.net