TNT takes aim at being daringly provocative with Animal Kingdom
06/14/16 11:04 AM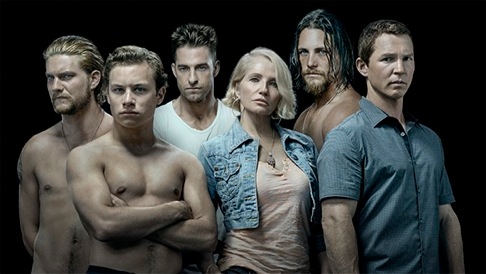 Ellen Barkin presides over an untamed bloodline in Animal Kingdom.
TNT photo
Premiering:
Tuesday, June 14th at 8 p.m. (central) on TNT
Starring:
Ellen Barkin, Scott Speedman, Shawn Hatosy, Finn Cole, Ben Robson, Jake Weary, Daniella Alonso, Molly Gordon
Produced by:
Liz Watts, Jonathan Lisco, John Wells, David Michod, Andrew Steam
By ED BARK
@unclebarkycom on Twitter
The new "radically different" TNT promised by former Fox entertainment head Kevin Reilly takes its inaugural spin Tuesday night with the first two hours of the determinedly dark
Animal Kingdom
.
There are no sunny skies here -- at least dramatically. The first scene finds 17-year-old Josh "J" Cody (Finn Cole) staring fixedly while seated on a couch next to his still-life mother. Paramedics burst in but can't resuscitate her. She's dead of an overdose, leaving J with few options other than calling his grandma, Janine "Smurf" Cody (Ellen Barkin), whom he hasn't seen in more than a decade.
She turns out to be a trim Ma Barker with imposing cleavage that's on constant display in the first hour before sultry granny suddenly covers herself in the two other episodes made available for review. At age 62, though, Barkin's flesh is still willing and able to make quite an impression. But maybe someone at TNT thought the series already is amply stocked with younger bare behinds and upper torso side views that test both the limits of advertiser-supported cable and the dexterity of the series' shooters.
Smurf has three blood sons and the cleaner cut, adoptive Barry "Baz" Brown (Scott Speedman), who spends much time at the family compound but also has a restive life away from it with his girlfriend, Catherine (Daniella Alonso), and their pre-teen daughter. When not pulling off heists, Smurf's wild bunch drinks heavily and plays rough, physical games around the family pool.
Middle son Craig (Ben Robson) augments his drinking with constant cocaine snorting. Youngest son Cody (Jake Weary) is also a temperamental brute while the oldest boy, Andrew "Pope" (Shawn Hatosy), is fresh out of prison, thoroughly creepy and in, ahem, renewed close touch with his mama.
Young J, although hardly virginal, is thrust into this intimidating environment after grandma takes him in and then slowly sucks him into her vortex. He otherwise spends a lot of time racing around on his pedal-powered little bicycle. It's pretty much emblematic of the first three episodes, which veer to and fro while seemingly in no hurry to gain traction.
It's all adapted from the same-named, critically lauded 2010 Australian film, which was based on the real-life Pettingill crime family and received an Academy Award nomination for Jacki Weaver in the role Barkin is now playing.
Barkin's Smurf assures the impressionable J that "we never set out to hurt anyone," but sometimes things happen. They include the unintended death of a cop during a smash-and-grab jewel store robbery in which Craig sustains a gunshot wound. This all unfolds by the end of the first hour.
Animal Kingdom
then starts to dawdle and meander, even though Hatosy's "Pope" keeps registering as a really strange dude who provides an overlay of palpable menace. His prey, in due time, could be J's nubile girlfriend, Nicky (Molly Gordon), who already seems pretty comfortable amid her boyfriend's new surroundings.
Barkin is a softer serve villain, but with flashes of fury whenever something's not done right or someone gets out of hand. But the overall pace starts to get stalled in neutral or first gear at best. And some of the storytelling can be disjointed.
Other than that,
Animal Kingdom
premieres at a time when there may not be much stomach for it. The horrible mass executions early Sunday morning at an Orlando, FL gay nightclub continue to dominate the news. So a drama that more or less "celebrates" an unsavory and, from the looks of it, incestuous crime family, may put many off their feed -- particularly longstanding TNT viewers who are more used to the likes of
Rizzoli & Isles
and, not that long ago,
Dallas
.
The new TNT wants to be much like FX, where Reilly also used to work. But
Animal Kingdom
is nowhere near in the same league as
The Americans
or
Fargo
or the recently ended
Justified
. And if it's trying to be
Sons of Anarchy
. . . well, I think most viewers finally had enough of that, too.
GRADE:
C+
Email comments or questions to:
unclebarky@verizon.net