ABC's Dirty Dancing tries to floor it on the final night of the May "sweeps"
05/24/17 10:54 AM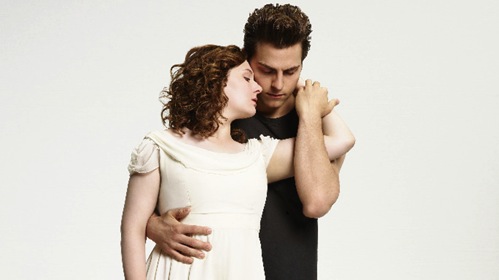 Abigail Breslin/Colt Prattes are the new "Baby" & Johnny. ABC photo
By ED BARK
@unclebarkycom on Twitter
Announced and scrapped twice, ABC's "re-imagined"
Dirty Dancing
finally slides into prime-time on the closing night of the May "sweeps" and on the heels of the network's latest
Dancing with the Stars
season finale.
Then comes NBC's new
World of Dance
, which steps out on Tuesday, May 30th before Fox's long-running
So You Think You Can Dance
returns for Season 14 on June 12th. Can't a ballroom catch a break?
Three decades ago, the
Dirty Dancing
feature film became a surprise monster hit and made international stars of Patrick Swayze and Jennifer Grey. CBS tried to turn it into a weekly series in the following year. But its
Dirty Dancing
, starring Patrick Cassidy and Melora Hardin, became a wallflower after just 11 episodes. It also served as another rude awakening for McLean Stevenson (cast as summer resort owner Max Kellerman), who never recovered career-wise from his impulsive decision to leave
M*A*S*H
.
In the here and now, ABC's
Dirty Dancing
has been bloated to a 2 hour, 10 minute running time (plus 50 minutes of commercials and promos) within its three-hour slot. The original was a half-hour shorter, and better for it.
Abigail Breslin is a notably chunkier Frances "Baby" Houseman in the new version while the basically unknown Colt Prattes steps in as sculpted Johnny Castle, the resort's misunderstood, trouble-prone lead dancer.
Appreciably more familiar to audiences are Debra Messing and the ubiquitous Bruce Greenwood as Baby's parents, Marjorie and Dr. Jake. They have a much bigger storyline here, with Jake's rigidity and distaste for "vulgar" displays clashing with Marjorie's longings to cut loose and have sex again after a year's deprivation.
It's odd, then, that the family car drive to Kellerman's Lodge is a far looser affair, with Marjorie, Baby and her older sister, Lisa (an unconvincingly cast Sarah Hyland from
Modern Family
) breaking into "Big Girls Don't Cry" before rather easily persuading Jake to join in. After that, though, he's about as much fun as lumbago.
Onetime Woody Allen movie staple Tony Roberts is sprinkled in as Kellerman, although at age 77 he now eerily resembles Keith Richards. Billy Dee Williams has a few scenes as bandleader Tito Suarez while Katey Sagal gets more to do as the divorced and duplicitous Vivian Pressman, who's well-practiced at luring Johnny to her lair.
Former
Dancing with the Stars
champ Nicole Schwerzinger (she won the 10th edition) plays the more prominent role of Johnny's partner/lover, Penny Johnson. As the movie wears on, she proves to be rather amazingly understanding about Johnny's growing interest in Baby.
There's much singing and dancing, and just about everyone gets to do it, even Greenwood's stolid Jake. He's actually something of a revelation as a piano man/crooner, knocking out an affecting "They Can't Take That Away From Me" after Marjorie at last lowers the boom.
Breslin and Prattes are more or less adequate in the pivotal lead roles, but certainly no match for the smoldering chemistry that Swayze and Grey displayed both on and off the dance floor. Prattes' abs are more than a match for Swayze's, though. As for Baby, well, let's just say that Breslin's physique is "different."
The ABC remake bookends itself with New York City, circa 1975. A 30-year-old Baby is in the audience for a Broadway performance of
Dirty Dancing: The Musical
before she wistfully recalls her coming-of-age summer of 1963. After all of that plays out again, the film returns to 1975 for an epilogue that rather ham-handedly reconnects the two principals instead of letting things end with the original's climactic group performance of "(I've Had) the Time of My Life" (an Oscar-winner for Best Original Song).
The new
Dirty Dancing
, cast with an eye toward diversity, ends up being neither disastrous or necessary. Still, it's not as though ABC is daring to remake
Citizen Kane
or
The Graduate
. Some things should just be left alone, but
Dirty Dancing
wasn't a classic of its time. It was an entertaining, energetic, unexpected commercial smash that 30 years later is getting a dusting off. Younger audiences experiencing
Dirty Dancing
for the first time might find this one fun to watch -- except for the extra screen time ABC devotes to the grownups and their tired, calcified marriage. Yuck!
GRADE:
C
Email comments or questions to:
unclebarky@verizon.net