The X-Files fires up anew in times when the truth is anything but out there
01/02/18 04:16 PM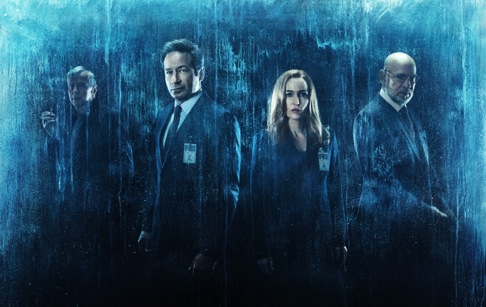 Come again? David Duchovny, Gillian Anderson return to the roles that made them famous in 10 new hours of The X-Files. Fox photo
By ED BARK
@unclebarkycom on Twitter
Whatever the depth of your fandom or ignorance, the ABCs of
The X-Files
generally are the equivalent of seven Scrabble letters. They seldom add up to a whole.
Not that Fox is even remotely concerned. Who cares if the truth is out there when David Duchovny and Gillian Anderson are back in full view as the network's most famous fictional drama duo? Fox Mulder (Duchovny) and Dana Scully (Anderson) were instrumental in putting Fox on the map during its formative years as a rival to ABC, CBS and NBC. Nearly a quarter-century later, here comes a second reboot (of 10 episodes) after Fox coaxed Anderson and Duchovny into doing a six-hour return two Januarys ago. The reset starts on
Wednesday, Jan. 3rd at 7 p.m. (central)
.
Things since have changed rather dramatically on the
veritas
front. And although he's never named specifically, a stand-alone Episode 4 (subtitled "The Lost Art of Forehead Sweat") leaves no doubt that Donald Trump is its drink-stirrer.
"No one can tell the difference anymore between what's real and what's fake," says an imagined character (or is he?) named "Dr. They."
Mulder rather haplessly insists there are still unassailable objective truths in play, to which Dr. They replies, "So What?"
The "current president" said something "truly profound," he adds. Namely, "Nobody knows for sure."
"What was he referring to?" Mulder wonders.
"What does it matter?" Dr. They says as a parting shot.
Translated,
The X-Files
' unfolding and ever convoluted "mythology" is also now free to run even wilder. After all, we've just lived through a year of "alternative facts" and "realities" that literally have served to trump the nation's lie detectors.
True believers who have devoured most if not all of the 208 previous episodes likely will find it thrilling simply to be strung along anew. Those of us who have been less dedicated to the cause perhaps can be more forgiving of the show's loopy transgressions. To be sure,
The X-Files
isn't any more plausible. But within its particular realm -- and in these particular times -- it can strain credulity with an abandon that might not cause as many eyes to roll out of their sockets.
Besides Mulder and Scully, two
X-Files
mainstays also return to the mix. Assistant FBI director Walter Skinner (Mitch Pileggi) continues to play both sides while "Cigarette Smoking Man" (William B. Davis) remains a fount of revelations. At the close of Episode 1 (one of five made available for review), he unspools a biggie while in the company of Skinner. Not that he can be trusted.
We also live in times when producers feel the need to spell out efforts to diversify their off-camera staffs. It didn't matter much 25 years ago, when creator Chris Carter basically could deal out women as collaborators without being called out for it. But in the Fox publicity release accompanying the new
X-Files
episodes, Carter makes it a point to say up top: "As in our last time out, we put the band back together as much as possible, including Glen Morgan, James Wong and Darin Morgan. We've also added three women writers and two women directors to that group, rounding out to just under 50% diversity in our credited creative team."
And now you know.
Anderson, her voice notably raspy, appears to be battling a cold or allergies in most of these new episodes. Then again, perhaps she's permanently channeled Kiefer Sutherland? Whatever the case, she isn't just going through the motions. Nor is Duchovny. They're at their best and most intimate together in the new season's Episode 3, subtitled "Plus One."
Most of the quips come from Duchovny, who in Episode 2 deadpans, "As if you didn't know" after Scully inquires, "Why do you operate so well with your hands cuffed behind your back?"
In the aforementioned Episode 4, a deft sight gag kicks in during a scene from a memorabilia dealer's ramshackle shop. A prominently displayed poster ostensibly is from one of Richard Nixon's presidential campaigns. "They can't lick our Dick," it boasts. Look also for an extraterrestrial wearing a white, bejeweled Elvis cape. He leaves behind a book titled, "All the Answers."
As this point in its long run,
The X-Files
probably doesn't need to fully sort itself out in any real shape or form. Will Scully and Mulder ever be reunited with their long-lost son? Or is he even the father? And by the way, who is Mulder's real pops? Riddle me "Project Crossroads" -- and who's all in on it. Furthermore, do you know the way to San Jose?
Whatever emerges, Duchovny and Anderson appear to be fully invested in these iconic roles. Both once ran away from the idea of being wedded to Mulder and Scully. But over time, being paid very handsomely has a way of breaking down one's resistances. Money talks. That's one truth that's very much still out there as we head into an otherwise topsy turvy 2018.
GRADE:
B-minus
Email comments or questions to:
unclebarky@verizon.net