Starz's Counterpart has a grip, a gimmick and a pair of J. K. Simmons
01/25/18 10:34 AM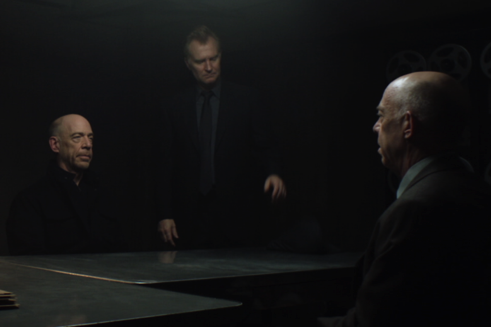 J. K. Simmons doubles down in alt-world espionage tale. Starz photo
Premiered:
Sunday, Jan. 21st at 7 p.m. (central) on Starz
Starring:
J. K. Simmons, Olivia Williams, Harry Lloyd, Ulrich Thomsen, Sara Serraiocco, Stephen Rea, Richard Schiff, Bernhard Forcher, Kenneth Choi, Sarah Bolger, Nazanin Boniadi
Produced by:
Justin Marks, Bard Dorros, Keith Redmon, Morten Tyldum, Jordan Horowitz, Gary Gilbert, Amy Berg, J. K. Simmons
By ED BARK
@unclebarkycom on Twitter
Better known lately as the face of those heavily exposed Farmers insurance ads, J. K. Simmons knows a thing or two because he's seen a thing or two.
Not so in Starz's new
Counterpart
, where his character knows a lot less than he thinks and hadn't really seen anything yet until meeting his hard-edged double from a parallel dimension. Lookalike cousins Patty and Cathy Lane from
The Patty Duke Show
simply had disparate tastes in styles, music and manners. The contrasting Howard Silks of
Counterpart
, both played by Simmons, are playing for far higher stakes, even if profane, take-charge Howard also thinks that meek, real-world Howard dresses like a dork. It's much more complicated than that, though. As the old sitcom song goes, you could lose your mind.
The first episode of
Counterpart
was sneak-previewed on Dec. 10th following the Season Three finale of
Outlander
before having its official premiere on Sunday, Jan. 21st. Due to some technical problems and a crush of other series launches, we're playing a bit of catchup. But Starz has made the first six of Season 1's 10 episodes available for review, so it's good to still be ahead of the game. And what a game it is.
At first look, there's just one Howard Silk. He's spent three decades as a mid-level, faceless bureaucrat with a Berlin-based United Nations agency called the Office of Interchange. His beloved wife, Emily (Olivia Williams), has been in a coma for six weeks after being hit by a car. Howard dutifully visits her daily, always with a fresh bouquet of flowers and a stem or two for the reception desk. He also yearns to move out of his dead-end job and into "Strategy." But his officious young boss, Peter Quayle (Harry Lloyd), tells him a promotion would have happened by now if it was ever in the cards.
Quayle also lightly reprimands him for an unauthorized interchange during a daily message swap. Howard had the temerity to point at a spot on a fellow employee's tie.
"Sometimes it scares me. I don't know what we do here," Howard laments. This turns out to be a vast understatement when a lookalike Howard suddenly emerges from an identical, top secret portal that somehow was created some 30 years ago before an "experiment" went awry and led to something of a cold war between the two Berlins. The second Howard is a curt man of action who's after an escaped assassin named Nadia Baldwin (convincingly and compellingly played by Sara Serraiocco). One of her targets is original Howard's comatose wife, about whom more is learned in later episodes. So the two Howards must work together for at least a while because "I need to pretend to be you, take Baldwin out myself," says second Howard.
Counterpart
blooms and grows as an absorbing sci-fi/spy thriller with elemental questions about how identities can be forged and changed by environments and circumstances. During a one-on-one scene dusted with some light humor, second Howard tells original Howard that "the difference between you and me could be a single moment." First, though, they talk about their respective cholesterol levels.
There are more doubles in play, another of which was revealed at the close of Episode 1. Let's just say that second Howard was lying when he said that his wife, Emily, had died of cancer. On the contrary, she's very much alive and possibly not all that much different from original Howard's lookalike Emily.
Not coincidentally,
Counterpart
initially aids viewers regarding which Howard is which by making a point of noting that original Howard always wears an oft-exposed white t-shirt that second Howard notes with disdain. This helps in grasping the early lay of the land until the two Howards literally cross over in later hours for what's meant to be a relatively short period. It affords the very capable Simmons (an Oscar-winner for his supporting role in 2015's
Whiplash
) an opportunity to put some poignancy into the proceedings.
Other characters of note include the duplicitous Alexander Pope (Stephen Rea), who operates in the other world; no-nonsense, real world director of diplomacy Roland Fancher (Richard Schiff doing double time away from ABC's new
The Good Doctor
); and operative Ian Shaw (Nicholas Pinnock), who has an intimate relationship with a key character.
The serpentine, cloak and dagger goings-on in
Counterpart
time-share with the very human needs of the protagonists. Not everything meshes entirely smoothly, but the series' style and substance are apparent from the start. Starz already has ordered a second season of 10 more episodes. So in a sense we've only just begun. Things could go off the rails at some point, but it would be quite surprising if they did.
The audience for
Counterpart
on a pay premium network will amount to only a small fraction of the exposure J. K. Simmons is getting with those ubiquitous Farmers insurance spots. They pay his bills. Playing the two Howard Silks, though, is what makes Simmons who he really is -- a bald, plain-faced actor of presence and stature who at age 63 is getting to play leading men on two entirely different fronts. In both cases, he makes the sale.
GRADE:
A-minus
Email comments or questions to:
unclebarky@verizon.net