ABC's triumphant When We Rise reacquaints ABC with its Roots
02/23/17 02:01 PM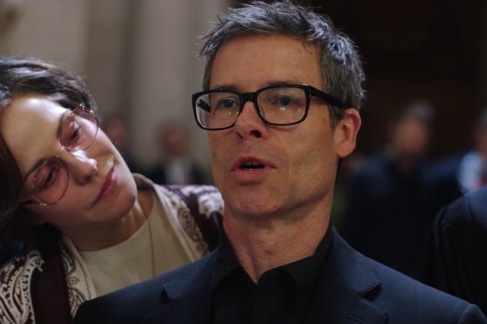 Mary-Louise Parker, Guy Pearce as the older Roma Guy, Cleve Jones.
ABC photo
Premiering:
Monday, Feb. 27th at 8 p.m. (central) and continuing March 1-3 at the same hour on ABC
Starring:
Guy Pearce, Mary-Louise Parker, Rachel Griffiths, Michael K. Williams, Austin P. McKenzie, Emily Skeggs, Fiona Dourif, Jonathan Majors, Ivory Aquino, Sam Jaeger, Rafael de la Fuente, Carrie Preston, Todd Weeks, Phoebe Neidhardt, Gideon Adlon, Charles Socarides, Arliss Howard, Rosie O'Donnell, Whoopi Goldberg, David Hyde Pierce, Phylicia Rashad, Rob Reiner, Richard Schifff, Denis O'Hare
Produced by:
Dustin Lance Black, Gus Van Sant, Ted Babcock, Jessika Borsiczky, Bruce Cohen, Tim Iacofano, Laurence Mark
By ED BARK
@unclebarkycom on Twitter
ABC, long ago the network of
Roots
, boldly strives to make another landmark contribution with the four-part, eight-hour
When We Rise
.
Mission accomplished -- fully and fearlessly with this sweeping dramatization of the ongoing fight to achieve equal rights for what has become the shorthand LGBT(Q) community. It's a movement hamstrung by infighting, intransigent lawmakers and extreme physical peril, both from the AIDS epidemic and at the brutal hands of homophobes.
When We Rise
recaptures it all. And at its center is Cleve Jones (Guy Pearce and Austin P. McKenzie in earlier years), a real-life activist whose gains, setbacks and personal losses are a steady drumbeat throughout.
Principally behind the camera is creator/co-executive producer Dustin Lance Black (
Milk, J. Edgar
, who wrote the entire screenplay for
When We Rise
and also directed two episodes. "Now more than ever I feel it is critical that these diverse, long-buried true stories are known," Black says in a brief note to television critics.
He needn't say much more and had no idea at the time that President Trump this week would withdraw support of the previous administration's federal directive that transgender students in public schools be allowed to use bathrooms corresponding with their gender identity. Individual states should decide such matters on their own, according to the new directive.
In that context, it's also ironic that ABC's intended four successive nights of
When We Rise
are being interrupted by President Trump's prime-time address to Congress on Tuesday, Feb. 28th. The miniseries now will skip that night and resume on Wednesday through Friday of next week.
Those who contend that TV critics should keep politics out of their reviews have no standing in regard to
When We Rise
. It's constantly about politics and protest, whether at the local, state or national levels.
In succession, Presidents Reagan, George H.W. Bush, Bill Clinton, George W. Bush and Barack Obama are seen through the prism of archival news footage. Their actions or, for the most part, inactions, are part and parcel of a story that begins in 1972 and stretches through 2013, when the U.S. Supreme Court ruled on the constitutionality of California's Prop 8, which reversed the state Supreme Court's earlier allowance of same-sex marriages. Yes, it can get complicated. But
When We Rise
crisply chops through these thickets while also telling the very human stories of Cleve Jones and three other primary characters.
Ken Jones (Michael K. Williams/Jonathan Majors) is a gay African-American veteran of three Vietnam deployments. Roma Guy (Mary-Louise Parker/Emily Skeggs) and Diane (Rachel Griffiths/Fiona Dourif) are lesbian activists who also become parents of a growingly rebellious daughter born via artificial insemination. Williams, Parker and Griffiths don't begin their older adult performances until Thursday's two-hour Part 3. But Pearce is seen from the very start as Cleve, circa 2006 at his Palm Springs home. He's also the primary narrative voice during the miniseries' backtrack to Cleve's formative years, which is where McKenzie's portrayal comes in.
When We Rise
is dotted by contributions from other familiar faces, some in cameos and others making more substantive but still limited contributions. The roll call includes Whoopi Goldberg and Rosie O'Donnell (both as San Francisco-based lesbian activists); David Hyde Pierce (Cleve's recalcitrant doctor father); Phylicia Rashad (a church pastor supportive of gay civil rights); Rob Reiner (a naysaying but ineffectual court "expert"); and Richard Schiff (a judge).
Lesser known actors have pivotal supporting roles. Sam Jaeger plays Ken's partner, Richard, and Rafael de la Fuente is Cleve's lover, Ricardo. Down the stretch, Arliss Howard makes an instantly strong impression as conservative lawyer Ted Olson, who was George W. Bush's solicitor general but came to believe that same sex marriage is a constitutional right. Gideon Adlon and Phoebe Neidhardt also are impressive in various stages of Roma and Diane's daughter, Annie.
ABC, with broadcast network constraints in play, is not shy about depicting same-sex kissing, sometimes at length. But nudity remains a taboo, and that includes even any brief glimpses of an unadorned posterior. The language is also devoid of profanity.
Many advertisers likely will sit this one out anyway.
When We Rise
remains a courageous venture, particularly on the part of a network that's owned by the Walt Disney Company. NBC entertainment chairman Robert Greenblatt is openly and at times outspokenly gay. But it's ABC stepping to the fore while the Peacock indulges Greenblatt's interest in yearly live musicals. On Monday night, he's very vigorously counter-programming with a two-hour Season 12 premiere of
The Voice
followed by the launch of NBC's heavily promoted series continuation of the hit movie franchise
Taken
.
It's tough to be an unexpected hit, as
Roots
was, under such circumstances. But in this view,
When We Rise
is the 2016-17 TV season's Program of the Year. Led by sterling performances from Pearce and Williams, it's a masterwork that generates empathy while building momentum via a compelling story rich in human and legal complexities.
Cleve Jones and Ben Jones were far from being saints. They sometimes succumbed to their excesses and lesser selves, as do we all. But in the end -- and it's hard to imagine many dry eyes from viewers who steer the entire course -- their struggles help lead the way to equality in at least the nation's prevailing legal sense of the word.
Many still disagree and some will see this as strictly the devil's work. That's their right, and, from this perspective, also their problem.
When We Rise
is an enriching, bonafide TV event of the first order and also powerful enough to change more than a few entrenched minds. Bravo to ABC, for unflinchingly standing behind it. You don't have to watch. But really, you should.
GRADE:
A
Email comments or questions to:
unclebarky@verizon.net