It's not rocket science: Young Sheldon takes flight as a near-perfect prequel to Big Bang
09/21/17 11:54 AM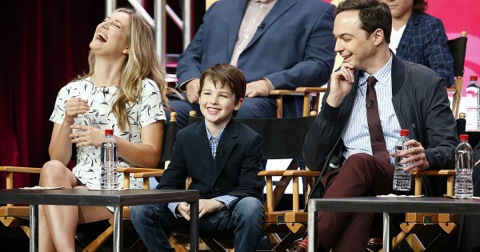 Young Sheldon stars Zoe Perry, Iain Armitage, plus narrator Jim Parsons, at the Television Critics Association summer "press tour."
CBS photo
Premiering:
Monday, Sept. 25th at 7:30 p.m. (central) on CBS with a special preview before moving to Thursdays on Nov.2nd
Starring:
Iain Armitage, Zoe Perry, Lance Barber, Raegan Revord, Montana Jordan, Annie Potts, with voice-overs by Jim Parsons
Produced by:
Chuck Lorre, Steven Molaro, Jim Parsons, Todd Spiewak
By ED BARK
@unclebarkycom on Twitter
Intentionally patterned after
The Wonder Years
, CBS' spinoff of
The Big Bang Theory
sticks its landing with impeccable casting, sharply funny dialogue and a distinctly different vibe than the long-running mothership.
The fall season's best new comedy, set in the fictional East Texas town of Medford circa 1989, has its own charm and a breakout kid star in Iain Armitage as brainy, persnickety nine-year-old high school freshman Sheldon Cooper. He's very winningly assisted by former child actor Zoe Perry (Laurie Metcalf's daughter) as his nurturing mom Mary. They're immediately attuned to one another in Monday's sneak preview pilot episode. After that,
Young Sheldon
has a five-and-half-week respite before returning Nov. 2nd in a Thursday slot following
Big Bang
.
This is executive producer Chuck Lorre's first and so far only "single-cam" comedy without either a laugh track or "live studio audience" component. He says it's been a tough transition for him after creating and producing a string of "multi-cam" sitcom hits, including
Big Bang, Two and a Half Men
and
Mom
. But there's no indication of that in
Young Sheldon's
first episode, which begins with narrator and
Big Bang
star Jim Parsons telling viewers that "I've always loved trains" while his pre-teen self plays with one.
Sheldon also is very fond of bow ties and Radio Shack (subject of a terrific episode-ending joke), has a germ phobia at the family dinner table and is fastidious about adhering to his high school's official dress and conduct codes.
"Lord, look after my son. Don't let him get stuffed in a gym bag," mom says under her breath while driving Sheldon to his first day of class.
As in
The Wonder Years
, Sheldon has an older brother who just wishes he'd go away. His name is Georgie (Montana Jordan) and he's named after his football coach father (Lance Barber). A second antagonist is Sheldon's tart-tongued twin sister Missy (Raegan Revord), who assures him he's gong to get his "ass kicked" at his new school, where poor Georgie has to share classes with him. He vents his pent-up frustrations on the football field in one of the first episode's occasional serious moments.
Look closely and you'll also see a cameo by Bob Newhart, who's guested on
Big Bang
as one of Sheldon's childhood heroes, "Professor Proton." New series regular Annie Potts isn't in the pilot, but has been added as what CBS publicity materials describe as Sheldon's "beloved Meemaw, his foul-mouthed, hard-drinking Texas grandmother."
She supposedly appreciates her grandson's "unique gifts," but East Texas as a whole does not. "The only Newtons they cared about were Wayne -- and fig," narrator Parsons sniffs at the start after referencing famed physicist Isaac Newton. Let's subtract a point or two for condescension, although it quickly passes.
Sheldon's dad may not know an isotope from a popsicle, but he's not a lunkhead, either. Barber's George Sr. instead is a decent sort who tries to relate to his younger, brainy son and contributes his own warm moment near episode's end. All in all, this is the most appealing new set of TV parents since ABC launched
The Middle
back in September 2009.
Young Sheldon
ends up having a mind of its own, even if it's a prequel to a long-established hit. Armitage and Perry in particular are a perfect pair as precocious son and protective but not overbearing mom. There's an awful lot to like here, with high expectations not only met but exceeded.
GRADE:
A-minus
Email comments or questions to:
unclebarky@verizon.net