ABC's Marvel's Inhumans is C-grade drama with a better than average villain
09/28/17 09:49 AM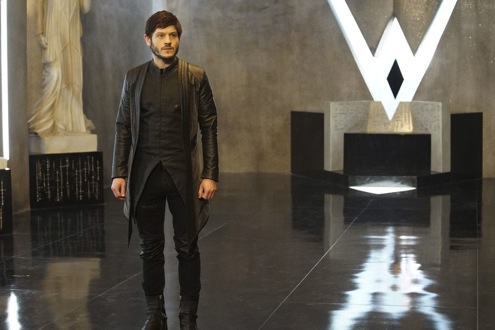 Remember him? He's villainous anew in Marvel's Inhumans. ABC photo
Premiering:
Friday, Sept. 29th at 7 p.m. (central) on ABC before moving to regular 8 p.m. slot
Starring:
Anson Mount, Serinda Swan, Iwan Rheon, Ken Leung, Eme Ikwuakor, Isabelle Cornish, Sona Balmores, Ellen Woglom, Mike Moh
Produced by:
Roel Reine, Alan Fine, Stan Lee, Joe Quesada, Jim Chory, Jeph Loeb, Scott Buck
By ED BARK
@unclebarkycom on Twitter
Well, at least Iwan Rheon is back where he belongs.
As
Game of Thrones'
thoroughly despised Ramsay Bolton, he finally received payback when his own ravenously hungry hounds made a meal of him.
Marvel's Inhumans
-- yes, Marvel again -- finds Rheon comfily back in dark leather as the conniving, power-hungry Maximus. In the second half of ABC's two-hour premiere, he even gets to threaten the life of a gargantuan, non-drooling, pretty lovable bulldog named Lockjaw. Oh the irony. Dogs bite man. Man smites dog?
He probably won't go that far in terms of overall cruelty. But Maximus otherwise murders and back stabs his way through yet another fantastical tale of super-powered mutants endangered by predatory humans. This time out, most of them have secretly gathered on the moon and renamed it Attilan. But some down-to-earth humans may have detected their whereabouts. This prompts the easily riled Maximus to tell his mute brother King, a k a Black Bolt (Anson Mount from AMC's
Hell on Wheels
), "We need to go to Earth now. We must strike first."
Black Bolt doesn't talk, not lately at least, because he has a lethal, "quasi-sonic" voice that earlier caused some very unfortunate consequences. His wife, Queen Medusa (Serinda Swan), likewise is no piker on the super power front. Her extra-long red tresses have both punching and strangling power. Therefore, best to go easy on the hair spray.
These first two hours of
Inhumans
got a two-week theatrical release in IMAX theaters before downsizing to ABC. The reception was less than enthusiastic, and one wonders how
Inhumans
now can possibly stand up to CBS' competing and entrenched
Hawaii Five-0
reboot when the ABC interloper moves to its regular Friday slot next week.
Inhumans
in part shares Hawaii as its locale. The premiere begins with a chase scene in Oahu, where a young female mutant is fleeing from machine-gun wielding humans while accompanying drums pound louder than the migraine headache you might get from them. An Inhuman, named Triton (Mike Moh), has been dispatched to save her. But this doesn't go particularly well.
Meanwhile, Maximus continues to scheme against his brother while decrying a "strict caste system" in which those who aren't suitably empowered by the mutagenic "Terrigen Mist" are made to do menial work as Attilan's rabble class. But Maximus of course has ulterior motives, and his machinations breathe a little life into these proceedings. In contrast, Mount's speechless Black Bolt is a dull boy indeed throughout the first two hours.
The other principles are Lockjaw's owner and the Queen's sister, Crystal (Isabelle Cornish), and Inhumans named Gorgon (Eme Ikwuakor) and Karnak (Ken Leung from
Lost
). Karnak's basic cynicism can be a bit of fun while Crystal's repeated spurning of Maximus' advances doesn't keep him from calling her "princess-y," which easily is the best line of these entire two hours.
There's no need to spoil which Inhumans end up on the lam in Hawaii. They get there via Lockjaw, a supersonic transport dog who also looks good in closeups.
Mockups of The Doors' "Break on Through (To the Other Side)" and The Rolling Stones' "Paint It Black" are dropped in rather clunkily while Maximus gets to say, "What? Why?" and Crystal, "What? How?"
Wait. What? I'm on Team Maximus. Although laboring like the rest of them in servitude to a mostly nondescript script and a standard issue Marvel plot, Rheon makes the most of his latest dastardly character. Villainy still suits him, even if the drop in quality from
Game of Thrones
to
Marvel's Inhumans
is both obvious and precipitous.
Grade:
C
Email comments or questions to:
unclebarky@verizon.net