Who you gonna call? (not Ghosted)
09/28/17 02:00 PM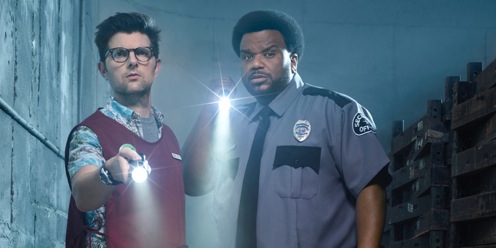 Adam Scott & Craig Robinson are a scared pair in Ghosted. Fox photo
Premiering:
Sunday, Oct. 1st at 7:30 p.m. (central) on Fox
Starring:
Adam Scott, Craig Robinson, Ally Walker, Amber Stevens West, Adeel Akhtar
Produced by:
Tom Gormican, Kevin Etten, Craig Robinson, Adam Scott, Jonathan Krisel, Naomi Scott, Oly Obst, Max Schulman
By ED BARK
@unclebarkycom on Twitter
There have been two re-castings in Fox's
Ghosted
-- of a supporting player and of Ally Walker's entire wardrobe.
The original pilot episode of this scarily mediocre pilot found Walker in an all-white dress as Capt. Ava Lafrey, head of the Bureau Underground. Now she's all in black, but still in a dress. Sometimes this is what network "suits" bring to the process, although the entire first episode also could use a makeover.
Amber Stevens West (
The Carmichael Show
) also has supplanted Edi Patterson as a Bureau Underground tech specialist named Annie. But the bulk of the show is built around two male leads with good bloodlines.
Craig Robinson, formerly of
The Office
, plays ex-Los Angeles Police Department detective Leroy Wright, who's lately a mall cop. Adam Scott (
Parks and Recreation
) is the likewise unfulfilled Max Jennifer, an astrophysicist and book author who was deemed nuts after claiming his wife had been abducted by aliens. He's now toiling in a bookstore.
Both are quickly plucked into service after somehow being deemed the best two people on planet Earth to locate one of the Bureau Underground's "finest agents" after he goes missing in the first episode's opening minute. It turns out that Leroy excelled at finding missing persons while with the LAPD until an unfortunate tragedy knocked him for a loop. And while also teaching in college, Max found time to write
The Multiverse Equation
, which was prescient in its theory that there's "another universe just like ours."
They're a clashing odd couple of course, but the ensuing "comedy" never really clicks. Leroy keeps trying to rid himself of Max, who pleads to stay in this game because otherwise he'll remain a nobody. The overall incentive: Capt. Lafrey has promised to help both of them get their old jobs back if they succeed in what's supposed to be a one-time mission.
Ghosted
includes a few halfway decent special effects, but not much else, en route to the inevitable. Reluctant at first, Max and Leroy now want to stay on with the Bureau Underground in pursuit of whatever weird truths are out there. A kicker at the end gives Max a bigger stake in this than Leroy.
Ghosted
likely will survive at least through Halloween, but seems very unlikely to be a long-distance runner for Fox. All three of the network's new fall series, including
The Orville
and
The Gifted
(yet another Marvel enterprise premiering on Monday, Oct. 2nd) rely heavily on other worldly premises.
Ghosted
is the thinnest of them. And in a time slot directly opposite the first half-hour of NBC's
Sunday Night Football
, it has every reason to run scared.
GRADE:
C-minus
Email comments or questions to:
unclebarky@verizon.net