The Menendez Brothers get another whirl, this time with NBC's Law & Order attached
09/25/17 12:08 PM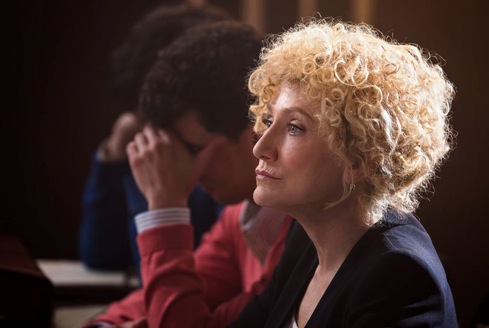 Edie Falco heads cast in latest take on Menendez murders. NBC photo
Premiering:
Tuesday, Sept. 26th at 9 p.m. (central) on NBC
Starring:
Edie Falco, Anthony Edwards, Miles Gaston Villanueva, Gus Halper, Josh Charles, Sam Jaeger, Cliff Chamberlain, Carlos Gomez, Lolita Davidovich, Constance Marie
Produced by:
Dick Wolf, Rene Balcer, Peter Jankowski, Arthur W. Forney
By ED BARK
@unclebarkycom on Twitter
Yes, the Menendez murders have been "done" before, dating back to a pair of spring 1994 productions on Fox and CBS, and resuming this year with a two-hour ABC documentary and a scripted Lifetime movie.
No, that lamentably doesn't mean enough is enough. The "true crime" genre remains a hot TV commodity, so NBC is taking its turn with the eight-episode
Law & Order True Crime: The Menendez Murders
.
Previous Menendez movies and miniseries have featured "name" actresses in the role of ill-fated Kitty Menendez, who was played in order of appearance by Jill Clayburgh, Beverly D'Angelo and then Courtney Love in June on Lifetime. This go-around is fronted by Edie Falco of
The Sopranos
and
Nurse Jackie
fame>. She sports frizzy hair and a hard-bitten demeanor as defense attorney Leslie Abramson.
The other big name is behind the camera in the person of Dick Wolf, who dominates NBC as no producer has since the late Aaron Spelling populated ABC with the likes of
Charlie's Angels, Dynasty, The Love Boat, Fantasy Island, Hart to Hart, T.J. Hooker
, etc.
Wolf long has been more of a workman than a craftsman, so
Menendez Murders
is by the book, a k a the well-worn
Law & Order
bible. The only real difference this time out is that the headline-ripping is real rather than a transparent mockup using fictional names and slightly altered narratives.
In August 1989, Lyle and Erik Menendez (Miles Gaston Villanueva, Gus Halper) brutally murdered their wealthy parents in their Bel Air home. The father, Jose (Carlos Gomez), turned out to be an abusive intimidator while Kitty (Lolita Davidovich this time out) had deteriorated into an enabling basket case. During its planned limited run of eight episodes, beginning with a slo-mo re-creation of the killings,
Menendez Murders
chronicles what led to this, that and that before the brothers were convicted and sent to prison, where they remain. For a little extra hammer and tong symbolism, Tuesday's opening episode shows a TV screen being splattered with blood just as Charlton Heston's Moses from
The Ten Commandments
is intoning, "Behold His mighty hand." Perhaps he meant "heavy hand."
The first two hours depict dogged detectives Les Zoeller and Tom Linehan (Sam Jaeger, Cliff Chamberlain) piecing things together while Lyle tries to keep his guilt-ridden younger brother Erik from going off the rails. "Guns, pills and money. What could possibly go wrong here?" Zoeller asks/says sardonically.
Falco's Abramson drops in and out initially as a workaholic courtroom addict who immediately deduces "Those boys did it" upon seeing them in news footage for the first time. But by the end of the second episode made available for review, she's telling weepy Erik that "I will not let you get rolled over" before meeting the press in the interests of building a self-defense case for the accused.
Falco is fine in this role and Jaeger brings some nice touches to the role of detective Zoeller. Josh Charles (
The Good Wife
) adds a little extra marquee value as the brothers' compromised psychiatrist, Dr. Jerome Oziel. His spurned, blackmailing mistress, Judalon Smyth (Heather Graham), also happens to be an unhinged patient who turns Oziel on when calling him "Dr. Daddy."
Menendez Murders
deploys the trademark
Law & Order
"Dun Duns" as scene-bridgers to reinforce "The Brand." New revelations are promised, of course. "The research revealed things that none of us knew," Wolf told TV critics during this past summer's Television Critics Association press tour. "Your mind is going to receive information that I think will change a lot of peoples' attitudes."
More to the actual point, though,
Menendez Murders
hits the true crime genre's sweet spot with "love, lust, lying cheating," Wolf said. "Basically all seven deadly sins in one place."
Just don't expect any style points or departures from the straight ahead Wolf playbook. He's an accomplished pro at
pro forma
. And if this one works, there's really no limit to what else can be replayed yet again -- and again.
GRADE:
B-minus
Email comments or questions to:
unclebarky@verizon.net