CBS' appetite for crook-catching gets an app in Wisdom of the Crowd.
09/29/17 04:07 PM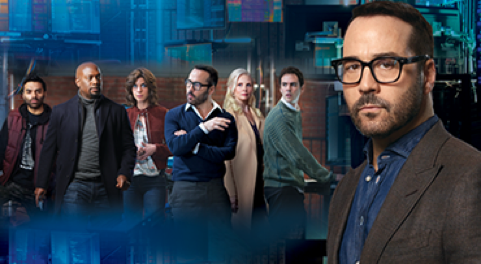 Jeremy Piven thinks he's got an app for widespread crime-solving.
CBS photo
Premiering:
Sunday, Oct. 1st at 7:30 p.m. (central) on CBS
Starring:
Jeremy Piven, Richard T. Jones, Natalia Tena, Monica Potter, Blake Lee, Jake Matthews
Produced by:
Ted Humphrey, Adam Davidson, Avi Nir, Alon Shtruzman, Peter Traugott, Rachel Kaplan, Dror Mishani, Shira Hadad
By ED BARK
@unclebarkycom on Twitter
This particular premise didn't go well earlier this year on Fox.
In
APB
, billionaire businessman Gideon Reeves (Justin Kirk) decided to devote himself to devising a same-named app that enabled the citizenry to immediately alert police to a crime. The cops also were given futuristic gear, cars and weaponry. Reeves' overall impetus was to avenge the death of his best friend, whose murderer remained at large. Fox ended up quickly axing the show itself.
CBS'
Wisdom of the Crowd
stars Jeremy Piven of
Entourage
fame as billionaire businessman Jeffrey Tanner. A year after his daughter, Mia's murder, he remains unconvinced that the real killer is behind bars. So Tanner sells off the tech company he founded, named All Sourcer, and throws himself into funding an app called Sophe. The intent is to revolutionize law enforcement by using publicly shared information as a "real time, crowd-sourced crime-solving" device. It also helps that Tanner has offered a cool $100 million to anyone providing info that identifies and/or apprehends his daughter's killer.
Piven's Tanner doesn't have the swagger of
APB
's leading rich man. His best moments are early on in Episode 1, when he announces the sale of his company to staffers while choking back tears at the remembrance of his late daughter.
Sophe's headquarters is in Oakland, where a converted old building houses "The Hive." The resident skeptic is newly hired Detective Tommy Cavanaugh (Richard T. Jones), who earlier investigated Mia's murder. When Cavanaugh wonders about the constitutionality of Sophe, Tanner sniffs, "Privacy. We gave that up a long time ago so we could watch cat videos on our phone."
That's about as deep as
Wisdom of the Crowd
gets in terms of asking any Big Questions. Tanner's staff also includes engineer/confidante/secret bedmate Sara Morton (Natalia Tena); head programmer Josh Novak (Blake Lee), described in CBS publicity materials as "nerdy cool;" and new recruit Tariq Bakari (Jake Matthews), who impresses Tanner by hacking Sophe.
Against the whole damned thing is Tanner's ex-wife, congresswoman Alex Hale (Monica Potter), who tells him "it's over" and that nothing will bring Mia back. She gets nowhere, epitomizing Congress.
Unlike
APB
's quick solve, it looks as though the identity of Mia's real killer will be a connective thread through multiple episodes of
Wisdom of the Crowd
. In the opener, a different murder instead ends up being solved. By the end of the hour, just about everyone seems to have the Sophe app on their phones, which also was the case in
APB
. "People want to be part of something meaningful," Tanner says of both the app's instant popularity and "The Crowd's" willingness to gang-stalk a suspect.
Piven's OK in his latest starring role while Jones brings some 'tude as Cavanaugh, who's African-American, not Irish. "Procedural" crime dramas have a much better chance to live long and prosper on CBS than Fox. So
Wisdom of the Crowd
has that going for it in contrast to
APB.
.
OK, back to my Fantasy Football app to check out the latest injury reports. Some of us just don't have time for this mass participation crime-busting thing.
GRADE:
C+
Email comments or questions to:
unclebarky@verizon.net