ABC's The Good Doctor is both an autistic and artistic triumph
09/20/17 02:36 PM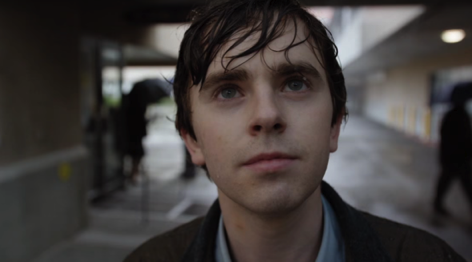 Freddie Highmore stars as an autistic surgeon in The Good Doctor.
ABC photo
Premiering:
Monday, Sept. 25th at 9 p.m. (central) on ABC
Starring:
Freddie Highmore, Antonia Thomas, Nicholas Gonzalez, Chuku Modu, Hill Harper, Beau Garrett, Richard Schiff
Produced by:
David Shore, Daniel Dae Kim, David Kim, Sebastian Lee, Seth Gordon
By ED BARK
@unclebarkycom on Twitter
After playing Norman Bates for five years on A&E, Freddie Highmore knows what it is to have an out-of-body mind of his own.
Norman was bent, spindled and mutilated. But autistic surgical resident Shaun Murphy is mental without being disturbed in ABC's affecting
The Good Doctor
. Monday's premiere is a case study in how to build empathy for your lead character without getting all mushy about it.
Young Shaun's "savant syndrome" potentially makes him a medical marvel, but without a halo. As deftly played by Highmore, he's innocently sweet-tempered, but also cuts to the chase and can cut his "superiors" down to size when the occasion demands.
Adapted from a same-named 2013 South Korean series,
The Good Doctor
is shepherded in large part by co-executive producer Daniel Dae Kim. He previously worked for ABC as a co-star on
Lost
before clashing with CBS over his demand that he be paid the same salary as
Hawaii Five-0
co-stars Alex O'Loughlin and Scott Caan.
That didn't happen, so Kim left the series after seven seasons to further advance his fledgling 3AD production company, which is partnering with ABC after CBS programmers earlier passed on
The Good Doctor
. They may well end up regretting that.
The show clicks from the very start, with self-sustaining Shaun going through his presumably unvarying morning routine before leaving his hometown of Cheyenne, Wyoming and quickly landing in San Jose, CA, home of St. Bonaventure Hospital. He comes upon a kid soccer match while still in Cheyenne, prompting a memory of being beaten on that field as a child before his true-blue brother came running to his rescue.
A medical emergency then quickly takes hold after an eight-year-old boy is hit by a falling San Jose airport sign being installed by workmen. An older doctor intercedes, but puts pressure on the wrong spot to stop heavy bleeding from the child's jugular vein. "You're killing him" by stopping his breathing, Shaun says calmly. He then takes over.
Scenes of his highly improvised ways to rig up life-saving devices are intercut by an animated debate among St. Bonaventure's hierarchy. It turns out that the hospital's president, Dr. Aaron Glassman (Richard Schiff in potentially his best role since
The West Wing
), made a unilateral decision to hire Shaun. Now he's facing strong opposition.
"He's not Rainman. He's highly functioning," Glassman pleads. "He sees things and analyzes things in ways that are just remarkable. In ways that we can't even begin to understand."
Dr. Marcus Andrews (Hill Harper) is among those having none of this. Meanwhile, in an unfortunate
Grey's Anatomy
-ish lapse, doctors Jared Kulu and Claire Brown (Chuku Modu, Antonia Thomas) are shacking up in his rest area. It's why she hasn't been answering her pages. Oh well, what's the worst that could happen -- someone dying?
The Good Doctor
continues to toggle between the hospital and airport while also periodically flashing back to the tragically short-lived but lasting bond Shaun forged with his brother. "Never forget, you're the smart one, and can do anything," Shaun was assured.
Things eventually converge at St. Bonaventure, with Shaun insisting that his patient needs an "echo-cardiogram" while the staff doctors all think he's daft. Among them is head of surgery Dr. Neal Melendez (Nicholas Gonzalez), an imperious sort who also happens to be a hunk.
Shaun emerges triumphant, of course, but the "you don't belong here" rebuffs are only beginning.
Highmore plays his lead role to near-perfection amid all the considerable medical jargon and jockeying for position among his supposedly more enlightened colleagues.
The Good Doctor
engagingly drops Dr. Shaun in their midst as both a lamb and a lion with a muted roar. The story possibilities are readily apparent on a number of fronts in the best broadcast network medical drama since Hugh Laurie contrastingly bruised his way through
House
.
GRADE:
B+
Email comments or questions to:
unclebarky@verizon.net