CBS' time-spanning Me, Myself & I seems to be in too much of a hurry
09/21/17 10:01 AM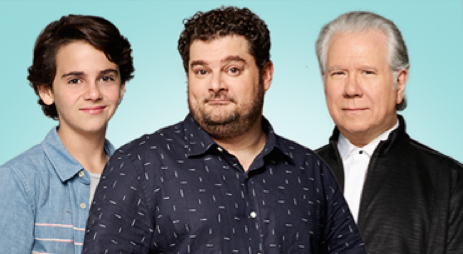 Jack Dylan Grazier, Bobby Moynihan and John Larroquette all play the same person, Alex Riley, in Me, Myself & I. Really? Really. CBS photo
Premiering:
Monday, Sept. 25th at 8:30 p.m. (central) on CBS
Starring:
Bobby Moynihan, John Larroquette, Jack Dylan Grazer, Jaleel White, Kelen Coleman, Brian Unger, Christopher Paul Richards, Skylar Gray, Mandell Maughan, Reylynn Caster, Sharon Lawrence
Produced by:
Dan Kopelman, Aaron Kaplan, Dana Honor
By ED BARK
@unclebarkycom on Twitter
Perhaps CBS should add "
This Is Us
Presents" to the title of its new time-traveling, generation-spanning comedy.
Me, Myself & I
is similar in concept if not execution. It's decently crafted, devoid of an irritating laugh track and has a quartet of familiar TV faces in Bobby Moynihan, John Larroquette, Jaleel White and Sharon Lawrence. But Monday's premiere episode, which is all that's available for review, oddly seems to resolve just about everything of consequence in a half-hour's time.
Add this: Moynihan, Larroquette and Jack Dylan Grazer (now appearing in the new feature film version of Stephen King's
It
) look nothing alike even though they're playing the same character, Alex Riley. Our looks change as time marches on, but this is like morphing from
Frankie Muniz
into Kevin James into Christopher Walken.
Grazer plays 14-year-old Alex, an only child and devoted Chicago Bulls fan who's uprooted to Los Angeles when his mother, Maggie (Mandell Maughan), gets remarried to a pilot named Ron (Brian Unger).
Forty-year-old Alex (Moynihan), who has a pre-teen daughter named Abby (Skylar Gray), is newly divorced and soon down on his luck after catching his wife (guest star Allison Tolman) cheating on him.
Sixty-five-year-old Alex (Larroquette) is a multi-millionaire businessman who decides to retire after suffering a heart attack. At this point, adult Abby (Kelen Colman) has become general manager of Alex's beloved Bulls.
Pilot Ron turns out to be a very good, supportive guy, and his son, Justin (Christopher Paul), is a nice kid, too. So there's not a lot of conflict here, except when Alex's heart is broken via an unfortunate occurrence at the school dance while he's dreamily dancing with his seemingly unattainable dream girl, Nori Sterling (Reylynn Caster and in later years, Lawrence).
We've got one more square to fill. Mid-life Alex's best friend is Darryl (White), in whose garage he's living while trying to invent a product that will make him rich. "When I grow up, Im gonna come up with an idea that changes the world!" young Alex has already declared.
Well, by episode's end, the various stages of Alex are either newly triumphant or unexpectedly fulfilled by a chance meeting. And unlike
This Is Us
, there's no attendant mystery over how and when a pivotal character dies.
In other words,
Me, Myself & Irene
appears to have boxed itself in. The opening episode is pleasant enough to watch, although not really very amusing. But the prospects for a sustainable series seem highly limited by all that unfolds here. Maybe Alex, Alex and Alex can still pull off some revelations in terms of how they get to where they're going. The show's mantra is to "keep shooting," just like Bulls legend Michael Jordan did. But the degree of difficulty going forward looks to be more like a half-court shot than a layup. Go ahead, though. Surprise me.
GRADE:
C+
Email comments or questions to:
unclebarky@verizon.net