USA network goes hard core with Unsolved: The Murders of Tupac and The Notorious B.I.G.
02/27/18 09:35 AM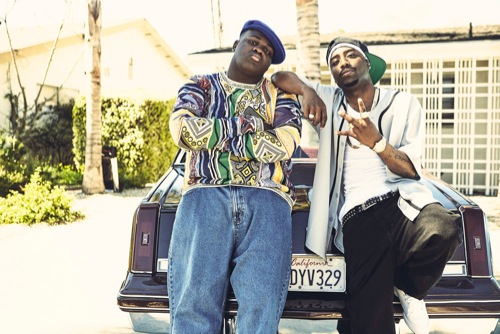 Living large, dying young: Wavyy Jones, Marcc Rose are Biggie & Tupac in true crime saga set in two investigative universes. USA photo
Premiering:
Tuesday, Feb. 27th at 9 p.m. (central) on USA network
Starring:
Josh Duhamel, Marcc Rose, Wavyy Jones, Jimmie Simpson, Bokeem Woodbine, Dominic L. Santana, Wendell Pierce, Brent Sexton, Michael Harney, Jamie McShane, Luke James, Aisha Hinds, Skylan Brooks
Produced by:
Kyle Long, Anthony Hemingway, Mark Taylor, Greg Kading
By ED BARK
@unclebarkycom on Twitter
The USA network's first full-fledged "true crime" miniseries is proof positive that its onetime sunny skies motif is no longer in the forecast.
Mr. Robot
and
The Sinner
led the network's new grim-and-bear it brigade. But USA's 10-part
Unsolved: The Murders of Tupac and The Notorious B.I.G.
is a revelation in terms of tough-to-tackle subject matter and graphic content from a language standpoint.
All of the f-bombs and n-words running through the seven episodes made available for review will remain in the on-air product, even though USA is a commercially sponsored entertainment network owned by NBC Universal. "The whole season is TV-MA. No drops," a spokesperson confirms.
This is unexplored territory for USA, but it would be both disingenuous and ineffective to neuter a world steeped in profanity and pent-up rages. This is a tale of two volatile and feuding rap titans, complete with cops as their rented protectors and two investigations into any police complicity in the murders of Tupac and Biggie. At the height of the East Coast-West Coast hip hop rivalry, they were killed via drive-by shootings that occurred six months apart in September 1996 and March 1997.
Tupac, whose Death Row Records was based in L.A., was murdered in Las Vegas. Biggie, who recorded in New York City on his Bad Boy Records label, met his end in Los Angeles. No one has ever been charged in the shootings, which initially were more or less dismissed as gangsta retributions.
Unsolved
, via parallel investigations roughly 10 years apart, raises the question of whether rogue cops may have been directly or indirectly involved. The impetus is a belated wrongful death lawsuit filed by Biggie's mother and other family members. Her son was born Christopher Wallace, and mama detested both the world and the music that he immersed himself in.
"I never even listened to his music until after he died . . . His songs were grotesque stories about the stink of this world," she says in the premiere episode.
Unsolved
toggles between parallel investigations after the LAPD's well-worn Greg Kading (Josh Duhamel) is summoned in 2006 by elder detective Brian Tyndall (Brent Sexton), who also was party to the original investigation of Biggie's murder. Tyndall wants him to recruit a small task force and take another close look.
"Is my objective to solve this case or cover the department's ass?" Kading asks him. He's assured that the investigation will have no holds barred.
While Kading assembles his ad hoc squad,
Unsolved
rewinds to the dogged probe of detective Russell Poole (Jimmi Simpson), who ended up being a lone wolf in his efforts to link the deaths of Tupac and Biggie while also putting various, possibly crooked cops on his radar. Simpson, who likewise had a major role in the first season of HBO's
Westworld
, is superb as a cop who finds himself increasingly up against it.
Kading's second-hand man in the re-investigation is African-American detective Daryn Dupree (Bokeem Woodbine), who's understandably skeptical but trusts Kading to go "wherever it leads." Woodbine, who was stellar in Season Two of FX's
Fargo
, makes another strong impression this time out.
It's a complex story to unravel, with the various alliances and motivations not always easy to follow. A viewer can quickly acclimate to the time shifting, though.
Tupac and Biggie respectively are vividly played by newcomers Marcc Rose and Wavyy Jones, whose double consonant first names are not typos. Their realms also include the likes of the then Sean "Puffy" Combs (Luke James), Snoop Dogg (Skylan Brooks) and hip hop potentate Suge Knight (Dominic L. Santana), who's portrayed as a master at playing one side off the other to his financial benefit.
Cooperation is minimal in both murder investigations, with Poole also facing heavy resistance from his LAPD superiors and partners while a growingly weary Kading laments to Dupree in Episode 7, "Nobody wants this case." By this time, two of his task force members have quit.
The recommendation is to stay the course with
Unsolved
. It's a daring, immersive undertaking by USA, while also being far removed from the usual true crime suspects -- lately the Menendez Brothers and Waco-based cult leader David Koresh.
Tupac Shakur and The Notorious B.I.G. lived in violent worlds and met violent ends. That doesn't mean we shouldn't try to make further sense of their lives while also looking deeper into who pulled the triggers on them -- and why.
"C'mon, he was just a gangster with a microphone," a hardened cop says of Tupac in Episode 2. That's probably still the overwhelmingly pervasive perception.
Unsolved
goes much further, never sugar-coating but intent on also exploring other possibilities. At its core, this is a murder mystery, but set in a world that's also still a mystery to many. Check it out -- on the USA network of all places.
GRADE:
B+
Email comments or questions to:
unclebarky@verizon.net