Regarding 9/11, Hulu's The Looming Tower asks why
02/27/18 02:20 PM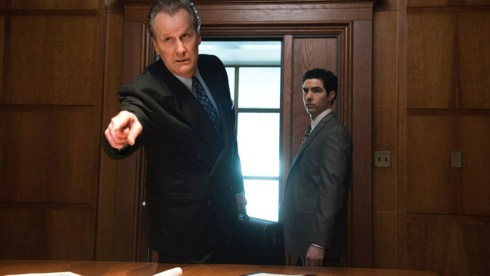 Jeff Daniels is heavy on insults & ultimatums in The Looming Tower.
Hulu photo
Premiering:
The first three of 10 episodes begin streaming Wednesday, Feb. 28th on Hulu
Starring:
Jeff Daniels, Tahar Rahim, Peter Sarsgaard, Michael Stuhlbarg, Bill Camp, Alec Baldwin
Produced by:
Alex Gibney, Dan Futterman, Lawrence Wright, Craig Zisk
By ED BARK
@unclebarkycom on Twitter
Fresh from playing a Bible-spouting mass murderer in Neftlix's
Godless
, the very busy Jeff Daniels turns to rival streamer Hulu for another command performance. Again, his character is not particularly likable. But this time he's trying to prevent a mass murder.
Hulu's
The Looming Tower
, whose first three hours will be available on Wednesday, Feb. 28th, is adapted from the 2006 book by Lawrence Wright. It's basically the story of how missed signals and bureaucratic infighting hindered efforts to uncover and thwart the 9/11 terrorist attacks.
The real world is quite depressing enough for many. These past five days also have birthed a grim trilogy in the streaming/TV world, with the debuts of Netflix's
Seven Seconds
, USA network's
Unsolved: The Murders of Tupac and The Notorious B.I.G.
and now this.
Based on the first three episodes,
Looming Tower
may not be harder to take, but it is tougher to follow and comprehend. Events and locales bounce around like ping-pong balls in Episode 1. Kenya, Pakistan, D.C., NYC, Tanzania, Albania -- and more than once in several instances. There also are recurrent flash forwards to a formal 2004 "9/11 Inquiry" in which answers are being sought well after the fact.
Looming Tower
rouses the senses, however, whenever Daniels' profanely self-important character is holding forth. He plays John O'Neill, a real-life assistant deputy director of investigation for the FBI who for the purposes of this story is the most dogged pursuer of Osama bin Laden.
O'Neill, who has newly recruited young Muslim Ali Soufan (Tahar Rahim) as a key undercover operative, is prone to clash with just about everyone who questions his views or authority. His principal antagonist is Martin Schmidt (Peter Sarsgaard), head of a CIA counter-terrorism unit known as Alec Station. O'Neill demands, loudly and profanely, that Schmidt share all available intel with the FBI. But the turf wars persist as a backdrop to all the goings-on around the globe.
Otherwise O'Neill is all sweet-talk -- with two mistresses who know nothing of his duplicity. He's also married to a comparatively plain-looking woman who has bore him two children. "You staying the night?" she asks him near the end of Episode 1. "No," he says.
Michael Stuhlbarg also gets ample screen time as Richard Clarke, the National Security Council's chief anti-terrorism advisor during the Clinton presidency. He's an ally of O'Neill's, but doesn't relish sticking his neck out. "You damn well better prove it's Al-Qaeda," he tells O'Neill after a devastating terrorist bombing in 1998 of the U.S. embassy in Nairobi, Kenya. The chief onsite investigator is rumpled Robert Chesney, a fictional FBI agent compellingly played by Bill Camp.
Alec Baldwin also co-stars in
Looming Tower
as CIA director George Tenet. But he's not seen until Episode 3, and only fleetingly so. This hour ends with an ill-conceived bombing of a locale that may or may not be a hiding place for bin Laden. O'Neill is dead-set against it, arguing "they'll get a ton of new recruits" if the "collateral damage" includes innocent women and children. Which it does, with Schmidt eventually telling the 2004 inquiry, "If they're not Americans, I don't really care."
Episode 1 sets these events in motion with footage from ABC newsman John Miller's 1998 interview with bin Laden, who vowed to take violent action against the United States for what he perceived as past war crimes. "You think I got used?" an actor playing Miller asks O'Neill before carping that the length of his interview got "cut down" by editors because "all anybody wants to hear about is Monica's cum-stained dress." In the very next scene, O'Neill visits the apartment of mistress No. 1, who eagerly straddles him.
Looming Tower
, for which author Wright is a co-executive producer, is visceral and fully engaging in its best moments, but also head-hurting with some of its efforts to diagram the myriad goings-on abroad. By the end of Episode 3, however, the story has gotten a firmer grip.
We all know what eventually happened on 9/11. What most don't know is what eventually happened to Daniels' O'Neill. It's easy to research if you'd like, but won't be divulged in this review because that would basically amount to a "spoiler."
Looming Tower
can't be binge watched for now because Hulu still doles out single episodes on a weekly basis, save for the three-hour initial offering. Perhaps that's just as well. There's no "right" time to watch. But given all that's been transpiring, waiting until all 10 episodes are available may be a path better taken -- even though it will never be an easy one.
GRADE:
B
Email comments or questions to:
unclebarky@verizon.net