FX steps up to join HBO in major Emmy awards driver's seat
09/19/16 09:17 AM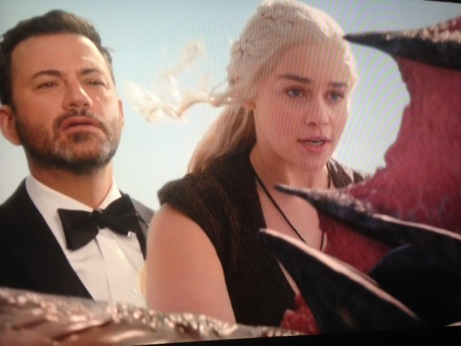 Game of Thrones again rode high, repeating as best drama series.
Photo: Ed Bark
By ED BARK
@unclebarkycom on Twitter
Perennial kingpin HBO found itself sharing the spotlight with FX Sunday night at a 68th annual prime-time Emmy awards ceremony dominated by three shows.
HBO won the two marquee prizes, with
Game of Thrones
and
Veep
respectively repeating as best drama and comedy series. FX's
The People v. O. J. Simpson: American Crime
ruled the best limited series category with five wins, the most of any nominee. Each network ended up with six Emmys to lead all contenders.
In the combined "major" and "creative arts" Emmy awards, the two networks also reigned supreme, with HBO winning 22 to FX's 18. Both totals were twice as many as the nearest contender, Netflix, which won three major and six creative arts Emmys. The Big Four broadcast networks -- ABC, CBS, Fox and NBC -- had a grand total of 19 Emmys, and only four during the Sunday night festivities. PBS won eight total Emmys, more than any single commercial broadcast network, while CBS was shut out in the major categories.
At the 2015 prime-time Emmys, HBO crushed the opposition by winning 14 of the 27 major trophies while FX won none. So this easily easily was FX's best Emmy showing ever on a night marked by the usual references to diversity and sparked by host Jimmy Kimmel's irreverent bits and ad libs. He got two huge and well-earned laughs, the first after Jill Soloway, creator/writer/director of Amazon Prime's transgender series
Transparent
, ended her acceptance speech by grandly calling on the television industry to "topple the patriarchy."
Kimmel then stepped onstage to quip, "I'm trying to figure out if 'topple the patriarchy' is a good thing for me or not. I don't think it is."
Later in the night, Courtney B. Vance won an acting Emmy for his portrayal of the late Johnnie Cochran in
People v. O. J. Simpson
. Kimmel went for the shiv: "I have to believe that Johnnie Cochran is somewhere smiling up at us tonight."
Not as well received was a voice-over introduction of "four-time Emmy Award winner, Dr. Bill Cosby."
The audience reacted in virtually stunned silence before Kimmel gingerly re-took the stage and said, "He's not really here. I just wanted to see what you guys would do." A certified mind reader might have deduced Kimmel thinking at that point, "Um, bad idea."
The host also put himself at the mercy of nightly
Jimmy Kimmel Live
foil Matt Damon -- the show never has time for him -- after HBO's
Last Week Tonight With John Oliver
won for best variety talk series. Kimmel was a nominee in the category, prompting Damon to stroll onstage munching an apple to deadpan, "I missed the last category. Did you win?" He then reacted joyously to Kimmel's admission that Oliver's show took the Emmy.
It was a night of usual suspects, also first-timers in two major weekly series categories.
Veep
star Julia Louis-Dreyfus won as best actress in a comedy series for the fifth straight year; Regina King won again, but in an entirely different role for ABC's
American Crime
; an again absent Maggie Smith collected another Emmy for PBS'
Downton Abbey
; and Jeffrey Tambor repeated for his role in
Transparent
(with Kimmel handing him a statue at the outset of the show to signify he was a lock).
Smith, who has never attended an Emmy ceremony despite nine nominations over the years, joked during his opening monologue that "this time she had a Sunday ceramics class that she couldn't get out of." After she won, he jabbed that her latest trophy would be kept in Lost and Found for her. (For the record, Smith is 81 and perhaps doesn't travel as well these days.)
Emmy's notable first-time winners in the best actor/actress categories were Rami Malek for USA's
Mr. Robot
and Tatiana Maslany for BBC America's
Orphan Black
. Vance, Sarah Paulson (Marcia Clark in
People v. O. J.
), Sterling K. Brown (Christopher Darden in
People v. O. J.
) and Louie Anderson of FX's
Baskets
also took home their first Emmys.
Paulson brought the real-life Clark as her date, prompting Kimmel to ask, "Are you rooting for O. J. to win this time?" She laughed it up. In her acceptance speech, Paulson apologized to Clark for mis-judging her efforts and character after Simpson was acquitted in 1995 for the murders of Nicole Brown Simpson and Ronald Goldman.
Game of Thrones'
night-ending 39th Emmy win as best drama series broke a record of 38 overall wins that it shared with NBC's
Frasier
. For its sixth season alone,
GOT
won three major and nine creative arts Emmys to lead all contenders.
One more thing: In a hit-and-miss opening film on Kimmel's twisted path to get to the Emmys on time, the unexpected comedy gold proved to be failed 2016 Republican presidential candidate Jeb Bush.
Kimmel briefly hitched a ride in a limo chauffeured by Bush, who noted that you can make $12 an hour as an Uber driver. "Are you nominated? He then asked. "Wow, what's that like?"
Bush also told Kimmel that "if you run a positive campaign (for an Emmy award), the voters will ultimately make the right choice." When Kimmel swallowed that whole, Bush barked, "That was a joke!" and kicked him out of the car. Furthermore, "Shave that beard off your face, you godless Hollywood hippie."
For a complete list of Sunday night's 27 winners, go to the
Television Academy's official site
.
Email comments or questions to:
unclebarky@verizon.net