HBO's version of Westworld: a morality play replete with gunplay
09/29/16 09:13 AM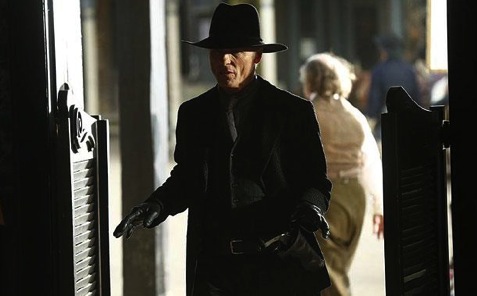 Ed Harris brings barrelfuls of menace to Westworld. HBO photo
Premiering:
Sunday, Oct. 2nd at 8 p.m. (central) on HBO
Starring:
Ed Harris, Evan Rachel Wood, Anthony Hopkins, James Marsden, Jeffrey Wright, Thandie Newton, Sidse Babett Knudsen, Tessa Thompson, Shannon Woodward, Jimmi Simpson, Rodrigo Santoro, Ingrid Bolso Berdal, Ben Barnes, Sam Quarterman, Angela Sarafyan, Luke Hemsworth, Clifton Collins, Jr.
Produced by:
Jonathan Nolan, J.J. Abrams, Bryan Burk, Lisa Joy, Jerry Weintraub
By ED BARK
@unclebarkycom on Twitter
HBO's much hyped and hoped for NEXT BIG THING shares some common ground with
The Truman Show, Groundhog Day
and even the weekly "they killed Kenny" snippets from
Southpark
. The latter comparison very likely is unwanted, because this is supposed to be very serious business.
Westworld
, adapted from the still resonant 1973 feature film, finally arrives Sunday as an alternately gripping and tedious sci-fi meld of "hosts" and "guests," big ideas and bigger trigger fingers. Its body count is bottomless, because all of the hosts on the receiving ends can simply be taken back to the shop for repairs while the paying guests supposedly are impervious to physical harm. But are some of the inmates somehow showing signs of breaking down the walls of their asylum by going "off script" and cobbling together minds of their own? The inquiring minds running this very high-priced futuristic theme park very much want to know.
Venues alternate between the series' viscerally violent alternative universe and the la-BOR-atory headed by "creative director" Dr. Robert Ford (Anthony Hopkins). His invariably grim-faced lieutenants are masters of the forced march. Any signs of "deviant" behavior are quickly addressed. But suddenly comes a "shit storm," in the words of taut operations leader Theresa Cullen (Sidse Babett Knudsen).
"You imagine someone's been diddling with our creations?" Ford wonders in Episode 2, one of four made available for review.
Back in the "Old West," there's a considerable jolt of electricity whenever Ed Harris is on screen. He plays "The Gunslinger," as did Yul Brynner in the original movie. With a face like a python and a demeanor that renders no-nonsense inoperative, The Gunslinger blasts his way in search of "the deepest level of this game." He's mayhem personified. And Harris is so powerfully in charge of this role that
Westworld
tends to sag whenever he's off-screen. This is particularly so in Episode 3, where The Gunslinger is entirely missing in action before he returns in full measure to fuel Episode 4 with his iron will and even a little James Bond-ian trick.
Evan Rachel Wood is the most constant screen presence as a "host" dubbed Dolores Abernathy. Mostly stuck in a tight, light blue frontier dress, she yearns for forbidden fulfillment, but can't quite get a grip on why. Brooding programming division head Bernard Lowe (Jeffrey Wright) repeatedly brings her in for interrogation, seeking to get her head straight. Dolores' longings are a focal point of
Westworld
, but the character too often can be something of a bore. Not entirely so. But the inclination to say, "Not her again" can be almost overpowering at times.
James Marsden likewise can be a bit bland as Teddy Flood, a seemingly purebred frontier character that HBO has affixed with a "spoiler" tag in terms of his true identity. So let's move on to saloon madame Maeve Millay (Thandie Newton), who in comparison is on fire as a host who's also starting to see a bigger picture after years of robotic subservience. Her principal prostitute is Clementine Pennyfeather (Angela Sarafyan), who simply aims to please.
Episode One painstakingly lays out both of these lands while also heaping on the violence. A prolonged in-town massacre is accompanied by an orchestral version of "Paint It Black" before the closing credits roll to Johnny Cash's somber "Ain't No Grave."
The super-rich guests, paying at the rate of $40,000 a day, are free to roam, copulate and pillage as they please with what amounts to their playthings.
Westworld
strives to both comment on the primal human condition and engage viewers in some of the hosts' yearnings to somehow become human.
At the outset of Episode 2, a first-time guest named William (rather dully played by Jimmi Simpson) is prepped for his full immersion into the theme park by a comely greeter who offers herself as a sexual appetizer.
"Are you real?" he asks.
"Well, if you can't tell, does it matter?" she replies.
But William's maiden voyage is without much of a giddy up. His hedonistic real-world friend, Logan (Ben Barnes), a veteran guest, is appreciably more interesting as a run amuck scoundrel who takes full advantage of what's offered.
Westworld
also is populated by an all too typically cocky and profane British "narrative director" (Simon Quarterman as Lee Sizemore) and a hunky, but so far nondescript head of security (Luke Hemsworth as Ashley Stubbs). Shannon Woodward registers more vividly as "programming division" up-and-comer Elsie Hughes, who has a sharp tongue and an edgy temperament.
Hopkins' maestro character is both mysterious and a bit slow to develop. But by Episode 4 he's in fuller bloom as the mind behind a vast, expensive and more cerebral story line that is yet to unfold and is drawing opposition. But Dr. Ford knows what he wants. And there's a sense of menace more than decorum when he conveys this to operations leader Cullen: "I will ask you nicely. Please don't get in my way."
Through these first four episodes,
Westworld
flexes its lavish production values and has the kernels of what could turn into an increasingly absorbing morality play. Harris is a signature presence as The Gunslinger -- so much so that too many of the other characters are limp in comparison. A loitering pace also can be a problem at times. The scenes from behind the scenes tend to head south in comparison to the volatile Old West canvas in play. And no one has a line as good as the guy who tells The Gunslinger, "You sound like a man who's grown tired of wearing his guts on the inside."
Westworld
is both show-and-tell, and now wait-and-see. There's promise and there are perils. Four of Season One's 10 hours are in the books for reviewers who have taken the time to watch all of them. I very much want to see more, and hoping they'll get a firmer grip.
GRADE:
B
Email comments or questions to:
unclebarky@verizon.net