CBS opens its starting gate to Kevin Can Wait
09/14/16 04:03 PM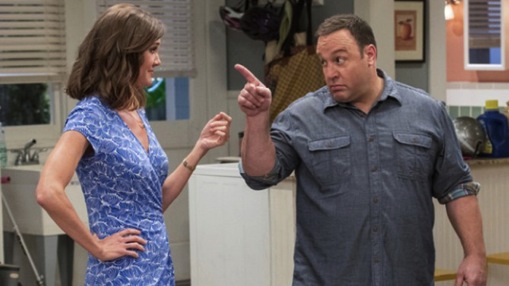 Kevin James and Erinn Hayes spar in Kevin Can Wait. CBS photo
Premiering:
Monday, Sept. 19th at 7:30 p.m. (central) on CBS
Starring:
Kevin James, Erinn Hayes, Taylor Spreitler, Mary-Charles Jones, James DiGiacomo, Ryan Cartwright, Lenny Venito, Gary Valentine, Leonard Earl Howze
Produced by:
Kevin James, Bruce Helford, Rock Reuben, Jeff Sussman, Andy Fickman, Tony Sheehan
By ED BARK
@unclebarkycom on Twitter
Unfortunately for viewers,
Kevin Can Wait
didn't.
On the contrary, it's CBS' first new fall series out of the chute with a stupefying Monday night sneak-preview hammocked between the season premiere of
The Big Bang Theory
and a two-hour re-investigation into the
JonBenet Ramsey case
.
This likely means substantial "sampling" of Kevin James' return to CBS in essentially the same role he played on
King of Queens
. He's again a lout of a tubby hubby with a thin, attractive wife playing the grownup.
A pair of moneymaking Paul Blart movies gave James something of a big screen presence while removing any and all traces of subtlety from his comedy. In
Kevin Can Wait
, he's a newly retired New York cop whose closest pals on the force also are calling it quits after 20 years of supposedly protecting and serving.
Kevin can hardly wait to do anything he pleases, particularly beer-drinking at all hours. His wife, Donna (Erinn Hayes), seems fully prepared to indulge him, even though two of their three children still live at home. His game plan is to play non-stop following a retirement party in which everyone drops in to eat and drink a lot.
But uh-oh, oldest daughter Kendra (Taylor Spreitler) comes home from college with two boys in tow. One is an athlete who likes all the things that Kevin does. The other is milquetoast-y guy named Chale (Ryan Cartwright), who's designing an app. Guess which one turns out to be Kendra's fiancé. Anyone who actually needs two guesses may indeed find
Kevin Can Wait
to be a thinking person's comedy.
Young son Jack (James DiGiacomo), and youngest daughter, Sara (Mary-Charles Jones) are very little seen in the premiere episode. In the case of the kid playing Jack, that's a wise move. Awkward first impressions by child actors are nothing new under the TV sitcom sun, but this one is particularly painful.
Anyway, Kevin's would-be life of complete leisure is waylaid by daughter Kendra's new circumstances, which end up aborting plans to rent out a garage room for extra income that Kevin can happily pee away.
All of this unfolds with complete and utter predictability amid a "Take my wife, please" collection of broad, flat, dated jokes delivered with a sledge hammer's touch by Kevin and his coarse, chub-a-lub pals.
Can the star of the show, let alone CBS, really believe in this material? It's one thing to put the brain in park after a long workday. It's quite another to pound it into mush.
GRADE:
D-minus
Email comments or questions to:
unclebarky@verizon.net