The Good Place gives NBC a Cloud Nine of a comedy
09/15/16 09:01 AM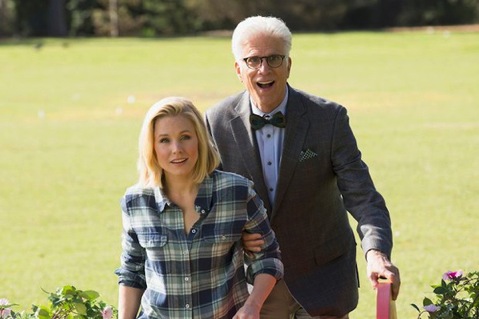 Kristen Bell & Ted Danson are on high in The Good Place. NBC photo
Premiering:
Monday, Sept. 19th at 9 p.m. (central) with back-to-back episodes on NBC before moving to regular Thursday, 7:30 p.m. slot
Starring:
Kristen Bell, Ted Danson, William Jackson Harper, Jameela Jamil, Manny Jacinto, D'Arcy Carden
Produced by:
Mike Schur, David Miner, Morgan Sackett, Drew Goddard
By ED BARK
@unclebarkycom on Twitter
Producer/writer Mike Schur, a k a "Ken Tremendous," is someone any network should want on its team.
Equipped with a sure-footed but decidedly swervy mind of his own, the former
Saturday Night Live
writer has matriculated to NBC's
The Office
and
Parks and Recreation
, and Fox's
Brooklyn Nine-Nine
.
NBC's new
The Good Place
, being showcased Monday with back-to-back episodes after the season premiere of
The Voice
, is Schur's first flight as a solo pilot. This fantastical look at the afterlife is all his own doing. Not surprisingly, it shines through and stands out as the fall season's best new comedy among the major broadcast networks.
A strong concept and worthy words on the page are elemental first steps for any TV series. Then comes the casting, which can make or break the whole deal. In Kristen Bell, Schur and NBC seemingly couldn't have chosen better. Her Eleanor Shellstrop begins
The Good Place
by opening her eyes to a sign that tells her, "Welcome! Everything Is Fine."
Well, it won't be. Because the newly deceased Eleanor knows full well that she's not worthy to be among the very select few who "lived one of the very best lives that could have been lived." As recurring flashbacks keep attesting, she got through life as a heavy-drinking, manipulative, self-absorbed earthling who did very well for herself by bilking the elderly. But in this immediate future, Eleanor has the blessing of an upbeat mentor named Michael (Ted Danson in bow ties and specs). He gives her the lay of this bright, primary-colored land after noting that organized religions down below generally get only about five percent of it right regarding what the afterlife is really like. Furthermore, membership is so restricted that the likes of Mozart, Picasso, Elvis and every U.S. president since Abraham Lincoln have failed to make the cut and instead are in The Bad Place. As opposed to The Good Place.
Yes, there's a lot to digest for newcomers, all of whom also are paired with a "soulmate" to ease the transition to a carefree life with all the free frozen yogurt one cares to eat. Eleanor's supposedly perfect match is Chidi Anagonye (William Jackson Harper), a Senegal native and college professor. Before the end of Monday's opening half-hour, Chidi learns directly from Eleanor of the "big mistake" that's been made. But perhaps he can coach her into becoming a better person instead of an evictee. Which will take a lot of work.
There are three other characters of note throughout the first five episodes made available for review. Tahani Al-Jameel (Jameela Jamil) is Eleanor's relentlessly upbeat next door neighbor, whose abode is a sprawling mansion compared to the newcomer's utilitarian, box-shaped digs. Tahani's soulmate is a mute buddhist monk named Jianyu (Manny Jacinto). Or is he?
Michael also has an assistant named Janet (D'Arcy Carden), whom he's trying to program while also fighting off his recurring insecurities. "I'm not a mountain of strength. I'm a canyon of poo-poo," he laments in a memorable although not particularly well-written line.
The Good Place
has some sprightly special effects in the early going, with mini-cliffhangers also deployed to bait viewers into returning the following week. But the strength is with the human characters and their unfolding past/present lives. Bell leads the way with a vigorous performance that perfectly captures Eleanor's imperfections. Her propensity for profanity on earth is a running joke, with The Good Place deploying a magical AutoCorrect-ish filtering system that has Eleanor instead spouting "Motherforker!" or "That's bull shirt."
Jameel as Tahani ("Hurrah!" she regularly declares) and Harper as Chidi likewise strongly inhabit their characters while Danson winningly plays against type as the alternately becalmed and frazzled Michael.
So will
The Good Place
end up being a like-minded descendant of
The Truman Show
? Is its very existence doomed by Eleanor's fraudulent presence? Will she ever come back down to earth? Are there deeper meanings to be had? Will anyone from the cast of
Lost
come wandering in? Or might someone preach from a real-life pulpit about an "attack" on Heaven by the iniquitous NBC?
The Good Place
for the most part is so much fun that any or all of these answers may be beside the point. Bell's ringing declaration in Episode 5 -- "I am revved up to learn, man! My brain is horny!" -- is so perfectly and amusingly delivered that it ought to be an Exhibit A in comedic acting classes. Her character is a fraud who so far doesn't belong, but Bell herself is the very best thing about
The Good Place
. Long may it live -- in the hereafter and in the Peacock's prime-time lineup.
GRADE:
A-minus
Email comments or questions to:
unclebarky@verizon.net