Better Things: further evidence that FX just keeps getting better
09/07/16 10:25 AM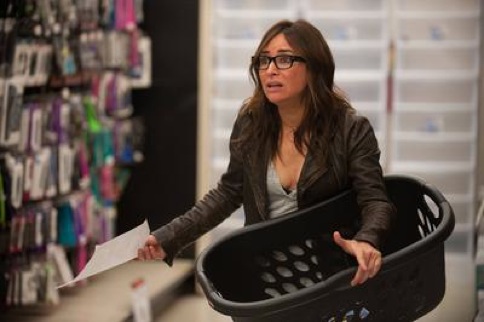 Behold the joys of single parenting in Better Things. FX photo
Premiering:
Thursday, Sept. 8th at 9 p.m. (central) on FX
Starring:
Pamela Adlon, Mikey Madison, Hannah Alligood, Olivia Edward, Celia Imrie, Alysia Reiner
Produced by:
Pamela Adlon, Louis C.K., M. Blair Breard, Dave Becky
By ED BARK
@unclebarkycom on Twitter
Up against the wall, mother/mom.
Divorced Sam Fox (Pamela Adlon) fights most of her battles on the domestic front in FX's wonderfully biting
Better Things
.
In Thursday's premiere, her youngest of three daughters, Duke, (Olivia Edwards), immediately puts these dynamics in play by cry/whining at a shopping mall after mom declines to buy her a set of $6 earrings that she already has. Another shopper looks askance at this, prompting retorts from the besieged Sam before she asks little Duke, "You want a hot dog on a stick?" Band-Aid applied before John Lennon's wailing lament, "Mother, you had me, but I never had you," serves as the perfectly apt weekly theme song.
Better Things
, co-created by Adlon and Louis C.K., serves up the other side of the single parent dynamic. In his
Louie
, which may or may not return for a sixth season on FX, he plays a standup comic with two daughters. Adlon, cast as a faded L.A.-based actress now largely stuck with bit parts and cartoon voice-overs, is a far more hands-on and vexed overseer. Besides Duke, there's also surly 16-year-old Max (Mikey Madison) and middle daughter Frankie (Hannah Alligood), who very much sees herself as a new wave activist.
Living across the street is Sam's mother, Phyllis (Celia Imrie), an English expatriate who very much enjoys a cocktail and tends to embarrass her daughter on roughly the same scale as Sam embarrasses hers. So the cycle remains unbroken, but love is all around -- in unsappy dollops that never beg for "aw-w-w-ws."
Adlon, who in real life won an Emmy for voicing young Bobby Hill on Fox's
King of the Hill
, brings raspy-voiced appeal to the role of a mom trying to maintain a "houseful of young girls kickin' my ass." She's by no means a derelict parent -- just vastly out-numbered by me-first kids with non-stop needs.
Max is particularly difficult, almost to the point of repulsiveness. But in Episode 5, a little softening goes a long way toward making her at least a wee bit sympathetic rather than a kid in need of a full throttling that mom is ever so tempted to dispense. Particularly in Episode 2, when Max snipes "You work because you want to be famous. Dad told me." Sam then fires a much-needed cannon shot: "Your father lives better than I do! And I'm paying for all of it!"
FX has ordered 10 episodes for Season One, and made the first five available for review. Watching them isn't exactly a joy, but it's never a chore.
Better Things
, sprinkled with cameos from the likes of Julie Bowen, Bradley Whitford and David Duchovny, keeps hitting strong, resonant cords, whether it's another civil war at home or Sam's struggles to make Hollywood see her as more than a once hot commodity who's now straddling her expiration date.
Episode 4 brings both elements into sharp focus. The extended scene with an elderly homeless woman who raised four kids may be a little forced. But the dangling of a career-rejuvenating starring sitcom role is both spot-on and so reprehensibly "Hollywood."
Race also comes into play in a finely tuned Episode 3 in which subtle points are made without use of any sledgehammers. Its closing scene is the most affecting to date in a series that marks yet another divergent step forward for FX following Tuesday's premiere of the
"urban" comedy Atlanta
.
Better Things
further sets FX apart from rival basic cable networks that can't seem to catch up anymore. This season alone has brought Season 4 of
The Americans
(which finally received an Emmy nomination in the "Best Drama Series" category), plus newcomers
The People V. O. J. Simpson: American Crime Story, Baskets
and
Atlanta
.
It's a veritable embarrassment of riches. But as viewers, we'll take it.
GRADE:
A-minus
Email comments or questions to:
unclebarky@verizon.net