Fox's Son of Zorn is a "hybrid" without much apparent mileage
09/08/16 02:14 PM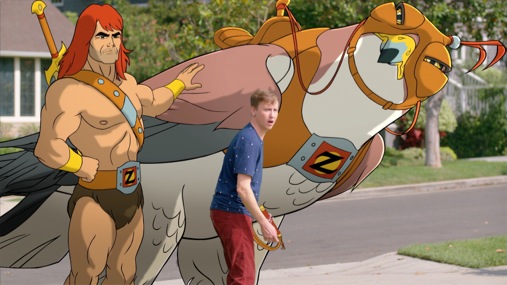 Dad offers his son a new ride in Son of Zorn. Fox photo
Premiering:
Sunday, Sept. 11th at 7 p.m. (central) with a sneak preview on Fox before moving to regular Sunday, 7:30 p.m. slot the following week
Starring:
Jason Sudeikis, Cheryl Hines, Johnny Pemberton, Tim Meadows, Artemis Pebdani
Produced by:
Phil Lord, Christopher Miller
By ED BARK
@unclebarkycom on Twitter
Does a "hybrid live-action/animated comedy" need to be more or less brilliant from the start to succeed?
Well, it really helps. But in the case of Fox's
Son of Zorn
, which sneak-previews on the 15th anniversary of the 9/11 terrorist attacks, it's just a few grins here and there. And that likely won't be enough to save this particular world.
The spirit of creativity is willing, with producers Phil Lord and Christopher Miller describing the show in publicity materials as "a really ambitious, and probably crazy, labor of love that has been three years in the making. Our entire team has been working hard to create a world that seamlessly introduces a seven-foot-tall animated warrior into the live-action suburbs of America."
The injection of the Jason Sudeikis-voiced cartoon Zorn into an Orange County-based batch of flesh-and-blood humans is carried off convincingly enough from a visual standpoint. But humoring the concept isn't enough to make the jokes land solidly. And if they've had three years, then perhaps this just isn't going to work.
Sunday's opener begins on Zorn's home planet of Zephyria, where he's happily still vanquishing enemies with some help from longtime ally Headbutt Man. But Zorn suddenly feels the need to see his son, Alangulon a k a "Al" (Johnny Pemberton), on the occasion of his 17th birthday. It's been a while, and Zorn's ex-wife, Edie (Cheryl Hines), is now engaged to a milquetoasty online college professor named Craig (the inevitable Tim Meadows).
It sounds a little silly to ask for a bit of a "back story" here. But why did Zorn and Edie break up in the first place, let alone hook up at all? And how come his son, Al, is suddenly so important to him after Zorn's visits amounted to once in a blue moon?
Bereft of social graces and stiffed by his son, Zorn this time takes Edie's advice to get an apartment, a job and a little assimilation into his life. Zorn also is determined to win her back as well after first twitting Edie for "staring at my quadriceps."
The other principal character is Zorn's new workplace boss, Linda (Artemis Pebdani), who pencils him as a "diversity hire" but also attempts to discern what makes him tick. This character clicks a bit in the early going, so maybe there's more hope on that front.
"The point is I'm here now and that erases everything I did," Zorn eventually tells his son before trying to order him a raw ribeye steak. But horrors, the kid's a vegetarian.
Episode One has a bit of a surprise in the final minute before ending with a scene that won't be spoiled but doesn't sit very well if you're a friend of furry or feathery creatures -- animated or otherwise.
There's always a very outside chance that
Son of Zorn
could have the legs of an
ALF
in the annals of hybrids turned into weekly sitcoms. But this already looks like pretty thin stuff that's not worth writing home about -- not even from the planet Zephyria.
GRADE:
C
Email comments or questions to:
unclebarky@verizon.net