NBC's This Is Us deserves and needs your helping hand
09/16/16 11:19 AM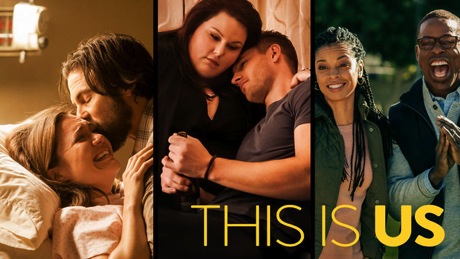 Their 36th birthdays unite the cast of This Is Us. NBC photo
Premiering:
Tuesday, Sept. 20th at 9 p.m. (central) on NBC
Starring:
Milo Ventimiglia, Mandy Moore, Sterling K. Brown, Chrissy Metz, Justin Harley, Susan Kelechi Watson, Chris Sullivan
Produced by:
Dan Fogelman, Jess Rosenthal, Charlie Gogolak, John Requa, Glenn Ficarra
By ED BARK
@unclebarkycom on Twitter
Wikipedia so far has scant information on NBC's new
This Is Us
. Just a cast list and the description: "The series tells the story of people born on the same day."
OK, be that way, even though the printed setup for this unusual and very inviting ensemble drama is basically built on a Wikipedia foundation. "This is a fact," it says. "According to Wikipedia, the average human being shares his or her birthday with over 18 million other human beings. There is no evidence that sharing the same birthday creates any type of behavioral link between those people. If there is . . . Wikipedia hasn't discovered it for us yet."
It's hoped that viewers -- and Wikipedia -- will discover this show. Of all the new fall series, it's the toughest to pin down in terms of what it's all about and how very deftly it switches a perception switch in the closing minutes. But if you're looking for the increasingly hard-pressed broadcast networks to challenge cable with something truly different, then NBC is the prime address this fall.
This Is Us
joins
The Good Place
, which is being sneak-previewed on Monday, Sept. 19th, in the realm of the distinctly different -- as opposed to Fox's remakes of
Lethal Weapon
and
The Exorcist
, and CBS'
MacGyver
burp-up.
Things begin rather daringly with an opening shot of Milo Ventimiglia's bare behind. This is anything but a big deal in a basic cable drama, but not often seen on NBC, ABC, CBS or Fox since
NYPD Blue
jarred some sensibilities 23 falls ago. (Its very intentional "adult" approach, as a direct response to cable's leeway, resulted in a two-season preemption by Dallas-based WFAA-TV, which in turn was dubbed "Chapel 8.")
The bounce-around Ventimiglia, best known for his work on NBC's
Heroes
, plays a guy named Jack, who's celebrating his 36th birthday. His wife, Rebecca (Mandy Moore), pregnant with triplets and on the verge of delivering, struggles to be in a party mood.
Also turning 36 are the morbidly obese Kate (Chrissy Metz) and her sculpted twin brother, Kevin (Justin Hartley), the increasingly unhappy star of a lame sitcom called
The Manny
. The other 36th birthday celebrant is Randall (Sterling K. Brown from
The People V. O. J. Simpson: American Crime
). He's a very prosperous businessman whose wife, Beth (Susan Kelechi Watson), is supportive of his efforts to locate the father he's never known -- the one who dumped him off at a fire station after his crack addict mother died.
So this is quite a blend from the start, with
This Is Us
quickly advancing the story lines while also making room for a memorable stint by Gerald McRaney as an elderly doctor brought in to deliver Rebecca's triplets after her regular MD has a medical emergency. McRaney brings some letter-perfect touches to this semi-gruff but wholly compassionate character. Another guest star, Alan Thicke as himself, doesn't resonate the way McRaney does. But he also adds rather than subtracts from the drama at hand.
It can get a bit mawkish in spots, but nowhere near the point of spoiling an overall uplifting opening episode. This is a series that looks to be most reminiscent of NBC's
Parenthood
, which was never a major hit but built a loyal core audience that sustained the series for six seasons. Accentuating the positives in a human drama without crime-solving, daring rescues, medical miracles, the supernatural or courtroom intrigue can be a very tough sell, but still not an impossible one.
This Is Us
assumedly will have to add more characters and birthdays if it gets the long-range opportunity to do so. Given its surprising closing minutes (well, they certainly fooled me), this looks like a drama with a heart, a pulse and also the ability to skip a beat. Tuesday night's affecting premiere for the most part tends to move along rather predictably -- until it doesn't. Here's hoping they somehow can keep it that way.
GRADE:
B+
Email comments or questions to:
unclebarky@verizon.net