Fox's Lethal Weapon brings its own ammo
09/21/16 09:05 AM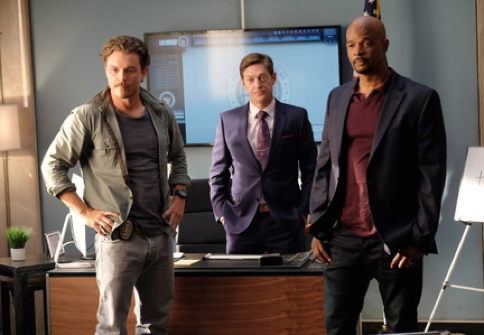 The man in the middle is constantly irked by the other two. Fox photo
Premiering:
Wednesday, Sept. 21st at 7 p.m. (central) on Fox
Starring:
Damon Wayans, Clayne Crawford, Kevin Rahm, Keesha Sharp, Jordana Brewster, Johnathan Fernandez, Chandler Kinney, Dante Brown
Produced by:
Matt Miller, Dan Lin, McG, Jennifer Gwartz
By ED BARK
@unclebarkycom on Twitter
Well, it doesn't lack for energy. The preferred language of TV producers is "high octane thrill ride."
Fox's "re-imagining" of
Lethal Weapon
offers a premiere episode full of preposterous car chases and gunfights plus more than the usual amount of "humanity." It's an overall slick, good-looking production, with hyperkinetic co-executive producer McG (Joseph McGinty Nichol) also in the director's chair. He's previously been at the throttles of two
Charlie's Angels
feature films,
Terminator Salvation, 3 Days to Kill
and the short-lived 2002 TV series
Fastlane
. So when this guy says "Action," he means it.
There were four
Lethal Weapon
films, all of them fronted by Mel Gibson as crazed former Navy SEAL turned detective Martin Riggs and Danny Glover in the more domesticated role of detective Roger Murtaugh. Given the current states of their careers, the TV reboot isn't much of a markdown. Clayne Crawford is Riggs, and it's quite a transformation from his brooding, antagonistic co-starring role on
Rectify
. And everyone knows Damon Wayans, who plays Murtaugh.
Crawford's version of Riggs broods at the outset, however. As in the first movie, he's lost his first wife to a car accident. She also was on her way to the hospital to deliver their first child while Riggs finished apprehending a runaway crook in El Paso. Her death sends him into slo-mo devastation at the hospital before the heavy drinking kicks in and continues for the next six months.
Meanwhile, Murtaugh is preparing to return to the LAPD after mending from heart bypass surgery. He's also just turned 50, and proposes sex with his lovely wife, Trish (Keesha Sharp) "for medicinal purposes." This is interrupted, of course, when their infant girl cries out.
Returning to work without any sugar, Murtaugh is told by Capt. Avery Brooks (Kevin Rahm from
Mad Men
) that he's getting a new partner. They first meet at the scene of a bank hostage standoff, with the still semi-suicidal Riggs strolling in as a pizza delivery man to defuse the situation. After a little quippy foreplay, the masked bad guys all get their appropriate doses of hot lead from a guy who's still amazingly quick on the draw.
Next up is a dead body on a mountaintop. It's been made to look like a suicide, which means it's not. "This man served his country. We're going to give him a proper investigation," Riggs tells Murtaugh after spotting the corpse's dog tags.
Crawford and Wayans prove to be a pretty good fit, as actors if not always as partners. The at-home scenes, with Murtaugh donning a "Kiss the Chef!" apron, are quite nicely played, particularly after Trish invites Riggs in for dinner and banter. Wayans, in his first dramatic role of note, makes a surprisingly smooth transition while Crawford seems tailor made for the showier role of vulnerable, irreverent "cowboy" cop. It adds up to more than simply marking time between action sequences, which include a high-speed chase in the middle of a downtown Grand Prix race and not one, but two bullet wounds for Riggs during the course of subduing the opening episode's principal villains.
In times of hyper-sensitivity, some might take offense that the main bad guys are Mexicans, or that Murtaugh slings the line, "Hey, hey, hold on, Chico." But
Lethal Weapon
no doubt will get around to apprehending its share of snarling white knuckle-draggers. So let's just see how that goes.
Lethal Weapon
, paired with the still highly potent
Empire
in Fox's Wednesday night lineup, looks as though it might have a winning blend of two well-matched lead actors and a
Walker, Texas Ranger
-sized helping of weekly bang/boom/vroom. The opening hour clicks on all those fronts.
GRADE:
B-minus
Email comments or questions to:
unclebarky@verizon.net