Tales from their dark sides: the formative years of Trump, Clinton in PBS' The Choice 2016
09/27/16 09:22 AM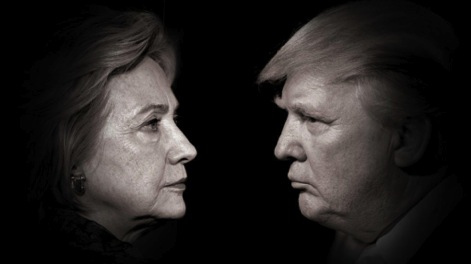 Grim and bear it: The 2016 presidential election. PBS photo
By ED BARK
@unclebarkycom on Twitter
Her penchant for secrecy, his longtime reliance on "truthful hyperbole."
His headlong womanizing, her standing by a proven womanizer.
Their pursuits of ultimate power whatever the personal costs to themselves or others.
What's not to like?
After Monday night's first of three debates, many people understandably feel they've seen and heard enough of Democratic presidential nominee Hillary Clinton and Republican standard-bearer Donald Trump. Let's get this thing over with, damn it.
But as the analysis of their respective performances goes on an on and on, let's remember that one night of joint show-and-tell does not begin to tell the stories of how Clinton and Trump were bent, shaped and mutilated into what they are today. And in the end, that's how they'll conduct themselves as President after this seemingly eternal gut-fight is put to rest by voters on Nov. 8th.
PBS'
The Choice 2016
, premiering Tuesday, Sept. 27th (
at 8 p.m. locally on KERA13
), does its usual thorough and incisive job of telling the life stories of the two finalists. It plays out like a thick and foreboding novel, with the stories of the two combatants intertwined for extra dramatic effect. Director Michael Kirk again is at the controls for this two-hour presentation airing under the prestigious
Frontline
banner. There's nothing particularly new, with a heavy reliance on a cavalcade of Trump and Clinton biographers. Still, this is riveting stuff, with veteran PBS narrator Will Lyman adding his usual measured
gravitas
. A man born to wealth and privilege versus a woman scorned time and again. Both had controlling, bullying fathers, although Trump grew to enjoy the feel of his father Fred's figurative whip while Clinton recoiled from her father, Hugh, and grew to revere her supportive mother, Dorothy.
The Choice
begins with a teeth-gritting Trump being ridiculed at length by President Obama at the 2011 White House Correspondents dinner. Trump's championing of the "birther movement" had left Obama itching to fire back. Longtime Republican strategist and current Trump supporter Roger Stone speculates that the humiliation crystallized his billionaire friend's determination to run for president. But Stone also is the toxic guy who said post-debate that Clinton had to be hooked up to an oxygen tank immediately after Monday night's joust with Trump. He's also been banned from appearing on either CNN or MSNBC. So seriously consider the source while wondering why
The Choice
saw fit to include him.
Omarosa Manigault, another Trump ally and former arch villainess on
The Apprentice
, juicily prepares the country for her boss's score-settling triumph: "Every critic, every detractor, will have to bow down to President Trump . . . It is the ultimate revenge to become the most powerful man in the universe."
Clinton is first seen as the highly unconventional First Lady of Arkansas after Bill Clinton was elected governor. But his loss after just one term prompted a guilty Hillary to "re-brand herself" by changing her hairstyle, dropping her glasses, wearing more makeup and tacking on Bill's surname after initially insisting on being called Hillary Rodham.
"She completely forfeited her own identity, at least physically," says Gail Sheehy, author of
Hillary's Choice
.
Former Wellesley classmate Nancy Wanderer says the calculated transformation "hurt all of us. We all felt bad about that."
Hillary, who in essence became Bill's campaign manager in his successful re-election bid, also turned for the first time to reptilian Dick Morris, a campaign consultant who's now ripping her on a weekly basis in the pages of
The National Enquirer
.
These are the respective first chapters of stories that tellingly toggle back and forth in relatively seamless fashion. Besides his hard-driving, gut-punching father, Fred, Trump's early and influential mentor is storied conservative hatchet man Roy Cohn, whose face seems screwed into a permanent scowl. He taught the young Trump to "use lawsuits like machine gun bullets," says
TrumpNation
author Timothy O'Brien,
Meanwhile, Hillary journeys to Washington, D.C. in her pre-Mrs. Clinton years and becomes a rising star as a young attorney on the Senate Watergate committee. She was sworn to utmost secrecy, and this became a lifelong pattern, according to
The Choice
. After failing the Washington, D.C. bar exam, "she kept it a secret for 30 years," says Carl Bernstein, whose Hillary book is titled
A Woman In Charge
.
Returning to Arkansas against her best friends' advice, Clinton married Bill and helped to spearhead his 1992 run for the presidency. Then came the "bimbo eruptions," with Gennifer Flowers going public and Hillary bowing to their joint ambitions by joining him for a famous post-Super Bowl interview on
60 Minutes
. "I'm not sittin' here (like) some little woman standin' by my man like Tammy Wynette," she famously said. She was soon back beaming at his side. As always, says Bill Clinton biographer David Maraniss, their ends justified the dignity-sapping means, with Hillary wedded to ambition first and foremost. Monica Lewinsky was yet to come.
Trump eventually tired of his first wife, Ivana, with whom he had three children. His affair with and eventual marriage to Marla Maples was celebrated by both the tabloids and Trump himself, who didn't in the least mind being portrayed as a philandering cocksman. Iconic gossip columnist Liz Smith recalls Ivana weeping in her arms and telling her that Trump had discarded her because he couldn't bring himself to be sexually attracted to a woman who'd had children.
When his business empire began to crumble, most notably in Atlantic City with Trump's Taj Mahal casino, he convinced creditors that taking his vaunted name off the properties would only further devalue them. They reluctantly agreed while putting Trump on a strict $450,000 a month allowance. "He was too big to fail," says narrator Lyman.
Lying also became a way of life, says Tony Schwartz, who belatedly has been remorseful for co-authoring Trump's mega-bestselling
The Art of the Deal
. "The truth doesn't mean much to Donald Trump," he says matter-of-factly.
The Choice
is both instructive and dispiriting (if not depressing) in reinforcing the negatives associated with the two most publicly disliked candidates ever to run for President of the United States. One of them is going to win, though.
For Hillary Clinton, "It had been a brutal path to this moment," Lyman says of her history-making nomination.
"He had exhausted the ways in which to get attention," so running for President represented the last big ego stroke, Schwartz says of Trump.
It's still a page-turner -- but alas, from the non-fiction section.
GRADE:
B+
Email comments or questions to:
unclebarky@verizon.net