Amazon Prime's Homecoming has both star power and a story that sticks
11/01/18 03:58 PM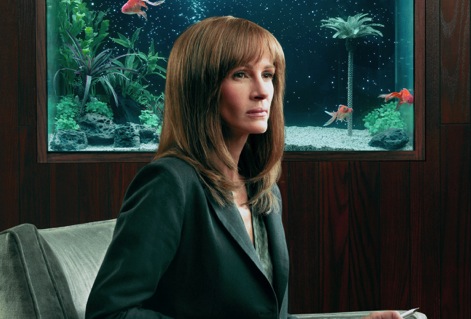 Julia Roberts gets shrink-wrapped in Homecoming. Amazon photo
Premiering:
All 10 episodes begin streaming Friday, Nov. 2nd on Amazon Prime
Starring:
Julia Roberts, Stephan James, Bobby Cannavale, Shea Whigham, Sissy Spacek, Alex Karpovsky, Marianne Jean-Baptiste, Dermot Mulroney, Jeremy Allen White
Produced by:
Sam Esmail, Julia Roberts, Chad Hamilton, Eli Horowitz, Micah Bloomberg, Alicia Van Couvering, Alex Blumberg, Matt Lieber, Chris Gilibert
By ED BARK
@unclebarkycom on Twitter
A plus-sized pelican emitting growling sounds seems to know something's fishy about the "reintegration process" at Florida's Homecoming Transitional Support Center.
It's supposed to be a place where traumatized war veterans get the help they need for gainful returns to civilian lives. But what's the real purpose of the medications and interview sessions with case workers such as Heidi Bergman? Efficiently and then affectingly played by Julia Roberts, she's her own case study in terms of the power of susceptibility. Seldom if ever satisfied is Heidi's hard-charging boss, Colin Belfast (Bobby Cannavale), who rat-a-tat-tats directives via his cell phone. Both of their personal lives are basically beside the point.
Based on a same-named podcast, Amazon Prime's
Homecoming
is a slowly developing but ultimately quite satisfying limited series that's created, directed and co-produced by Sam Esmail. Its 10 episodes, all of them streaming Friday, Nov. 2nd on Amazon, range from just under or just over 30 minutes each. That's an easy enough binge, and another three minutes or so can be shaved from each chapter by bypassing the fairly elongated closing credits.
Homecoming
quickly turns out to be about both past and present. Because we also see Heidi as a waitress at a diner named Fat Morgan's. One day she has a visitor, Department of Defense cog Thomas Carrasco (Shea Whigham). He has questions about her relatively brief tenure at the Homecoming center, but Heidi insists that she can't remember a thing.
A framing device also comes into play. Most of the scenes from Heidi's present are presented in a notably smaller vertical box while her caseworker past will fill your home screens. It's a fail-safe way to separate the main character's two lives and avoid any viewer confusion until things begin to meld back together down the stretch. Still, some might find this to be an irksome device.
Heidi's featured patient at the Homecoming facility is Walter Cruz (Stephan James), who lost a close buddy in battle. He's African-American and much younger than her. They make slow but steady progress in sorting out his psyche and their overall relationship. Then one day something doesn't click for him, while it's just the opposite for her.
Homecoming
also has two other familiar faces. Dermot Mulroney plays Heidi's live-in boyfriend, Anthony, during her time at Homecoming. Sissy Spacek is Heidi's mother, Ellen, with whom she's staying while toiling at the diner. Neither supporting role is of all that much consequence during this drama's swervy roads to self-realization. Better rendered is Marianne Jean-Baptiste as Walter's no bull mother, Gloria.
Some things don't really add up, such as the cell phone that somehow remains charged after years of unuse. Or a getaway by Walter and a GI pal (Jeremy Allen White as Shrier) in which they drive on and on, it seems, without any conversation at all about why it's taking so long just to find a place to have a beer.
But
Homecoming
also has considerable pulling power. Whigham's portrayal of Carrasco is the most compelling. He provides a strong rooting interest as a dogged investigator who's seen as just another nameless underling by his condescending boss (played by Brooke Bloom).
Roberts and Cannavale also contribute memorable characterizations while newcomer James makes Walter much more than a guinea pig.
These performances and a solidly intriguing story make
Homecoming
worth your down payment. Stay the course and you'll get a nice payoff as well.
GRADE:
B+
Email comments or questions to:
unclebarky@verizon.net