HBO stays in a fun-free zone with its latest original film, The Tale
05/23/18 02:34 PM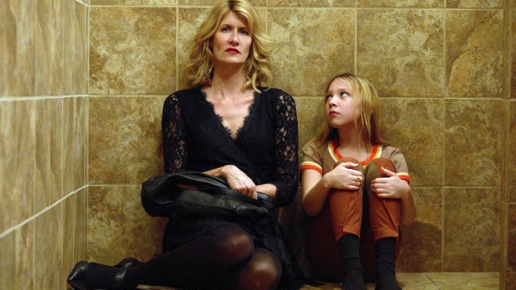 Laura Dern/Isabelle Nelisse as Jennifer Fox in The Tale. HBO photo
By ED BARK
@unclebarkycom on Twitter
HBO's original films haven't been much fun lately.
Last month's
Paterno
starred Al Pacino as the legendary Penn State coach who looked the other way to varying degrees when confronted with accounts that one of his longtime assistants had been a serial sex abuser of young boys.
This month's
Fahrenheit 451
remake revisited the unyielding book-burning future made famous in Ray Bradbury's same-named 1953 novel.
Now comes
The Tale
(
Saturday, May 26th at 9 p.m. central
), which recounts director/writer Jennifer Fox's real-life recovered memories of her sexual abuse as a 13-year-old at the hands of a Svengali-like couple.
Laura Dern plays the grown, 40-year-old Jennifer; Isabelle Nelisse co-stars as a young, impressionable, introverted Jenny in search of fulfillment beyond her lot in life as one of five siblings being raised by parents she can't stand.
"The story you are about to see is true -- as far as I know," Dern's Jennifer narrates at the start. More to the point, director/writer Fox says in HBO publicity materials that her goal in making the film isn't to determine "whether it happened," but to grasp "How and why did it happen, and how and why did I spin it as a positive story to myself?" (She is the only character in the film to use her real name.)
Un-peeling these layers doesn't come easily for the adult Jennifer. Nor is
The Tale
easy to watch, particularly when Jason Ritter exudes creepiness as an initially benignly smiling running coach with a goal of becoming 13-year-old Jenny's lover after first repeatedly praising her as being "so special" and "so deep."
The role is a complete departure for Ritter, who has spent this season playing a divinely inspired do-gooder in ABC's now officially canceled
Kevin (Probably) Saves the World
. Ritter's Bill (later depicted as the since much-lauded William P. Allens) doesn't have to use "adult" language during his intimate scenes with Jenny. In fact, seldom if ever have G-rated words seemed so foul-mouthed. (The film's closing credits say that all sex scenes with a minor were filmed with a body double. But there are still closeup shots of the 14-year-old Nelisse's face while she experiences Bill's deflowering of her.)
His accomplice is horse riding coach "Mrs. G" (first name Jane), who is played as a younger woman by Elizabeth Debicki and in present-day scenes by Frances Conroy. Bill and Mrs. G are beasts of prey who also are sleeping with each another.
"We want you to know that Jane and I are lovers," Bill tells the young Jenny while at the same time further reeling her in.
"I'm happy you have each other," Jenny replies. "And I want you to be miserable together like my parents." They tell her this is more evidence of being wise beyond one's years. Whatever it takes.
The adult Jennifer's mother, Nettie (Ellen Burstyn), is a meddler whose discovery of her 13-year-old daughter's troubling letters first brings
The Tale
into focus. Jennifer had "forgotten" about them, but finds that's no longer an option. Her boyfriend, Martin (Common in close to a throwaway role), has a lone scene of consequence when he demands that Jennifer be forthright with him after daring to call her a "victim." Otherwise Dern pretty much has as many scenes with a glass of red wine as she does with Common.
Those who invest in
The Tale
will get a "payoff," even if it seems more than a bit contrived. The film no doubt will get a ringing declaration of support from the #MeToo movement and an Emmy nod for Dern, who's currently filming Season Two of HBO's
Big Little Lies
. In truth, though, the strongest and bravest performance is by Nelisse as the 13-year-old Jenny, who in a few out-of-body moments shares scenes and dialogue with Dern.
Although there's no nudity, many assuredly will reject
The Tale's
subject matter out of hand. In this view, its overall story of innocent susceptibility, bogus fulfillment, latter day denial and hard-earned closure triumphs over what Bill does to Jenny in the name of "love." Still, I'm not going to try to sell you on anything. Just know what you're getting in for -- and proceed with both caution and an open mind if you decide to make the investment.
GRADE:
B+
Email comments or questions to:
unclebarky@verizon.net