The network of musicals strikes again with Rise
03/10/18 11:54 AM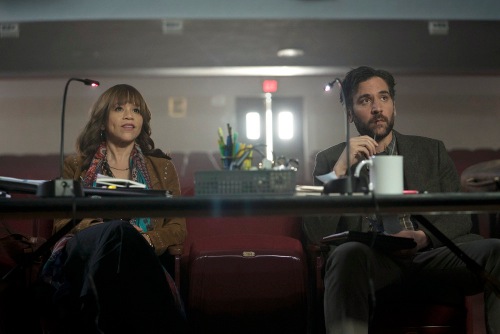 Do you hear what they hear? Rosie Perez & Josh Radnor play teachers trying to birth controversial high school musical in Rise. NBC photo
Premiering:
Tuesday, March 13th at 9 p.m. (central) on NBC before moving to regular 8 p.m. Tuesday slot
Starring:
Josh Radnor, Rosie Perez, Damon J. Gillespie, Auli'l Cravalho, Ted Sutherland, Rarmian Newton, Amy Forsyth, Shirley Rumierk, Joe Tippett, Ellie Desautels, Casey Johnson, Marley Shelton, Shannon Purser, Erin Kommor, Stephanie J. Block, Stephen Plunkett, Mark Tallman, Jennifer Ferrin, Stanley Wayne Mathis, Diallo Riddle, Shannon Thornton
Produced by:
Jason Katims, Jeffrey Sellers, Flody Suarez, Michelle Lee
By ED BARK
@unclebarkycom on Twitter
Avowed musical theater lover Bob Greenblatt has the power to indulge himself as chairman of NBC Entertainment.
He's regularly done so with live holiday season productions (
The Sound of Music, Peter Pan, The Wiz, Hairspray
) and the Broadway-set series
Smash
, which ran for two seasons and wound up on the wrong side of reviews after initial critical praise.
Now here comes
Rise
, a 10-episode series in which a frustrated high school English teacher attempts to walk on the wild side by directing an adaptation of
Spring Awakening
, a Tony Award-winning musical exploration of teen angst and sexuality inspired by an 1891 German play.
NBC made the entire first season available for review. Mission accomplished, with both pleasure and frustration.
On the plus side,
Rise
has the power to uplift, inspire and open tear ducts. But it's also marred by too much utterly predictable conflict escalation/resolution and an over-abundance of sappy-soft mood music that seems to be at war with the vibrant, full-blooded numbers from
Spring Awakening
.
Principal executive producer Jason Katims was also the driving force behind NBC's exemplary
Friday Night Lights
. The series turned Texas stereotypes upside down by injecting sensibilities -- rather than yahoos -- into its collection of small-town high school students.
Rise
also has a football storyline, with sensitive star quarterback Robbie Thorne (Damon J. Gillespie) struggling to time-share after being talked into playing the co-lead in
Spring Awakening
.
Katims, who helmed NBC's
Parenthood
between
FNL
and
Rise
, seems to have found a growing comfort level with unabashed sentimentality. He can still be very good at this, sustaining rooting interests throughout
Rise
while also investing it with just about every hot button social issue imaginable -- except in this instance, gun control.
The marquee protagonist is veteran teacher Lou Mazzauchelli (Josh Radnor from
How I Met Your Mother
), who's modeled after the real-life Lou Volpe from the 2013 book
Drama High
. The setting has been shifted from Levittown to Stanton, PA (shortened from New Stanton), where Lou is fed up with his listless students' inattention. Tom Joad? Snore.
Badly in need of a booster shot, Lou impulsively volunteers to head the school's underfunded theater department, even though dedicated Tracey Wolfe (Rosie Perez) already is in the midst of putting on another production of
Grease
. That's the problem, in Lou's view. Theater should be daring and kids need to be challenged. So let's rock this straitlaced burg to the core with an explicit production that includes same-sex kissing, parental abuse, spanking with a switch and raw language (which is more implied than heard because NBC censors still forbid f-bombs).
A sprawling cast of teens eventually warms to the task, making
Glee
seem kind of under-populated.
Lilette Suarez (Auli'l Cravalho), whose "slutty" waitress mom, Vanessa (Shirley Rumierk), has been sleeping with football coach Doug Strickland (Joe Tippett), is a previously untapped talent who gets the co-lead role opposite Robbie. While they fall in love, prima donna Gwen Strickland (Amy Forsyth) festers about being passed over. As does her costume-designing mom, Denise (Jennifer Ferrin).
Another musical star player, sexually conflicted Simon Saunders (Ted Sutherland), likewise is vexed about getting a smaller, supporting part that includes a boy-on-boy kissing scene with the openly gay Jeremy (Sean Grandillo). Simon's deeply religious parents, Robert and Patricia (Stephen Plunkett, Stephanie J. Block), have no intention of letting him proceed and want to kill the play altogether. But Dad turns out to have a secret of his own as part of
Rise
's most ham-handed sub-plot. The Saunders also have a daughter with Down's Syndrome who idolizes her brother. They have a handful of affecting scenes, with Simon always calming and reassuring her.
Other members of the
Spring Awakening
troupe include transgender Michael/Margaret Hallowell (Ellie Desautels); plus-sized Annabelle (Shannon Purser); promiscuous Sasha (Erin Kommor) and lighting director Maashous Evers (Rarmian Newton), a foster kid who ends up being
Rise
's most appealing student character.
Back home, Lou and his wife, Gail (Marley Shelton), aren't sure what to do anymore with their hard-drinking, insolent son, Gordy (Casey Johnson). Lou also faces increased opposition at school from the football coach and rock-ribbed principal Even Ward (solid work by Stanley Wayne Mathis). Meanwhile, Lilette's mom continues to endure unwanted sexual touching by Anton (Nikolai Tsankov), coarse owner of Sparky's Diner.
The strongest performance among the adults is from Perez, whose feisty Tracey otherwise leads a cloistered, sexless life. Trying to help -- when he's not clashing with her -- Lou persuades goodly biology teacher Andy Kranepool (Diallo Riddle) to ask Tracey out. This doesn't go well, before it does. But
Rise
then drops this whole storyline without explanation.
Meet two more parents. Robbie's father, Detrell (Mark Tallman), is prototypically obsessed with having his son achieve football stardom after he couldn't quite cut it. His saintly mom, Yvonne (Shannon Thornton), on whom Robbie dotes, is hospitalized with ACLS. He visits her often and they have some sweet scenes together while Detrell has taken up with a younger woman.
Rise
no doubt will offend conservatives who view it as another force-feeding of Hollywood liberalism. But its main offense may be a complete lack of "never saw that coming" surprises. Instead you're going to see just about everything coming, including a denouement that nonetheless is rousing because of the sheer power of the kids' performances and commitment.
Rise
doesn't elevate to the heights of
Friday Night Lights
with either its storytelling or performances. But it's heartfelt from start to finish while also offering an overall feel-good respite from television's ongoing obsessions with "true crime" and all things Trump. Wishing it would have been better is by no means a deal breaker. There are enough high notes to ensure that.
GRADE:
B
Email comments or questions to:
unclebarky@verizon.net