Shame on Bill Cosby
11/20/14 09:00 AM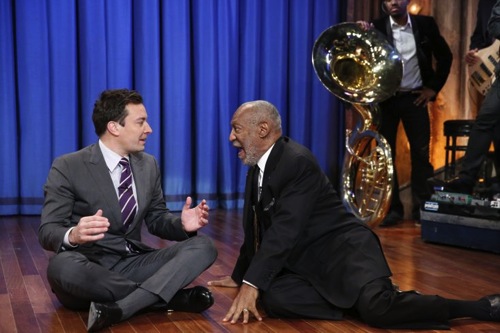 In happier times: Bill Cosby with Jimmy Fallon on The Tonight Show.
NBC photo
By ED BARK
@unclebarkycom on Twitter
Once the father of his country, Bill Cosby now is being unmade in America.
In rapid-fire succession, Netflix canceled plans to stream his standup special, NBC stopped developing a sitcom for him and TV Land said it's dropping all scheduled episodes of
The Cosby Show
, including a marathon that was set to air during Thanksgiving week.
The 77-year-old comedian's career, which had been in resurgence, has imploded following renewed allegations from numerous women who said he had drugged and then raped or otherwise sexually molested them.
If even one of these charges is true -- and it's virtually impossible to believe that all of Cosby's accusers are lying -- then he deserves to be exiled to the bone heap to live out his miserable life. If all of the charges somehow are proven to be false -- again, extremely unlikely -- then Cosby is permanently stained anyway during the twilight years of an all-time great comedy career.
"Social" media have greatly accelerated the time it takes to fall from grace, although Cosby's plunge is still happening at WARP speed. It's comparable in some ways to Tiger Woods' crash after one woman after another came forward to brand him as a serial adulterer. But Woods eventually admitted his transgressions, although having a series of extramarital affairs is nowhere near as grievous as rape. Cosby shows every indication that he'll go to his grave without expressing anything resembling public remorse.
Both Woods and Cosby can be prickly, obstinate and outspoken in ways that come back to bite them. Woods has never exactly been beloved, though. Cosby has. His portrayal of husband/father Cliff Huxtable on
The Cosby Show
made him both phenomenally rich and phenomenally embraceable.
Only
All in the Family
can match
The Cosby Show's
five consecutive seasons at the very top of the prime-time Nielsen ratings. But the late Carroll O'Connor's Archie Bunker was famously brusque, abrasive and bigoted, with occasional thaws to room temperature. Cliff Huxtable remained firm but always huggable during
The Cosby Show's
phenomenally successful eight-season run (1984-85 to 1991-92). It also was the one-and-only TV series with an African-American cast to rank No. 1 in even one, let alone five seasons.
Other than his earlier groundbreaking role as the co-star of
I Spy
, Cosby has always packaged himself as a cuddly mischievous family man/pitchman. He sold Jell-O with a wink and also produced and voiced award-winning cartoon shows such as
Fat Albert and the Cosby Kids
and
Little Bill
. The allegations against him make all of this seem like a complete act on the part of a latter day dirty old man whose crimes as a younger man are unforgivable. There may never be ironclad evidence after all this passage of time. But that seems almost immaterial, because who really believes in his total innocence?
Many people are not what they seem to be -- whether in show business or other professions. But Cosby was in the pantheon of America's lionized entertainers. He has accumulated 17 honorary degrees, received the Presidential Medal of Freedom in 2002, is a member of the Television Hall of Fame and also was a Kennedy Center honoree back in 1998.
All of those accolades and all of that image burnishing mean nothing now. Shame on Bill Cosby for that.
Email comments or questions to:
unclebarky@verizon.net