Low Winter Sun a case study in bleak
08/08/13 09:00 AM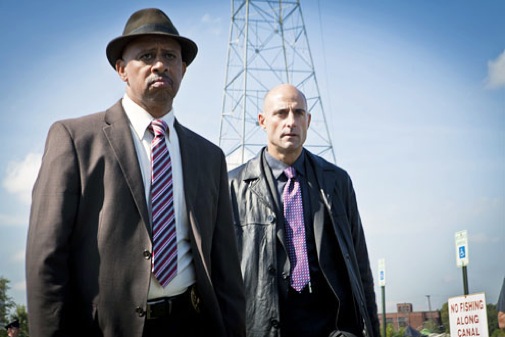 Britishers Lennie James, Mark Strong star as Detroit cops. AMC photo
Premiering:
Sunday, Aug. 11th at 9 p.m. (central) on AMC
Starring:
Mark Strong, Lennie James, Sprague Grayden, James Ransone, Ruben Santiago-Hudson, Athena Karkanis, Billy Lush, David Costabile
Produced by:
Chris Mundy, Dave Erickson, Rolin Jones
By ED BARK
@unclebarkycom
Dark, humorless and, worst of all, dramatically dreary, AMC's
Low Winter Sun
sets up shop Sunday in hopes that
Breaking Bad
fans will buy it wholesale.
That doesn't seem likely. This adaptation of a same-named 2006 British miniseries marches rather stiffly to the same-old/same-old dirty cop drumbeat. What's new under the sun? Well, it certainly doesn't shine on this portrait of a badly scarred Detroit and its equally dour police force. AMC's promotional tagline is "Good Man. Cop. Killer." Which just as easily could be "Sigh. Been There. Done That. Too Many Times Already." The acting is willing but the premise is wilted.
Native Londoners Mark Strong (reprising his role from the original) and Lennie James front the cast as detectives Frank Agnew and Joe Geddes. In the premiere episode's opening sequence, they work up the gumption to murder a badly corrupted cop and then cover it up.
Agnew has another motivation. He believes that their prey viciously murdered and dismembered a close woman friend of his. Geddes verbally moves in for the kill, informing his partner, "Folks talk about morality like it's black and white . . . But you know what it is? It's a damn strobe, flashing back and forth, back and forth all the time."
Low Winter Sun
, set for 10 episodes in Season 1, regularly moves back and forth between a fractious cop shop and a group of second tier drug- and prostitute-pushers intent on movin' on up. Maya Callis (Sprague Grayden) otherwise camouflages her illicit activities by running a bar while husband Damon (James Ransone) provides the muscle. Tying these stories together, although not all that well in the first two episodes sent for review, is the aforementioned murder of the crooked cop, whom Damon had bought. Murky jerky.
Meanwhile, Agnew and Geddes are seeing their carefully laid plans run afoul of a police investigation. It was all meant to look like a suicide, but the evidence starts saying otherwise. Was Agnew "played" by Geddes? Is Geddes also a no-good cop? Looks of concern escalate to dirty ones, with stern precinct commander Charles Dawson (Ruben Santiago-Hudson) barking out orders and spicing them with a little police lingo at the start of Episode 2. "This is a Grade-A goat rodeo," he says. "Stonewall. Keep movin'."
On-location filming in Detroit probably helped to boost the economy of an up-against-it city that recently declared bankruptcy. But Motown is hardly showcased as Emerald City. The weekly opening credits are highlighted by montages of boarded up or decayed residences and a bluesy female vocalist whose parting refrain is "Down, down, down, down."
AMC has carved out a rep for distinctive, high-quality drama, beginning with
Mad Men
, continuing with
Breaking Bad
and achieving new heights -- ratings-wise at least -- with its most popular series by far,
The Walking Dead
. But
BB
is ending after its final eight-episode arc and
Mad Men
will close shop next year.
Based on the first two episodes,
Low Winter Sun
is not nearly in the same league as any of them. Low on initial appeal and likewise short on originality, it's a bleak 'n' grim undertaking that just doesn't seem built for the long haul.
GRADE:
C+
Email comments or questions to:
unclebarky@verizon.net