Rel is an unfortunate throwback that should have been thrown back
09/06/18 02:50 PM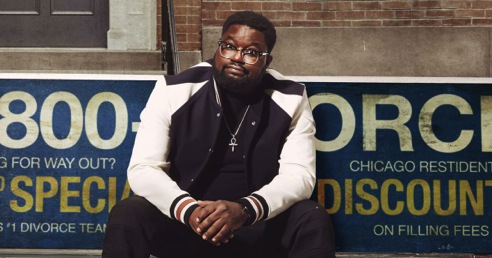 Lil Rel Howery doesn't quite know what hit him in Rel. Fox photo
Premiering:
Sunday, Sept. 9th at 7 p.m. (central) on Fox before returning on Sept. 30th
Starring:
Lil Rel Howery, Sinbad, Jessica "Jess Hilarious" Moore, Jordan L. Jones
Produced by:
Jerrod Carmichael, Mike Scully, Lil Rel Howery, Josh Rabinowitz, Kevin Barnett
By ED BARK
@unclebarkycom on Twitter
The first new fall series from a Big Four broadcasting network is broad, loud, stereotypical and affixed with a howling laugh track.
What were you thinking, Fox? Apparently that now is the right time for an urban sitcom that seems to come straight from the 1970s but makes even
What's Happening!!
look demure.
Rel
, being sneak-previewed following Sunday's NFL doubleheader on Fox, is "inspired by the comedy" of Lil Rel Howery. He stars as a cuckolded, Chicago-based nurse whose wife had an affair with his barber ("my hair confidante") before taking herself and their two kids to Cleveland.
This leaves Rel at the mercy of a littered apartment, a drug-dealing brother fresh out of jail, an "unfiltered sounding board" of a female friend and a bombastic father. Respectively they're Nat (Jordan L. Jones), Brittany (Jessica "Jess Hilarious" Moore) and "Dad" (Sinbad).
"This looks like a place where they bag heroin," Brittany says upon first entering Rel's crib. For his part, Nat dealt ecstasy but says he's a "changed man" since serving time.
Later in this introductory half-hour, Rel is aboard a bus when a younger black man barges on board, disses the driver, refuses to pay and then starts ragging on Rel's physical appearance.
Even the driver has to laugh when Rel says, "Right now I'm between barbers," before the freeloader jabs, "Your wife is, too."
There's also a guest character known as "Loose Boots" Monica because she wears -- loose boots. Rel wants nothing to do with Brittany's offer to set him up with her. But he reconsiders after learning that Monica supposedly is now "Frank the barber's girl." They're getting along fine at a bar before Monica learns what Rel's game is -- namely "revenge sex." The studio audience prototypically whoops and shouts when Monica upbraids Rel and says that no man will ever be allowed to "disrespect me."
The whole thing comes off as uncomfortably clownish and insulting to viewers of any color, let alone African-Americans who have every right to cringe at such off-putting, clownish portrayals in times when FX's immeasurably superior
Atlanta
has charted such bold new territory.
Diversity in prime-time is both laudable and necessary. But when this is the end result, it's better left undone. C'mon, Fox, do better. Do much, much better than this.
GRADE:
D
Email comments or questions to:
unclebarky@verizon.net