Better Call Saul won't be rushed in the early stages of Season 2
02/11/16 01:23 PM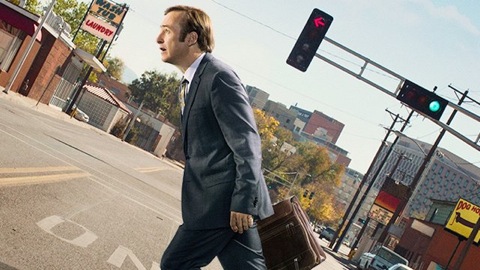 Bob Odenkirk's Jimmy McGill faces more uphill climbs. AMC photo
By ED BARK
@unclebarkycom on Twitter
Two very verbal, slow-cooked episodes open Season 2 of AMC's
Better Call Saul
.
Depending on your tolerance for extended dialogues, they're either deliciously chewy or perhaps in need of a little pick-me-up. I'll side with the leisurely pace en route to Bob Odenkirk's scam-prone Jimmy McGill eventually becoming one of TV's ultimate shysters, Saul Goodman, in the late, great
Breaking Bad
. As origin stories go,
Better Call Saul
is still too savory to hurry along.
The 10-episode Season 2 begins on
Monday, Feb. 15th at 9 p.m. (central)
. Jimmy has been offered a lucrative job at Santa Fe's Clifford & Main law firm after uncovering evidence of a grand scheme by the owners of Sandpiper Landing to bilk the community's elderly, trusting residents. But the case must still be proven in court while Jimmy weighs whether to live like a king or go rogue in the interests of his "mid-life clarity."
As with Season 1, viewers will first see the present-day Saul in hiding as the hands-on mustachioed manager of a mall-encased Cinnabon store. Lasting for a little over five-and-a-half minutes, this entire interlude is filmed in evocative black-and-white. Let's just say that Saul gets himself in a predicament before eventually leaving a lasting mark. Then it's on to the
Better Call Saul
theme song, which again will be accompanied by different visuals for each episode.
The first two hours, again set in 2002, train their sights on Jimmy and the two other principal characters in
Better Call Saul
's triangle. Former cop Mike Ehrmantraut (Jonathan Banks) continues to work as a parking garage toll taker while slowly beefing up his side businesses. Lawyer Kim Wexler (Rhea Seehorn), still employed by the upper crust Hamlin, Hamlin & McGill firm, remains intent on salvaging Jimmy while he yearns to make their occasionally intimate relationship a keeper.
Also included in a major way is Mark Proksch as an apprentice, milquetoast of a drug dealer who first appeared last season in the "Pimento" episode.
Better Call Saul
's opening hours are significantly tied to his new dilemma. And Jimmy's efforts to make it go away take quite a unique turn in Episode 2.
These episodes aren't shot out of a cannon the way Season 1's were. There's little sense of menace and ample time spent floating in a pool -- literally. But the opening hour's eventual scam proves to be a nice payoff after a considerable buildup. And an extended, textured scene at the outset of Episode 2 looks deeper into the fortress of solitude that still grips but no longer paralyzes Jimmy's mostly shut-in older brother, Chuck (Michael McKeon).
An exchange later in Episode 2 pretty much sums up where we're eventually going here.
"You still morally flexible?" Mike asks Jimmy over the phone. "If so, I might have a job for you."
"Where and when?" Jimmy replies.
I'm still roped in by a series whose little moments can also be mini-monuments on various roads to perdition. Creator and executive producer Vince Gilligan isn't afraid to let it all air out at a measured pace. But
Better Call Saul
is still avoiding the pitfalls of simply running in place. Instead, great expectations remain intact for a Season 2 that so far continues to make its mark by delivering just a little at a time.
GRADE:
A-minus
Email comments or questions to:
unclebarky@verizon.net