Copper rises to the top as BBC America's first original scripted series
08/16/12 01:59 PM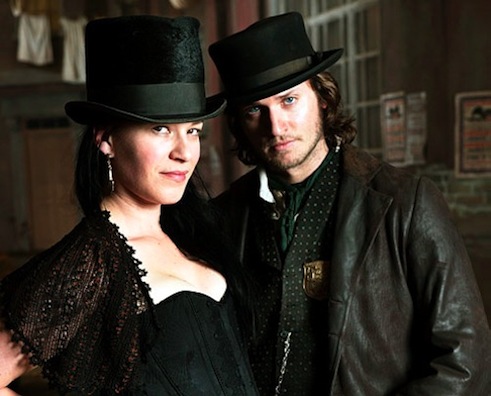 Co-stars Franka Potente & Tom Weston-Jones couple up in Copper, a new Civil War era crime & punishment drama. BBC America photo
Premiering:
Sunday, Aug. 19th at 9 p.m. (central) on BBC America
Starring:
Tom Weston-Jones, Franka Potente, Kyle Schmid, Ato Essandoh, Kevin Ryan, Anastasia Griffith, Dylan Taylor, Kiara Glasco
Produced by:
Tom Fontana, Barry Levinson, Will Rokos
By ED BARK
@unclebarkycom
Stirring sex, violence, race, crime and corruption in a smoldering period piece pot,
Copper
makes a vivid impression as BBC America's inaugural original scripted series.
It's not about the no-holds barred race to mint the first Lincoln penny. But he's still president in 1864, the start point of this Civil War era depiction of uneven justice in class-divided New York City.
The central character is rough and ready detective Kevin "Corky" Corcoran (Tom Weston-Jones), an Irish immigrant who boxed for a living as a younger man before going off to fight for the Union side. His six-year-old daughter was murdered during that time while his wife went missing.
But the war raged on and Corcoran couldn't escape it until finally being mustered out. Now he's understandably obsessed with both finding his wife and apprehending his daughter's killer while also solving other crimes. His refuge from the madness is saloon/brothel madame Heissen (Franka Potente), who operates out of the city's raggedy, mayhem-ridden Five Points neighborhood.
"I'll be gone a week or so. Don't use too many of the girls," she advises before leaving town on a recruiting drive.
"You're the only one I want," Corcoran assures her.
BBC America is advertiser-supported, so the sex is somewhat tempered save for a lingering shot of a male behind. Advertisers seem to turn the other cheek when it comes to violence, though. And
Copper
certainly doesn't scrimp on that front in its opening episode or the following week's Part 2.
A bloody bank robbery is served up for starters. And Corcoran isn't above beating suspected wrongdoers or even possible informants into submission. In turn, he suffers greatly in Episode 2, feeling his searing physical pain in ways that are uncommonly vivid for a lead character in a weekly series.
The principal architects of
Copper
are better known than any of the cast members. Barry Levinson directed
Diner
and
Rain Man
among his many feature films while Tom Fontana has
Homicide: Life on the Street
and
St. Elsewhere
on his resume. Together they invest
Copper
with grit, grime and crimes whose culprits tend to reside above the law in upper crust enclaves.
The victim in Episodes 1 and 2 is a pre-teen girl who's found with a hole in her head. Corcoran initially is on the wrong track regarding her identity. But at the mid-point of Sunday's opener, he realizes that a runaway minor named Annie Reilly (Kiara Glasco) is still very much alive and in peril.
The series' clandestine forensics expert is Dr. Matthew Freeman (Ato Essandoh), an African-American who has forged a relationship with both Corcoran and the privileged Robert Morehouse (Kyle Schmid), a fellow Civil War veteran who returned home with a peg leg.
Freeman now works undercover, aiding Corcoran in his investigations with the primitive tools available to him in those times. His deductions include how the girl was killed and how tall the perpetrator had to have been. Some of this isn't altogether convincing, but neither are many of the machinations in TV's contemporary "procedural" crime dramas.
Corcoran drives
Copper
with a Mike Hammer-esque intensity, even though his looks remain boyish rather than hard-boiled. Justice will be served on his terms if necessary. And he's not above skimming a little off the top where cash-laden dead bank robbers are concerned.
BBC America has ordered 10 episodes for
Copper
's first season. Descriptions in network press materials indicate that the series will be typical in terms of its hardscrabble hero uncovering various clues on his path toward finding his wife and avenging his daughter's murder while also dealing with other weekly messes within his jurisdiction. There's also a definite dirty-to-the-touch
Deadwood
feel throughout the first two episodes.
Still,
Copper
doesn't seem like a copycat. It's both a promising and foreboding series, with class warfare an ever-present force that wants no part of any idealized forms of truth, justice and the American way. It's all prelude to an Episode 10 subtitled "A Vast and Fiendish Plot." Rose Gardens need not apply.
GRADE:
A-minus