NBC tries to rebuild post-ER Thursdays with Amy Poehler-led comedy and ensemble cop drama
04/08/09 02:43 PM
By ED BARK
Note to readers: Struggling NBC's Thursday night lineup, without
ER
for the first time in 15 TV seasons, re-gathers itself on April 9th with a new episode of
The Office
, the premiere of
Parks and Recreation
, another new
Office
episode, a first-run
30 Rock
and the premiere of
Southland
.
Here are our reviews of the two newbies: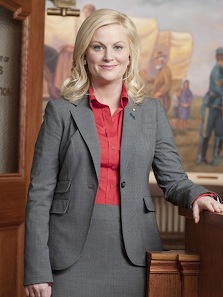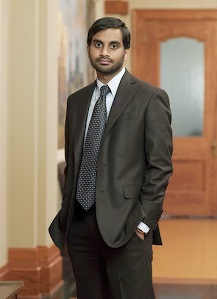 Amy Poehler and Aziz Ansari co-star in Parks and Recreation.
Premiering:
Thursday, April 9th at 7:30 p.m. (central) on NBC
Starring:
Amy Poehler, Aziz Ansari, Rashida Jones, Nick Offerman, Paul Schneider, Aubrey Plaza
Produced by:
Greg Daniels, Michael Schur, Howard Klein
It seemingly would be hard to go wrong with Amy Poehler, the former
Saturday Night Live
bright spot who used to co-anchor "Weekend Update" in addition to doing a killer Hillary Clinton.
That telegraphs this next sentence, which goes a little something like this: But NBC goes very wrong in the flat and wholly derivative first episode of
Parks and Recreation
. Straining to replicate
The Office
, it instead pulls a muscle that's located nowhere near the funny bone. Yeoman work needs to be done on this very disappointing depiction of small town government and its feckless practitioners. They're all gathered in
real-life Pawnee, Ind
., but the berg shouldn't expect any big uptick in tourism.
Park & Recreation
's principal creative force, Greg Daniels, is the same guy who made the U.S. version of
The Office
a stand-alone, see-worthy knockoff of the BBC original. Here he settles on the identical talk-to-the-camera "mockumentary" motif, with Poehler cast as a self-important but essentially well-meaning deputy director named Leslie Knope.
Her surname leaves the K silent, which might be most viewers' reaction as well to another NBC comedy series without a laugh-track or sweetened studio audience howls. The material mostly just curls into a fetal position, making one almost long for a Kuh-nope joke or two. But nope, it's just Knope.
After finding a drunk sleeping in the kids' playground tube slide, Knope goes about the business of moderating an ill-attended nighttime public forum. She's accompanied by sardonic colleague Tom Haverford (Aziz Ansari), who'd just as soon be plucking nose hairs.
"What I hear when I'm being yelled at is people caring loudly at me," Knope later tells the camera. One of the complainers, nurse Ann Perkins (Rashida Jones), says that her lout of a husband broke both of his legs falling into an abandoned, town-owned pit. Knope immediately promises to fill it in and then build a public park on the land. "This could be my Hoover Dam," she says. Instead the show keeps digging itself a hole.
Other
Parks and Recreation
regulars include Knope's anti-government boss, Ron Swanson (Nick Offerman); city planner Mark Brendanawicz (Paul Schneider), with whom she once slept; and bored college intern April (Aubrey Plaza).
They all make for a pretty dreary mix. And it doesn't get any better when Knope falls head over heels -- not for a co-worker but into the giant pit. Lucy Ricardo she's not.
Maybe this somehow can be salvaged, although a poorly executed first episode generally bodes ill for the entire enterprise. Poehler has much the same inherent comedic appeal as former
SNL
castmate Tina Fey, but her
30 Rock
was spot-on funny from the start.
Parks & Recreation
is more reminiscent of Michael Richards' first post-
Seinfeld
effort for NBC, in which he played bumbling L.A. private eye Vic Nardozza. That went very badly for all concerned. And this show very much looks to be on the same path.
GRADE:
C-minus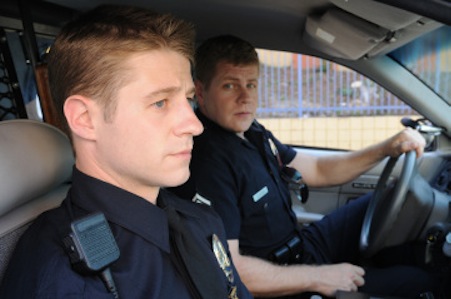 Ben McKenzie and Michael Cudlitz in new police drama Southland.
Premiering:
Thursday, April 9 at 9 p.m. (central) on NBC
Starring:
Ben McKenzie, Michael Cudlitz, Regina King, Tom Everett Scott, Michael McGrady, Kevin Alejandro, Shawn Hatosy, Arija Bareikis
Produced by:
John Wells, Christopher Chulack, Ann Biderman
NBC's best new police drama since
Boomtown
may be too grittily real even for viewers accustomed to the random medical gore of
ER
.
Southland
, which takes
ER
's spot, is also from the same producer, John Wells. It takes viewers on a hardly magical, mystical tour of L.A., where conscience-less gangs and assorted other scum have turned veteran patrol cop John Cooper (Michael Cudlitz) into a coarse, seen-it-all street sweeper.
"It's like drivin' through a sewer in a glass-bottomed boat, right?" he tells rookie trainee Ben Sherman (Ben McKenzie from
The O.C.
).
Southland
bleeps some of its profanity but otherwise is very much in the mode of FX's recently deceased
The Shield
, which had its series finale last year. Most of the cops and detectives are strung out and beset with personal problems. Still, Cooper relishes his "front row seat to the greatest show on earth" while Sherman vomits at the sight of a decaying corpse that's been partly dismembered by a pair of dogs left behind.
The premiere episode also includes the broad daylight shooting of a young black kid who barely says "I don't bang" before he's perforated by a group of drive-by vermin. A woman bus driver witnesses the shooting but is afraid to give up any information. "Shoot, we got our own war on terror right here," she says of her neighborhood.
Later a cop is felled at close range, forcing young Ben to come quickly of age. He's supposedly from a rich family, but so far we don't know why he's chosen to protect and serve a populace that's often at war with itself.
Southland
's opening hour is as uncompromising as any broadcast TV drama can dare or afford to be. Forty TV seasons ago, NBC's long-running
Adam 12
premiered with basically the same premise -- streetwise cop schools probationary rookie. But that show was a Disneyland ride compared to the grime and slime besetting the network's newest boys in blue.
"You're a cop because you don't know how
not
to be one," the senior partner eventually lectures the rookie after earlier ridiculing him as a wussy "Tori Spelling." "If you feel that way, you're a cop. If you don't, you're not. You decide."
Viewers who decide to stay the course will be in for some tough duty. Warts and all,
Southland
has the potential to be an exceptional police series. But it also risks being a turn-off in already dispiriting times. In that all too real context, who needs this?
GRADE:
A-minus