ABC's love connections are hardly heart-healthy
01/03/10 10:08 PM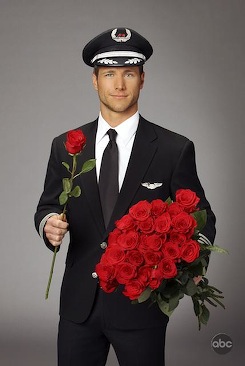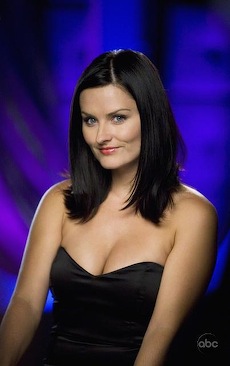 Dallas flyboy Jake Pavelka of The Bachelor: On the Wings of Love and Jennifer of Conveyor Belt of Love. Both launch Monday on ABC.
By ED BARK
Love, American Broadcasting Company style, is strictly stupid Cupid Monday night.
For openers, studly Dallas flyboy Jake Pavelka begins sorting through 25 awestruck beauties on ABC's two-hour premiere of
The Bachelor: On the Wings of Love
(
7 p.m. central
). It's the 14th edition of the long-running "romance reality" series.
Then comes
Conveyor Belt of Love
(
9 p.m. central
), a one-hour special apparently designed to pound brain cells senseless with a two-by-four before implanting them in Joey Lawrence. Very simply put, 30 men are presented to five women -- for one minute each on a continuous conveyor belt. Finalists get to go on dates "in the hope of finding a true connection."
The Bachelor
is on a bit higher plane, with pilot Pavelka getting a second flight after being rejected on
The Bachelorette
by Jillian Harris, whom he supposedly envisioned as his future wife.
"I was crushed," he relates in the early minutes of ABC's preview video. "And now I'm back at square one. Nice guys finish last. It's been the story of my life."
Jake, 31, remains swoon-worthy yet loveless. His perfectly sculpted bare torso, flashed frequently during an introductory segment, apparently hasn't been enough to land him much more than a series of one-night stands. Perhaps it's because he comes off as too "intense," Jake tells host Chris Harrison, who still plays his part with an impenetrable earnestness.
At one point, Harrison actually asks, "Would you give up flying for love?"
Jake, after a few seconds of feigned reflection, submits a reality TV groaner for the ages: "You know what? Love is more powerful than flying."
Rats. Just a few minutes earlier, Jake had pledged his undying allegiance to the friendly skies. That's because "flying is like a drug," he emoted. "It bites you and you're hooked. Just like being in love."
He'll winnow the field from 25 to 15 by the end of Monday's two-hour helping. And all of his suitors go prototypically goo-gah after Harrison proclaims, "Let the journey begin."
One woman wants to feel his abs. Another says that her name, Rozlyn, "actually means 'Little Rose.' " So clearly they were meant to be.
Jake of course warmly greets each of the eye-batters with a little patter and flatter before sending them inside to await him in the show's all-purpose Malibu mansion.
"I am so shocked at how beautiful he was," says one lady in waiting.
"I feel like I'm in love with him already," says another."
OK, enough.
ABC thoughtfully provided only a handful of short clips from
Conveyor Belt of Love
. In one of 'em, subtitled "Buns of Steel," 25-year-old Johnny Pride conveyor-belts into view wearing only black briefs and carrying a small dog he's dubbed Princess in daytime and Rambo at night.
A woman named Keiko hoists her "Interested" sign because "I think it's courageous and I love it." But Jennifer (pictured above) demurs, telling Johnny, "I would be terrified to leave you with my children. I don't have children, but if I did, they would not be with you."
And so on.
Both
Bachelor
and
Conveyor Belt
are love-shtick for one another. Which makes them a perfectly vacuous couple on a Monday night where most of D-FW's hearts should belong to TCU's unbeaten football team. They'll be playing the field -- and Boise State -- in Fox's competing Fiesta Bowl. Horned Frogs trump pseudo Prince Charmings. Gotta love it.