Showtime's SMILF is comedy with a high misery index
11/03/17 10:31 AM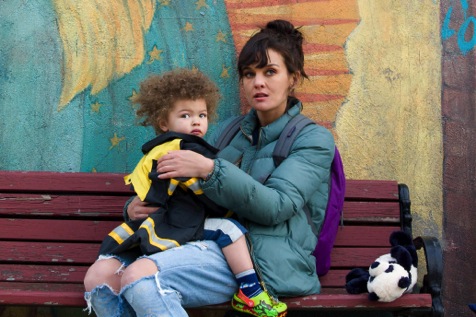 Bridgette and son lack the luck of the Irish in SMILF. Showtime photo
Premiering:
Sunday, Nov. 5th at 9 p.m. (central) on Showtime
Starring:
Frankie Shaw, Rosie O'Donnell, Miguel Gomez, Samara Weaving, Alexandra Mary Reimer, Anna Chanel Reimer, Connie Britton
Produced by:
Frankie Shaw, Lee Eisenberg, Gene Stupnitsky, Michael London
By ED BARK
@unclebarkycom on Twitter
The old "misery loves company" axiom gets a stern test with Showtime's
SMILF
.
Based more or less on creator/star/producer Frankie Shaw's real-life travails, the Boston-set comedy begins most episodes with printed, killjoy quotes. Take it from George Carlin, whose wisdom sets the table for Episode 3. "That's why they call it the American dream," he used to say. "Because you have to be asleep to believe it."
Or if you prefer, here's the lilting Irish proverb affixed to Episode 2: "There's nothing so bad, that it couldn't be worse."
For starters, though, Sunday's opening half-hour underscores
SMILF
's decidedly feminist approach via a printed Jewish proverb: "God cannot be everywhere. And therefore s/he created mothers."
Shaw, who's also the principal show runner of
SMILF
, has emphasized publicly that every episode will be directed by a woman. She's also cast twin girls to play the part of toddler son, Larry. And her character, Bridgette Bird, says "A-woman" at the end of prayer interludes during rehab meetings.
Showtime publicists also have provided Shaw's rather labored explanation of the show's title. She says in part: "Bridgette is not a 'MILF.' It's a term used by men to categorize a certain 'type' of woman. The 'I' in
MILF
is only the male point of view, a woman
HE
would like to sleep with. By getting inside her life experience, we are in a sense changing the meaning, reclaiming it . . . Telling the stories we're telling, it takes away the demeaning quality of that label. The process is what a lot of women go through in our culture, going from the object in the eyes of the media, advertisement, music to the subject of our own multidimensional, sometimes sad, oftentimes funny stories."
Not all of the male characters are dicks, but
SMILF
doesn't shy away from showing their private parts in addition to a lingering closeup photo of female genitalia in Episode 1. This is the one where Bridgette, an aspiring actress, frets about whether her own equipment is still tight enough to satisfy. So after a chance meeting in a convenience store, she invites an old boyfriend over to test-drive it while little Larry Bird (Alexandra Mary Reimer/Anna Chanel Reimer) is covered up next to them in their cramped and crappy apartment. Viewers can expect to be exposed to a lengthy shot of his penis, which, for the record, isn't very long.
Shall we go on?
Bridgette's opinionated mother, Tutu, is played by Rosie O'Donnell, who at first glance looks a lot like Louie Anderson as Zach Galifianakis' mother in FX's
Baskets
. O'Donnell, not known as the easiest person to get along with, nonetheless remains a surprisingly good actress who doesn't mind deglamorizing herself -- either in this role or as a lesbian activist in ABC's recent
When We Rise
. She brings a big glass of sour punch to
SMILF
, but in her own way only wants what's best for her struggling daughter. Meanwhile, Tutu's husband is recovering from a stroke. Some fun, eh?
Little Larry's father, Rafi (Miguel Gomez), seems to be a decent sort, but likewise is a recovering addict. His new girlfriend, the notably endowed and sweet-dispositioned Nelson Rose (Samara Weaving), works as a TV sports reporter whose Internet photos become an enticement for Bridgette to pleasure herself.
The recurring Connie Britton rounds out the cast as a well-off mother named Ally, who employs Bridgette to tutor her younger son. During a visit home, the other son, a student at Harvard, finds Bridgette very much to his liking after they get high together. So they do it in Ally's bed in a scene that ends more graphically than you'll want to know.
Episode 3 finds Bridgette hard-pressed to pay her rent and willing to do just about anything to come up with some money. One of her friends, who's plus-sized and wears a "Roses are red, Doritos are savory, the U.S. prison is legalized slavery" t-shirt at rehab meetings, lately is making big money with a website that requires men to pay to watch her over-eat while scantily dressed. Bridget in turn hooks up with a middle-aged, unhappily married men willing to pay $300 just to see her face in person. You'll be spared the rest of the details, but be assured that
SMILF
's "most men are pigs" motif is re-set by the end of this episode.
Being gross, graphic and disagreeable has not kept
Shameless
from having a long run on Showtime.
SMILF
is in that vein, and perhaps also will find enough of an audience to sustain it. It's hard to know what going to work anymore. But this one just doesn't work for me.
GRADE:
C
Email comments or questions to:
unclebarky@verizon.net