Getting darker: USA network's The Sinner further distances the network from a recently discarded sales pitch
07/21/17 08:07 AM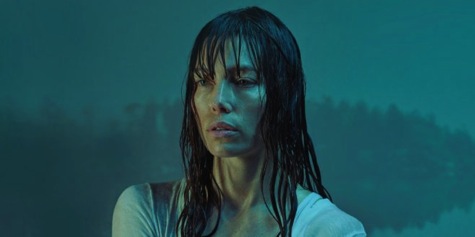 The Sinner puts Jessica Biel in anything but 7th Heaven. USA photo
Premiering:
Wednesday, Aug. 2nd at 9 p.m. (central) on USA network
Starring:
Jessica Biel, Bill Pullman, Christopher Abbott, Abby Miller, Dohn Norwood, Patti D'Arbanville
Produced by:
Jessica Biel, Michelle Purple, Derek Simonds, Antonio Campos, Charlie Gogolak
By ED BARK
@unclebarkycom on Twitter
Darkness prevails at the USA network, which formerly championed a "blue sky" approach that welcomed banter-laced, light-stepping dramas such as
Psych, Royal Pains, White Collar, Fairly Legal
and the pathfinding
Monk
.
A "We the Bold" branding dating to spring 2016 has cleaned house and re-furnished USA with the likes of
Mr. Robot, Shooter, Queen of the South
and
Damnation
, which is coming this fall. Set in the 1930s, it's billed in part as a "bloody struggle between big money and the downtrodden."
But let's get really bleak. Closer to the here-and-now, USA's
The Sinner
launches on Wednesday, Aug. 2nd as an eight-part, "close-ended" series fronted on-and-off camera by former
7th Heaven
co-star Jessica Biel. Based on the 2007 book by German author Petra Hammesfahr, it's something of a fictionalized form of the acclaimed Netflix docu-series
Making a Murderer
. But in this case, there's absolutely no question whodunit. Instead, investigating the whys and the wherefores is paramount.
The initial 15 minutes or so of
The Sinner
's opening episode are almost excruciatingly slow-paced. But then moody Cora Tannetti (Biel) commits an out-of-nowhere murder that won't be further detailed here so as not to ruin the jolt. This occurs in broad daylight and in full view of an abundance of eyewitnesses. What's the motive, though? Was this gruesome crime pre-meditated? Might Cora be completely unstable and unfit to stand trial despite her seemingly conventional marriage and motherhood? (This is a rare instance, by the way, in which TV has lengthened rather than simplified the surname used in the book, which was Bender.)
Husband Mason Tannetti (Christopher Abbott from the first two seasons of
Girls
before he abruptly quit) and Cora run a family-owned heat and air specialists business. They also have a little boy who's a bit on the quiet side.
Once the murder is committed, it's up to plainclothes detectives Harry Ambrose (Bill Pullman) and Dan Leroy (Dohn Norwood) to sort through it all. They're assisted in part by uniformed cop Caitlin Sullivan (Abby Miller) while Cora is incarcerated and initially firm in her declaration of total guilt.
The accomplished Pullman, best known for playing the president in
Independence Day
, quickly registers even if he's not instantly recognizable in a full beard. He hadn't done any TV since the awkward and short-lived 2013 NBC comedy series
1600 Penn
, in which Pullman also was president.
This time out he's anything but. Pullman's Ambrose is unhappily separated from his wife and paying occasional visits to a plus-sized semi-dominatrix. He's intensely thorough in his detective work and also cosmic in his musings about "an eco-system out of balance." Until Biel starts to establish herself, Pullman easily is the best thing about
The Sinner
.
USA has made the first two hours available for review. And as the flashbacks accelerate, so does the pulling power. Without spoiling too much, it's clear that little Cora was made to feel constantly guilty by her religious fanatic mother, Lorna (Enid Graham). This is primarily because her baby sister, Phoebe, is sickly, and Cora gets blamed for earlier wreaking havoc on mama's womb. God forbid, literally, that Cora even eat an unholy candy bar. Hellish upbringings generally do not make for stable adults.
Still, how much is the adult Cora fabricating in terms of how well she may or may not have known her victim? And might the dogged Ambrose himself go off the deep end while trying to unravel this case?
It's anything but breezy entertainment on a network where ill winds now blow. Even so, Pullman and Biel are solidly in charge of their pivotal roles in a drama where "close-ended" presumably means a firm conclusion and no Season Two. So at an economical eight episodes, all this gloom and doom at least has the benefit of also being foreseeably finite. Expect your tolerance to be tested, though, particularly in the first half of Episode One. But if I were you, I'd proceed.
GRADE:
B (with the possibility of a higher mark if the story and performances hold firm)
Email comments or questions to:
unclebarky@verizon.net