CBS' Instinct is groundbreaking while also very much being same old/same old
03/16/18 10:21 AM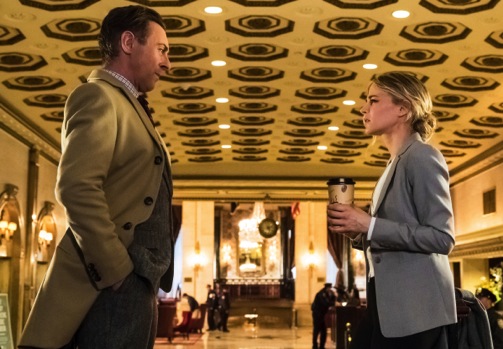 Alan Cumming goes the procedural crime route in Instinct.
Premiering:
Sunday, March 18th at 7 p.m. (central) on CBS
Starring:
Alan Cumming, Bojana Novakovic, Naveen Andrews, Daniel Ings, Sharon Leal, Whoopi Goldberg
Produced by:
Michael Rauch, Marc Webb, Alex Kurtzman, Heather Kadin, James Patterson, Bill Robinson, Leopoldo Gout, Alan Cumming
By ED BARK
@unclebarkycom on Twitter
This is the one where Alan Cumming tests his leading man cred as an openly gay, recently married former CIA operative turned novelist turned college professor turned crime solver.
The premise may not sound shopworn. But CBS'
Instinct
otherwise is extraordinarily ordinary at best as a midseason replacement for the failed
Wisdom of the Crowd
.
Cumming, a three-time Emmy nominee for his work in
The Good Wife
, brings his polished aplomb to the role of Dr. Dylan Reinhart, who dresses dandily and lightly spars with Manhattan detective Lizzie Needham (Bojana Novakovic). They're thrown together after Dylan's bestselling book
Freaks
is used as a "tutorial" by a serial killer who leaves playing cards behind as clues to who he'll murder next.
Dylan is reluctant to get all stressed out again after marrying a guy named Andy (Daniel Ings) and settling comfortably into life at a Pennsylvania college where he teaches psychopathic behavior. Very oddly, though, he's in a sense "body shamed" by his book editor, Joan Ross (Whoopi Goldberg in a small recurring role). She deems his latest manuscript flat while calling him "fat." Joan wants him to "lose a little weight" while at the same time getting his "mojo back" by becoming an amateur sleuth.
Number one, Dylan already looks as slim and trim as
Stan Laurel
(whom Cumming also somewhat resembles facially). Secondly, Whoopi's the one who's made considerable gains, weight wise, since her days as a renegade standup comic. Finally, imagine the "uproar" among some if it were Dylan telling Joan to drop some pounds.
Instead it's a fretting Dylan asking hubby Andy, "Do you think I've put on weight?" No, he doesn't. It's all unnecessarily off-putting, in addition to being preposterous.
The lightweight of
Instinct
, dramatically speaking, is Novakovic as detective Lizzie. Cocksure Dylan needs a more formidable presence to put him in his place. But Lizzie is more pushover than taskmaster. The character needs an acid wash.
Also dropping in is former
Lost
co-star Naveen Andrews as Julian Cousins. From a secret Manhattan den, he's still doing surveillance work for the CIA amid a bunch of machines with flashing lights. Dylan periodically calls on him for assistance while Julian pines for his old mate's return to the fold. "You were the best operative I ever worked with . . . Integrity, loyalty and balls -- you had it all," he informs Dylan, who doesn't disagree.
Instinct
also enlists Lt. Jasmine Gooden (Sharon Leal) to occasionally bark out orders, deliver pep talks and sometimes commiserate with Lizzie, who of course has a tragic back story. Her fiancé, a fellow detective, was killed in the line of duty just a year ago. And the dog they shared, named Gary, now needs to be put down due to illness, Lizzie sobs. (So much for Gary, who's seen briefly in Sunday's premiere hour and then never shown or mentioned again in the additional two episodes made available for review.)
The serial killer whodunit in Episode 1 gives way to the grisly murder of a bloodsucking venture capitalist in
Instinct
's next episode. After that comes the fatal gassing of a dozen subway travelers, plus seemingly unrelated killings on a Central Park carousel and in a luxury hotel. This also is the episode in which Dylan's estranged father makes an extended appearance at the expense of Naveen Andrews' character, who's not seen at all.
The killers in the latter two episodes are easily deduced in early scenes and then completed unmasked well before these hours end. That's a double whammy -- telegraphed identities of murderers followed by too much time spent catching them -- BEFORE THEY CAN STRIKE AGAIN.
Episode 2 also is the one that ends with Dylan prototypically telling Lizzie, "You always follow the rules" before she rejoins, "And you always break them." Ergo, "we should be partners," says Lizzie. "Absolutely," Dylan agrees. Consider it officially done.
The series' other partnership, between Dylan and Andy, is fleetingly depicted in these three episodes. They're not yet seen sharing a bed, but are allowed to briefly kiss one another. This is, however, the first time a Big Four broadcast network has presented a crime series whose lead character is gay. So that's something for the history books. (Cumming also is openly gay.)
Instinct
is otherwise unremarkable, sending its characters down familiar rabbit holes without nearly enough style, wit or ingenuity. CBS long has been prime-time's king of procedural crime series, with Tuesdays and Fridays still profitably devoted entirely to this genre.
Cumming's talents are ill-used in this one, though. In fact, he would have been better suited to the role of a showy magician turned New York cop shop sleuth. But ABC already has such a series with
Deception
. It also airs on Sunday nights following two-hour editions of
American Idol
, which Cumming and company will have to compete against. it could be enough to make
Instinct
quickly go poof.
GRADE:
C
Email comments or questions to:
unclebarky@verizon.net