Championing Joe Louis
02/23/08 11:59 AM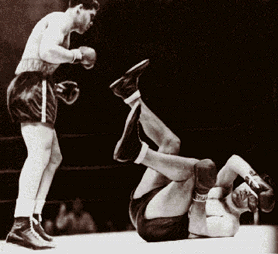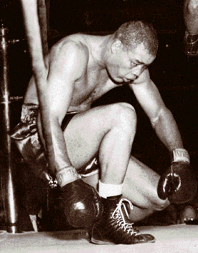 At the height of his powers, Joe Louis kayoed Max Schmeling in their much-heralded rematch. At the very end, he took a severe beating in his last fight from an up-and-coming Rocky Marciano.
By ED BARK
The true Joltin' Joe of the 1930s and '40s was not a DiMaggio, but a Louis.
HBO's
Joe Louis: America's Hero . . . Betrayed
recaptures his historical import, his ring majesty and the financial pounding he took at the hands of the IRS. The 75-minute film premieres on Saturday, Feb. 23rd at 7 p.m. (central) as something of an under-card to the following heavyweight title bout between two tongue-twisting white hulks -- Wladimir Klitschko and Sultan Ibragimov.
Louis clearly would have made short work of either. In the view of many, he was the most accomplished heavyweight fighter ever, even better than Muhammad Ali because of his lethal knockout punch. This earned him the nickname "The Brown Bomber," although newspaper writers of that day used a wide variety of color-tinged pseudonyms in describing him. Signs of the times included the Black Menace, Tan Tornado, Sepia Slugger, Chocolate Soldier, Dark Destroyer and Coffee-Colored Clouter.
He otherwise was well-schooled in the art of acting white. America as a whole had recoiled at the earlier heavyweight reign of cocksure black Jack Johnson. Louis' defeat of defending champ Jim Braddock in 1937 marked the first time in 27 years that a black man had been "allowed" on such a stage.
These were days when crowds in excess of 75,000 packed outdoor stadiums to watch heavyweight fights. The film makes a convincing case that no athlete before or since meant more to the black community.
Louis' crushing defeat to the German Max Schmeling was akin to "our whole race going down," says author Maya Angelou. But in their 1938 rematch, Louis' resounding victory also was seen as a blow to Adolf Hitler's Nazi Party. It was perhaps the only time in sports history that Americans of all colors rallied behind a black athlete.
Ironically, "he'd become 'The Great White Hope,' " comedian/activist Dick Gregory says, chortling.
Louis defended his title an astonishing 25 times, dispatching mostly a series of white Palookas who represented the best fighters of their day. He also spent freely on both himself and others. And in another selfless act, he enlisted in the Army during the prime of his career, raising money for the USO and the war effort while also witnessing first-hand the segregation still practiced in all branches of the military.
His tax woes escalated upon his return. And the IRS wouldn't relent during times when Louis' boxing skills began to wane. After a humiliating defeat at the hands of Rocky Marciano, who would never lose a fight, Louis turned to wrestling, product endorsements, casino-greeting and just about anything else to pay off his debts to the government.
"Decency. Fair play. A nice person. A helluva professional," says congressman Charles Rangel. "And a guy that got screwed by the United States of America. Hey, that's Joe Louis."
That's also an over-simplification. But Louis clearly deserved better. Toward the end he turned to drinking and drugs, which fostered paranoia and depression. He also took the unkindest cut of all from Ali, who said during a press conference, "Joe Louis is making himself an Uncle Tom for white people."
America's Hero
also includes current-day interviews with Louis's son, Joe Jr. (who laments never really getting to know his dad), Jimmy Carter (who has a really neat boyhood anecdote), Bill Cosby, Jerry Lewis (needlessly) and a collection of lesser known old friends and historians.
HBO's approach is now typical of its "Sports of the 20th Century" documentaries. A linear recitation of the subject's career is heavily spiked with music that swells during high points and saddens at low moments.
It's not arty, but it's still plenty effective. And Joe Louis' story never grows old. This is a compelling and telling tale of times when sports heroes were flawed but far grander. America as a whole seemed to ebb and flow with their exploits. And they had nothing to do with performance-enhancement drugs, Jessica Simpson or dog-fighting.
Grade:
B+