New series review: Armed & Famous (CBS)
01/07/07 01:15 PM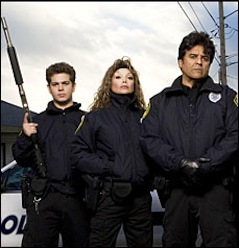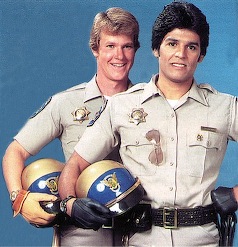 Back in uniform: a paunchier "Ponch" cops to a new reality show.
Premiering:
Wednesday night, Jan. 10th (7 central, 8 eastern) on CBS
Starring:
Erik Estrada, La Toya Jackson, Jack Osbourne, Trish Stratus, Jason "Wee-Man" Acuna
Produced by:
Tom Forman
By ED BARK
No C-list celebrities were unduly harmed during shooting of the new CBS reality series
Armed & Famous
.
Darn the luck. And make that D-list.
Seriously, though, there oughta be a law against making cops of Erik Estrada, La Toya Jackson, Jack Osbourne, former wrestler Trish Stratus and skateboarder Jason "Wee-Man" Acuna. All that's required of them is minimal made-for-TV training by the oughta-know-better Muncie, Ind. police department. But away we go anyway, with this desperate-for-exposure quintet grandly arriving in a limousine escorted by a caravan of marked cars.
"Who are these brave new recruits?" asks an announcer who sounds like a cross between
Dragnet's
late Jack Webb and the voice of God from an old Biblical epic. We then learn that one of them, La Toya, has long yearned to both work at a McDonald's and be a police officer. Oh the things they expect us to swallow.
Their training ground is a "world away from Hollywood," viewers are told. This is illustrated with video of an actual squirrel eating an actual nut. Man, they might as well be in Siberia.
Armed & Famous
spends about half of Wednesday's first episode on what's billed as a rigorous training regimen. This affords Estrada a chance to loudly pass gas during a hand-to-hand combat session. Enormously amused is "Wee-Man" Acuna of
Jackass
fame.
"Ponch just farted," he giggles, referring to Estrada's old make-believe cop on
CHiPs
. The five of them then go to a laundromat, where La Toya can't quite master the dollar bill changer. She is, however, allowed to carry a firearm.
Back in training, all five recruits are required to sustain a jolt from a stun gun. Estrada sums up the experience beautifully: "Ya know, one of my testicles has enlarged from getting zapped by a Taser."
We pause briefly to remind you that
Armed & Famous
actually is airing on CBS, not Spike TV. You know, "The Tiffany Network."
Burly Sgt. Rick Eber says he won't tolerate any messing around by his recruits. This doesn't deter "Wee-Man" from loudly partying with a bunch of ecstatic young Muncie-ites who seem pathetically thrilled to be in his vicinity. Wow, what would happen if Joe Piscopo ever blew through Muncie? Pandemonium, that's what. Or at least that's the impression created.
Quick as a lick, the five get their badges and guns at a public ceremony attended by a cheering throng of cops and townies. Taskmaster Eber is suddenly fuzzy-wuzzy: "You guys have far exceeded anything I thought you were capable of doing."
Imagine how very, very low his expectations must have been. But La Toya's got the power, and baby, it sure beats another failed CD.
"We're going to be out there on the streets fighting for our lives and other people's," she marvels.
Each of them gets a partner, just like in
Adam 12
. Estrada and a comely blonde officer quickly arrest a toothless, elderly woman after a SWAT raid on her alleged drug den.
"This is the wrong way to have to meet you, Ponch," she giggles while being squeezed into a squad car. "I wouldn't miss one movie (sic) on that show."
La Toya later braves a less than five-star eatery during a dinner break with her partner.
"You're not going to find many places with tablecloths here," she says of Muncie before asking for some cover and a finger bowl, too.
The show's announcer further sets the table by intoning, "Midnight on the streets of Muncie. Crime doesn't sleep, and neither do our celebrity cops."
And so it goes, with the heartland portrayed as Hooterville on a show that might be a hoot if it weren't such a sorry sham. After a "special" Thursday episode,
Armed & Famous
will air weekly on Wednesdays unless someone at CBS somehow has the good sense makes a house arrest.
Otherwise it's "Holy moley, La Toya Jackson and guns!" in the words of Wee-Man Acuna.
Grade:
D