Dietland takes AMC in a new, full-bodied direction
06/04/18 03:02 PM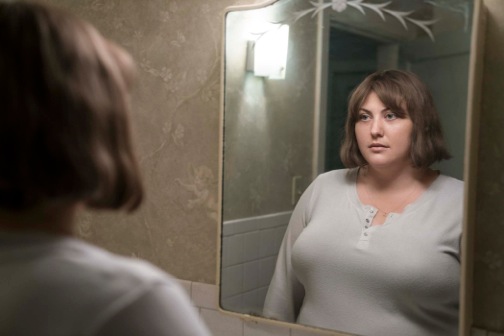 Plum Kettle (Joy Nash) doesn't care for her mirror image in Dietland.
AMC photo
Premiering:
Monday, June 4th at 8 p.m. (central) with back-to-back episodes on AMC
Starring:
Joy Nash, Julianna Margulies, Tamara Tunie, Robin Wiegert, Tramell Tillman, Adam Rothenberg, Erin Darke
Produced by:
Marti Noxon, David Ellison, Dana Goldberg, Marcy Ross, Maria Grasso, Bonnie Curtis, Julie Lynn, Jacqueline Hoyt
By ED BARK
@unclebarkycom on Twitter
Male sexual predators are beaten up, forced to confess and later dropped from the sky by a terrorist group calling itself Jennifer.
Still, AMC's
Dietland
isn't entirely a Hallmark card to the #MeToo Movement. Instead the sentiment goes something like this: Roses are red, violets are blue. Many men are the enemy. Some women are, too.
Created, written, produced and sometimes directed by Marti Noxon (
UnREAL, Code Black, Girlfriends' Guide to Divorce
), the distinctly different
Dietland
primarily trains on the lives of two disparate women who also are collaborators.
Alicia Kettle (Joy Nash) doesn't use her birth name anymore. "Everybody calls me Plum because I'm succulent and round," she says at the start of Monday's first of back-to-back episodes. "Also known as fat. It's OK. I'm allowed to say it."
She otherwise puts words in the mouth of stick thin Kitty Montgomery (Julianna Margulies), haughty editor of
Daisy Chain
magazine. It's the kind of publication where "30 Days to Sexy" will be the next issue-wide theme. Questions to the editor are ghost-answered by Plum, who also is an accomplished baker. But cakes and cookies aren't for her anymore. She's enrolled in Waist Watchers in hopes of slimming herself down enough to be approved for lap band surgery. Men perhaps will then take an interest in her rather than taunting the plus size she's been all her life.
While Plum struggles with various temptations,
Daisy Chain
's conglomerate parent, Austen Media, learns it's been hacked. And as the bodies begin piling up -- including that of a degenerate photographer who has worked for the magazine -- Kitty hires a detective named Dominic (Adam Rothenberg) to dig deeper while also courting Plum as a possible informant. So far just one of the men in the cast seems thoroughly decent. He's Plum's best friend, Steven (Tramell Tillman), gay owner of a coffee shop.
Dietland
has several other plot strings attached. The title of the series refers to an anti-diet book clandestinely given to Plum by Leeta the "Goth Girl" (Erin Darke), who otherwise works for one of Kitty confidantes, "Beauty Closet" empress Julia Smith (Tamara Tunie).
The book's author, Verena Baptist (Robin Wiegert), has shut down the weight loss clinics once run by her beauty queen mother, who spent a lifetime battling weight issues and latter day addictions to booze and drugs. Yeah, there's lots to digest.
AMC made the first three hours available for review in what will be a 10-episode Season One. The third episode has some extended fantasy sequences, with a hallucinating Plum trying to kick her diet pill (known as "The Y") cold turkey rather than wean herself gradually. Some of this is comical. But then male bodies begin falling from the sky in earnest, prompting the cancellation of New York City's Fashion Week against the strong objections of Kitty.
Dietland
sometimes wears its messages like sandwich boards. "Men would rather destroy the world than let us run it," Kitty proclaims, dismissing the Jennifer terrorist group's goal of "once and for all" freeing women from oppression.
Plum, for her part, has signed up to receive a sizable cash payment if she completes wealthy Verena Baptist's yet to be fully disclosed "Program." But despite words of encouragement from both Steven and a supportive mother, Plum remains prone to self-loathing. "What I realize is I don't hate myself, the world hates me," she says. Therefore she's nothing but "a stain." And also still a virgin.
Nash is excellent as Plum, with Margulies somewhat less so as the comparatively emaciated looking Kitty. But she does get a prize line in Episode 2, telling Plum that the likes of Martha Stewart can "get away" with becoming thick-waisted because "she sells glue guns." Not so with true "tastemakers" such as Kitty, who must remain paper thin from top to bottom.
Dietland
isn't likely to attract a large percentage of male viewers, and more than a few women also might find its approach to be too sharp-sticked for them. Even so, creator Noxon certainly has put together an attention-getter in times when growing numbers of prominent men very deservedly have been exposed for past and sometimes ongoing sexual misconduct.
But Noxon also doesn't spare one of her two principal women characters. Kitty clearly is also part of the problem. "Large girls" such as Plum are never satisfied, she tells detective Dominic. "No matter how well you treat them, they fester."
That's quite a line, and this promises to be quite a full-bodied new direction for AMC, where the clock at last seems to be running out on zombie apocalypses.
GRADE:
B+
Email comments or questions to:
unclebarky@verizon.net