The address is so typically CBS in 9JKL
10/02/17 02:17 PM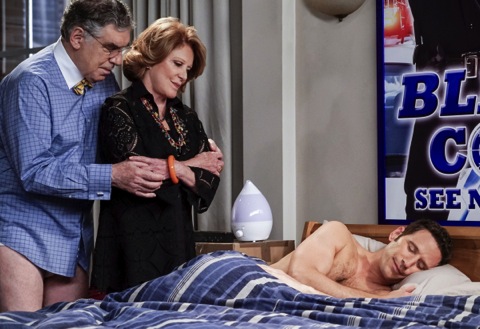 Elliott Gould and Linda Lavin bedevil their son in 9JKL. CBS photo
Premiering:
Monday, Oct. 2nd at 7:30 p.m. (central) on CBS
Starring:
Mark Feuerstein, Linda Lavin, Elliott Gould, David Walton, Liza Lapira, Matt Murray, Albert Tsai
Produced by:
Dana Klein, Mark Feuerstein, Aaron Kaplan, Wendi Trilling, Dana Honor, Pamela Fryman
By ED BARK
@unclebarkycom on Twitter
Here's a comedy that just reeks of CBS.
Earlier this fall, the mostly set in its ways network took two walks on the wild side with new "single-cam" sitcoms (
Young Sheldon
and
Me, Myself & I
) that are shorn of laugh tracks and filmed out of view of a "live studio audience." But its third freshman,
9JKL
, is traditional to the point where the characters might just as well have the CBS Eye logo stamped on their foreheads. The piped-in guffaws are plentiful and mostly unmerited during this paint-by-the-numbers exercise in same old/same old.
Mark Feuerstein (
Royal Pains
) stars as poor, hectored Josh, who's returned to his native New York City after the cancellation of his TV series,
Blind Cop
, and the dissolution of his marriage. In a thoroughly dog-eared premise, he's delivered unto his aging, mega-doting parents, Judy and Harry (Linda Lavin, Elliott Gould). The price of moving in next door to them (where Josh lives rent free while getting back on his feet) is to be constantly smothered by mom and dad's affection, needs and embarrassing utterances.
Complicating matters: Josh's goofy brother, Andrew (David Walton), his wife, Eve (Liza Lapira) and their new baby son also live next door in an apartment whose doorman Nick (Matt Murray) alerts Judy to whenever Josh returns. A wisecracking kid named Ian (Albert Tsai) hangs out with Nick for the purpose of -- well, there really is no purpose.
Gould is prototypically batty once again, with some of his lines beyond cringe-worthy. Out on the terrace and wearing a dress shirt, tie and tighty whities, he declares proudly to his son, "Ever since I had that varicose vein removed from my testicle, I produce a lot more semen."
Josh of course is repeatedly mortified, particularly when trying to score with his first date in 10 months, a former college classmate named Christina (guest star Sally Pressman). Their attempted kisses are thrown for losses or intercepted more the New York Jets.
Feuerstein says the show in part is based on his real-life experiences, which for some reason he felt the need to share. He brings exuberance and a certain likability to the role as a good son who's still trying to please his parents. But geez, what a grind
9JKL
is. You'll find more originality in the recipe for cream of boiled water soup.
GRADE:
C-minus
Email comments or questions to:
unclebarky@verizon.net