Hulu's Future Man goes for the comedy gold
11/07/17 01:34 PM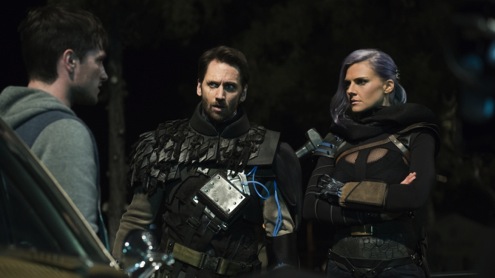 Odd man out: The world-saving trio of Future Man. Hulu photo
Premiering:
All 13 Season One episodes begin streaming Tuesday, Nov. 14th on Hulu
Starring:
Josh Hutcherson, Eliza Coupe, Derek Wilson, Keith David, Ed Begley Jr., Glenne Headley, Haley Joel Osment, Britt Lower
Produced by:
Seth Rogen, Ben Karlin, Evan Goldberg, Matt Tolmach, James Weaver
By ED BARK
@unclebarkycom on Twitter
Want to get away? If so, we live in times that are tailor-made for the escapist, devil-may-care comedy of
Future Man
.
Inventive and frequently hilarious, it takes Hulu subscribers on year-spanning trips with a familiar end goal -- to save the world. But rather than the taut, grim-faced heroics of Jack Bauer, we get the ongoing befuddlement and exasperations of janitor Josh Futterman (Josh Hutcherson). His determination to beat a video game called
Biotic Wars
leads to his anointment as "The Savior" by a pair of hard-core, elementally violent resistors from the future -- Tiger (Eliza Coupe) and Wolf (Derek Wilson).
As this particular story line goes, everything happening in
Biotic Wars
in fact is a real-life and very grim scenario that can be averted only by stopping Kronish Laboratories from finding a cure from the herpes afflicting its crusading namesake, Dr. Elias Kronish (Keith David). This also happens to be hapless Josh's workplace, where he cleans up others' messes by day while otherwise feeding his obsession with defeating the video game he plays incessantly to the point of regularly wearing out joysticks.
Future Man
borrows from all kinds of familiar sci-fi hits (
The Last Starfighter, The Terminator, Quantum Leap
, etc.) in addition to
Easy Rider
and Michael Jackson's Moonwalk among its blasts from the past.
Easy Rider
? Yes. In the first episode, which begins streaming on Tuesday, Nov. 14th, Josh, Tiger and Wolf use a short-on-fuel TTD (Time Traveling Device) for a trip to 1969 in hopes of stopping Elias Kronish from contracting herpes via a girl he meets at a moon landing-themed college frat party. But before that, they encounter a biker gang that includes members in
Easy Rider
garb. Violence ensues, costume changes are needed and it's a sublime sight gag when Josh, Tiger and Wolf end up as the characters played by Jack Nicholson, Dennis Hopper and Peter Fonda.
It also should be noted that Hulu is going against the grain of its usual streaming regimen by making Season One's 13 half-hour episodes of
Future Man
available all at once instead of in weekly doses. Co-executive producer Seth Rogen, answering a question from unclebarky.com at last summer's Television Critics Association "press tour," says this is something he and the creative team insisted on.
"When something is kind of plot driven, I personally like to watch it in big chunks," Rogen said. "And I like ingesting TV series that have cliffhanger episodes. It's nice to have the next one available to you immediately so you don't have to wait. Because who wants to wait for things? The world could end . . . It really was an appealing thing to us, and we pushed very hard."
Viewers' brains won't be unduly taxed by
Future Man
, which successfully plays its coarse language and graphic violence mostly for laughs in the mode of
Ash and the Evil Dead
. Episode subtitles include "Herpe: Fully Loaded, A Fuel's Errand" and "A Blowjob Before Dying." Hulu made the first seven available for review, and they all go down easy.
Future Man
occasionally returns to the Futterman household, where Josh has been living in L.A. with his parents, Gabe and Diane (Ed Begley Jr., and Glenne Headley, who died during production and won't be re-cast).
Begley Jr. does a nice turn in Episode 5, teaching warrior Wolf how to cook with sometimes startling results -- as when his pupil beats the eggs by literally beating the eggs.
This half-hour -- "Justice Desserts" -- otherwise is built around the annual holiday Kronish Ball, where up until now each and every lab employee has been required to eat a small, gourmet chocolate ball during the climactic toast. Alas, the demonic Dr. Stu Camillo (a bearded Haley Joel Osment) has ended this tradition to punish the goodly Elias Kronish ("The balls have been bounced," he laments) for giving away the lab's disease-fighting secrets for the good of the world. But the balls must bounce back for Tiger and Wolf to identify and kill the Biotics among them.
This is all a great deal of crazed fun, but Episode 7 so far is the masterpiece. Not to give away too much, but it involves the raiding of director James Cameron's lavishly appointed home, circa 2023, in search of a crucial fuel needed for further time travel.
Cameron's out of the house at the moment, but his super high-tech watchdog, named Sigourney, is very much present in voice and vigilance. She's been programmed to variously tout Cameron as "Undefeated Little League Coach" or "Taller Than Average" or "Celebrated Innovator" while Steven Spielberg is referenced at one point as "less talented." Laughing out loud won't be an option; it will be a virtual certainty.
Comedy-adventure of this sort is tough to pull off, as Fox's
The Orville
has shown in its off-balance first season. But
Future Man
has a firm grasp of what it is and where it's going. Coupe and Wilson excel as goal-fixated warriors from the future without any social graces while Hutcherson shines as a nebbish who both talks them down and strives to keep his own heart from beating off the charts. Emboldened to look ahead, I'm predicting a good time for all.
GRADE:
A-minus
Email comments or questions to:
unclebarky@verizon.net