TNT's Murder in the First ably recycles what once made Bochco the best
06/05/14 01:21 PM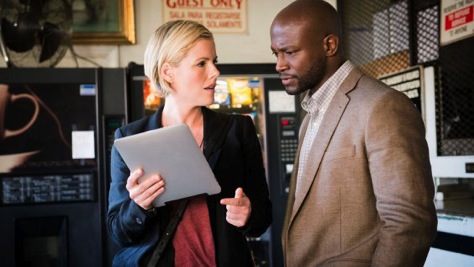 Kathleen Robertson and Taye Diggs of Murder in the First. TNT photo
Premiering:
Monday, June 9th at 9 p.m. (central) on TNT
Starring:
Taye Diggs, Kathleen Robertson, Tom Felton, Ian Anthony Dale, Raphael Sbarge, Richard Schiff, James Cromwell, Nicole Ari Parker, Steven Weber, Lombardo Boyar, Bess Rous, Currie Graham, Mimi Kirkland
Produced by:
Steven Bochco, Eric Lodal
By ED BARK
@unclebarkycom on Twitter
TNT's latest crime drama,
Murder in the First
, is straight ahead Steven Bochco.
Which begs the question: Does the now 70-year-old maestro behind
Hill Street Blues, L.A. Law
and
NYPD Blue
still have some pop?
Well, yes, he does. Even if
Murder in the First
basically is a nicer looking re-do of Bochco's 1995
Murder One
series, in which an entire season was spent solving one case.
The TNT version, slotted after Monday's Season 3 premiere of
Major Crimes
, has a quality sheen to it and solid, screen-commanding performances from its two leads. Taye Diggs (
Private Practice
) and Kathleen Robertson (
Boss
) star as San Francisco detectives Terry English and Hildy Mulligan. He's grieving the impending death from pancreatic cancer of his wife, Emily (guest star Anne-Marie Johnson). She's a divorced single mom who actually seems as devoted to her pre-teen daughter, Louise (Mimi Kirkland), as she is to daily homicide-solving. Both are far more telegenic than
Murder One
's star player, a bald, dictatorial, middle-aged lawyer played by one of the most reluctant-to-be-interviewed TV actors ever, Daniel Benzali as defense attorney Theodore Hoffman.
In
Murder One
, which endured for a second season under a different format, Hoffman and his team came to the defense of an egotistical rich young actor accused of murdering a young woman in a case involving sex and drugs. In
Murder in the First
, Terry and Hildy train their sights on an egotistical young software billionaire suspected of murdering a young woman in a case involving sex and drugs.
The software kingpin, named Erich Blunt, is well-played by Tom Felton (Draco Malfoy in the
Harry Potter
movies). He's a bullying womanizer who enjoys the newest in drug highs while also having the resources to hire the best lawyers money can buy. Two familiar faces, Richard Schiff and James Cromwell, are his legal beagles in
Murder in the First
. Schiff's character, David Hertzberg, gets to fire off a nice riff while urging Blunt to hire Cromwell's Warren Daniels to defend him in any murder case.
"Well, let me put it this way," he says. "Had Daniels been defending Jesus in front of Pontius Pilate, worse case scenario, he would have gotten his charges knocked down from King of the Jews to disorderly conduct with credit for time served in the lions' den. Maybe some community service." And so on. Never mind that it was Daniel in the lions' den. Schiff still seems to be having the best time he's had since
The West Wing
.
Bochco and his newest co-producer, Eric Lodal, do a solid job of moving the twists and turns along while also ramping up rooting interests for the gumshoes played by Diggs and Robertson. Near the close of Monday's first episode, one of three sent for review, Diggs and Johnson have an affecting goodbye scene in which she recalls their early days together. Robertson's affectionate moments with her good-humored daughter also generate viewer empathy.
During the making of
NYPD Blue
, Bochco became somewhat notorious for fighting ABC censors over glimpses of his characters' bare backsides, both male and female. That doesn't appear to be a problem this time around with TNT, which ventures into FX territory with splashes of nudity in each of the first three hours.
Longtime watchers of Bochco's TV series also might recognize actor Peter Onorati in a brief guest shot Monday night. Back in 1990 he was the principal star of
Cop Rock
, which tried to meld musical numbers and crime-solving. It lasted just three months on ABC, but Onorati and Bochco are still finding chances to work together -- if only fleetingly.
Murder in the First
looks to have sturdy underpinnings. Bochco at this point has been around too long to learn entirely new tricks. Still, this is easily his best new series since
NYPD Blue
tried to break molds more than two decades ago.
The timing also looks right. HBO's
True Detective
and FX's
Fargo
both have prospered as single-case, season-long crime stories that will need considerable re-tooling in their second seasons.
True Detective
likely will be brand new in terms of characters, story lines and locale.
Fargo
may be able to retain some of its elements and lead characters -- or might not.
But
Murder in the First
easily could keep its stars and city in place for a Season 2. Just add a new murderer and victims while letting Bochco be Bochco. He used to be pretty damned good at that. And it finally looks as though he's hitting his stride again, even while retracing some of the same steps.
GRADE:
B+
Email comments or questions to:
unclebarky@verizon.net