Idol goes with two Jasons from North Texas, and so far it's no horror film
02/13/08 08:34 PM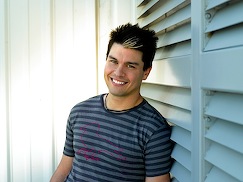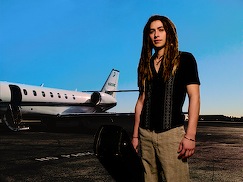 By ED BARK
After much moaning, groaning and bawling,
American Idol
's field of 24 finalists includes two guys from North Texas and a girl from Houston. All auditioned last summer at the Fox show's tryouts in Dallas, one of seven cities in the mix for the show's seventh edition.
Jason Castro, 20 (right, above), is from Rockwall. And Jason Yeager, 28, hails from Grand Prairie. They join Kady Malloy, 18, of Houston among the two dozen survivors of a two-night Hollywood elimination round that cut the field from 164.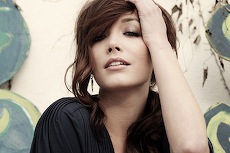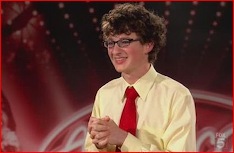 Cardin McKinney and Kyle Ensley should still be aboard.
But were mistakes made? At least three notable ones, I'd say, with the closest call resulting in a no-go for bespectacled Buddy Holly lookalike Kyle Ensley, a junior at Oklahoma State who auditioned in Dallas.
"I completely and utterly disagree with this decision," judge Simon Cowell said at the close of Wednesday's final cuts. What? He's still not a big enough cheese to have ultimate veto power over naysayers Randy Jackson and Paula Abdul?
Ensley was brought in as the second-to-last male standing, along with Colton Berry, 17, of Staunton, VA. Berry got the nod and the likable nerd sustained some hugs. Ain't it always the way? But
Idol
could have used Ensley's appeal.
Also cut was Josiah Leming, 18, of Morristown, TN, who says he's lately been living in his car as a vagabond troubadour. Leming looks like a cross between Davy Jones and Peter Noone, and has more than a bit of a British accent tossed in. He turned on the faucet works after getting bounced on a close call. But the kid definitely can sing and he's almost cuter than the winning Beagle at the Westminster Kennel Club show. He'll be heard from again if he's not too self-destructive.
The last woman to take the gas, 20-year-old Cardin McKinney of Nashville, happened to be a smokin' hottie who can carry a tune, too. It was like cutting an in-her-prime Heather Locklear from
Melrose Place
. Dumb move,
Idol
.
The competition begins in earnest next Tuesday, with host Ryan Seacrest repeatedly proclaiming this the most talented field ever. What else is he gonna say? But Tuesday night's two-hour warmup drew 30 million viewers nationally and had its best showing among advertiser-craved 18-to-49-year-olds since this season's premiere. Now we'll see how well its 24 finalists fare as both singers and audience magnets.